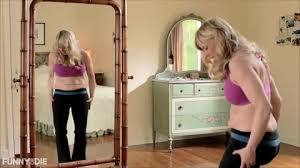 "Muffin top" are two words that set a woman's teeth on edge. We're not talking about the delicious, sugary, primo part of a muffin. Muffin top is the bit of blubbery overhang on a woman's mid-riff. Even it is barely noticeable, the female mind expands it exponentially to a monster truck tire. On this natural and normal belt, sadly, self-esteem dangles in despair. Is it possible to reclaim the muffin top as something positive?
Director Cathryn Michon thinks so, and thus, the title. She co-wrote Muffin Top: A Love Story and the premise is that love will come to you when you love yourself first. In fact, Muffin Top is the rare movie about women that is written, produced and directed by women, along with a music soundtrack that was scored by women, the first in the last three years.
Are we still in 1954? No, this is 2013, yet female directors are only 4 percent of the Hollywood equation. In fact, for the last five years, there have been fewer women in front of and behind the camera according to the Geena Davis Institute on Gender in Media. Women are far from being the main creators of feminine imagery in film and media. Is it any wonder positive female self-perception is spiraling down?
One of Hollywood's few female directors, Michon is spearheading a Kickstarter campaign to show that a female-fueled movie can really roar at the box office, and the funding will to toward the distribution efforts for the film, which is completed.
Star power includes Michon, the late Marcia Wallace (The Simpsons, The Bob Newhart Show), Dot Marie Jones (Glee) Marissa Jaret Winokur (Hairspray), Retta (Parks and Recreation) Melissa Peterman (Baby Daddy, Reba) and others. What do these women share besides talent? They represent the diverse physicality of women. They are not all Size 0, and it's high time the female gender is portrayed with honesty in movies.
Great male energy and talent are part of this project, too, which includes actor David Arquette (Scream) and Gary Anthony Williams (Boondoks, Boston Legal). The movie was co-written with Michon's husband, W. Bruce Cameron, a New York Times best selling author.
Michon said, "A recent survey in Glamour Magazine reveals that 97 out of 100 women have at least one negative thought about their bodies every day, which leads me to ask, "Really? Only one?" and also, "are the other three women asleep?"

"Our bodies are a gift from God, and if they are healthy and take us the places we need to go, they are doing their jobs. But in a society where the average girl sees 200 to 400 media images of women a day, and those women are a size 0 to 2, we are turning into a culture of women who hate their healthy wonderful bodies.
"That's why a bunch of women, and some very cool men came together with me to make a low-budget independent feature film, a romantic comedy about body image called, "Muffin Top: A Love Story."
To see a movie trailer, and to find out details on this project, which is gaining grassroots support and traction nationally, visit this link.
Popular in the Community