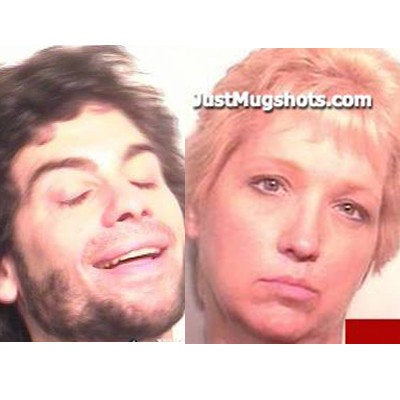 When police broke up a Toledo, Ohio, party on a summer night in 2011, Phillip Kaplan was arrested on a charge of failure to disperse. Thinking the accusation absurd, he cocked his head at a goofy angle and squinted when asked to pose for a mug shot.
It's a night the 34-year-old freelance graphic designer would like to forget. And since the charges were dropped, that might be possible, except for that accursed, easy-to-Google mug shot. He can see it. His friends and family can see it. And so can prospective business clients, unless he pays what he considers extortion to the websites that publish police photos -- and take them down for a fee.
Instead, Kaplan is challenging the pay-to-delete mug shot industry. He, along with Debra Lashaway who'd been arrested on theft charges in Ohio that were later dropped, argue that five websites violated their rights of publicity by demanding fees -- sometimes hundreds of dollars -- to delete their booking photos.
"The worst thing about [it] is the exploitative nature of it," said Kaplan. "It puts the idea of innocent until proven guilty upside down."
About once a month, Kaplan said, someone contacts him to say they saw his online mug shot. He said he suspects that some potential clients have decided not to do business with him after looking him up online.
The outcome of the lawsuit may affect Americans whose arrest photos pop up on Internet searches for their names by potential employers, landlords, significant others or anyone else.
The defendants -- Bustedmugshots.com, Justmugshots.com, Mugshotsonline.com, Findmugshots.com and Mugremove.com -- are a handful of the sites that have amassed huge digital libraries of mug shots and other crime records.
Mugshots are a form of public information available to anyone that in many states. Typically, they first appear on local law enforcement websites. News media, including The Huffington Post, regularly publish such photos when reporting on crime stories.
The defendants contend they're enhancing public safety and providing a useful resource by compiling searchable databases.
"We definitely believe that there's a news value to it," said Joshua Jones, the attorney for Justmugshots, who filed a motion last week to dismiss the case. "These people could be coaching your son's little league team or living next door to you."
Justmugshots offers to remove mug shots for free if it receives official documentation of a not guilty verdict, or if the charges are dismissed. The company will speed up the deletion process for a fee.
Bustedmugshots declined to answer questions, but a corporate brochure says "our mission is to provide transparency in the criminal justice system to allow citizens to be aware, informed and proactive in the ongoing fight against crime."
For $178, the site will perform a rush removal of an individual's name and image from their site, according to the lawsuit filed last month.
Scott Ciolek, the attorney for Kaplan and Lashaway, said it's blackmail to collect money from people not convicted of a crime who want their photo removed.
"What's really wrong about what they're doing is that it's extortion," said Ciolek. "It's not the photos themselves, it's what they're used in connection with."
A teleconference hearing is scheduled for state court on Tuesday in Ohio. The case probably will be moved to federal court, because the companies running the websites are scattered across multiple states.
Ciolek said he aims to turn the case into a class-action lawsuit and said he'll file similar lawsuits in Pennsylvania and West Virginia this year.
Experts said they disapproved of how the websites make money, but said the right to distribute public information probably protects them.
"The websites probably have a First Amendment right to publish the mug shots because this is lawfully obtained public information," Ohio State University Moritz College of Law professor Daniel Tokaji in an email to HuffPost. "The practice of requiring payment to have them removed is unsavory, but probably not illegal."
The legality becomes murkier when sites maintain photos for years after the arrest -- even if the charges were dropped or the defendant was found not guilty, said University of Toledo law school professor Llew Gibbons.
"Are these photos newsworthy anymore?," Gibbons said. "The problem is [the websites] have a mixed commercial motive. When they charge this fee for expedited takedown, it becomes another question. It becomes more and more in the commercial realm and out of the world of political speech."
The lawsuit has created strange bedfellows. The company owning Bustedmugshots accused Justmugshots of stealing booking photos from its archives, the Miami Herald reported. Sound ironic? Justmugshots thought so and wrote on its site that the complaint is "crazy."

Support HuffPost
The Stakes Have Never Been Higher
Related
Popular in the Community