Robert Mugabe, Zimbabwe's longstanding authoritarian president, agreed to step down on Tuesday, according to the speaker of the nation's parliament.
The announcement comes a little less than a week after the country's military seized power, setting in motion an end to the 37-year rule of the world's oldest serving president.
Impeachment proceedings against Mugabe had already begun early Tuesday, but the speaker of parliament read a letter to lawmakers later in the day that he said came from the president and offered a formal resignation.
"I, Robert Gabriel Mugabe, in terms of section 96 of the constitution of Zimbabwe, hereby formally tender my resignation," the speaker said, reading from what he said was Mugabe's letter.
Mugabe has yet to appear or speak publicly since the letter was read, and it marks a reversal from a long-winded speech he gave on Sunday when he refused to address the push for his resignation. Zimbabwe's ruling ZANU-PF party had fired Mugabe as its leader earlier that day and expelled his politically powerful wife, Grace, from its ranks.
Crowds of Zimbabweans gathered at Unity Square in the capital of Harare following the announcement of Mugabe's resignation, cheering his ouster and waving signs.
His resignation is the culmination of a military action that began last week, when Zimbabwe's armed forces seized control of state television, surrounded government buildings and detained the president in his home on Wednesday.
Military officials denied at the time that they were attempting to depose the 93-year-old president, arguing that they were only targeting "criminals" around him. But as time went on and Mugabe kept silent, it became increasingly clear the leader's days in power were numbered. Zimbabwe's state-run newspaper released photos on Thursday purporting to show negotiations between military officials and the president.
Tension and uncertainty dominated the days that followed, as Mugabe officially remained president but the military was effectively in control. Mugabe further confused observers when he made a public appearance last Friday, attending a graduation ceremony for Zimbabwe Open University.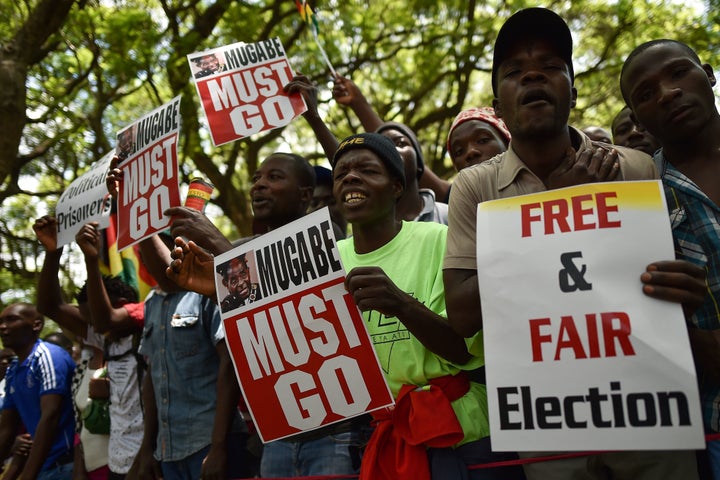 Mugabe has governed Zimbabwe since 1980, winning the presidency after he helped the country gain independence after a long struggle against colonial rule and governance by its white minority. Throughout his tenure, the strongman held onto power through crackdowns on opposition and dissent. Even as Zimbabwe's economy collapsed in the past decade and the regime drew harsh international condemnation, Mugabe found ways to remain in control.
In recent years, however, Mugabe's advanced age and mental lapses grew increasingly apparent. He often slept through public events, had been oblivious while delivering the wrong speech to Parliament and seemed unfit for even basic ceremonial duties. Sensing an impending end to his rule, the country's power brokers had begun a bitter jockeying over who would replace him.
The current crisis began when Mugabe fired his vice president, Emmerson Mnangagwa, on Nov. 6, a move widely seen as a means to consolidate power within the president's family and potentially clear the way for his wife to become his successor. The move upset Mnangagwa's supporters in the military.
Instead of waiting for a transition of power to Grace Mugabe, Gen. Constantino Chiwenga, the head of the nation's military, issued a statement on Nov. 13 threatening to step in if Mugabe failed to halt purges against Mnangagwa loyalists. The army ultimately took action late the following night, bringing troops and military vehicles into the streets of the capital.
The U.S. State Department's top official for Africa told Reuters on Thursday that the country was seeking "a new era," and encouraged Mugabe to step aside.
"It's a transition to a new era for Zimbabwe, that's really what we're hoping for," Donald Yamamoto, acting assistant secretary of state for African affairs, told the news outlet.
Mnangagwa, who issued a statement from an undisclosed location on Monday night calling for Mugabe to resign, now stands to become the country's next leader. But there is concern among rights groups over both the nature of the change in leadership and Mnangagwa's past.
The military and 75-year-old Mnangagwa played key roles in asserting Mugabe's authoritarian rule over the country, and have been implicated in orchestrating killings, disappearances and other rights abuses.
This article has been updated with more details on Mugabe's resignation. Willa Frej, Nick Visser and Lydia O'Connor contributed reporting.