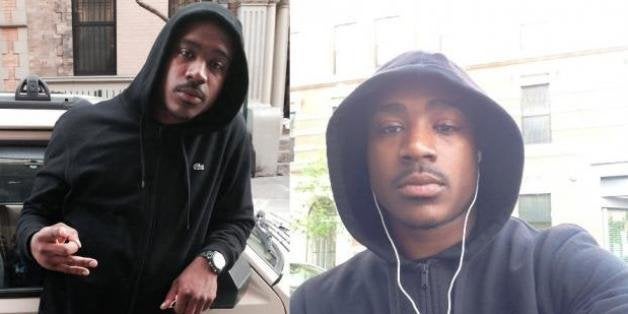 MANHATTAN — Two men accidentally sent photos of themselves to police from a cellphone they stole during a string of Harlem muggings, the NYPD said.
The duo pretended they had a gun and demanded the phone from an 18-year-old man who was walking near Seventh Avenue and West 117th Street on Sept. 24, 2013 at 8:30 p.m., police said.
Some time later, the two thieves posed for selfies. The images were automatically uploaded to the victim's photo-sharing account, police said.
Photos released by police show the suspects wearing black Lacoste hoodies.
Investigators have tied the Sept. 24 phone theft to three others that netted the two suspects cellphones, money and a MetroCard, police said.
On July 29, they pretended to have a gun and mugged a 55-year-old man who was walking into his Harlem apartment building about 3:45 a.m., according to the NYPD.
The pair resurfaced again that night about 11 p.m., this time with a real gun, and robbed a 29-year-old man near Eighth Avenue and West 116th Street, police said.
On Sept. 19, about 8 p.m. , they are suspected of mugging a 17-year-old outside his Harlem apartment building, police said.
None of the victims were injured in the muggings, police said.
The duo are in their late teens or early 20s and stand between 5-foot-9 and 6-feet tall, investigators said.
Anyone with information is asked to call Crime Stoppers at (800) 577-TIPS (8477).
REAL LIFE. REAL NEWS. REAL VOICES.
Help us tell more of the stories that matter from voices that too often remain unheard.