Just over a month after security officials detained the son of boxing legend Muhammad Ali at a Florida airport and asked him if he's Muslim, he was stopped at another airport ― this time in Washington, D.C., his lawyer says.
Ronald Reagan National Airport officials questioned Muhammad Ali Jr. for about 20 minutes Friday, lawyer Chris Mancini told the New York Daily News. He said that officers were skeptical about his identification and that Ali, 44, was finally allowed to leave when he produced his U.S. passport.
The Transportation Security Administration said in a statement that agents were concerned about a "large piece of jewelry" he was wearing. Ali was given a "targeted" pat down and "cleared" to travel. The Department of Homeland Security told the Daily News that he was only held up for about 11 minutes.
The incident occurred one day after Ali spoke out in Washington, D.C., against President Donald Trump's travel ban at a congressional forum on immigration that House Democrats organized. He said that because of Trump's travel policy, he was profiled for both his race and religion when he was detained for more than an hour and a half on Feb. 7 at the Fort Lauderdale airport as he and his mother were returning from Jamaica.
On that occasion, Ali said he gave agents his name before being asked, "What is you religion?" He responded, "Why would you even ask me what my religion is?" He was then taken to a back room.
Mancini indicated that Ali was targeted Friday because he had criticized Trump's policies.
"Going to Washington obviously opened up a can of worms at DHS," Mancini said. "Quite obviously" Ali has now been put on a different travel status and will likely be stopped frequently now, Mancini added.
Ali had traveled to Washington, D.C., to speak at the forum from his Florida home on Wednesday with his mother, Khalilah Camacho-Ali. They experienced no problems flying to the forum. Both Ali and his mother are U.S.-born American citizens. Neither has any criminal record.
Rep. Debbie Wasserman Schultz (D-Fla.) happened to be on the same plane to Florida as Ali on Friday. She posed with him in the plane for a Twitter photo, adding, "On way home on DOMESTIC flight. Religiously profiling the son of 'The Greatest' will not make us safe."
Before You Go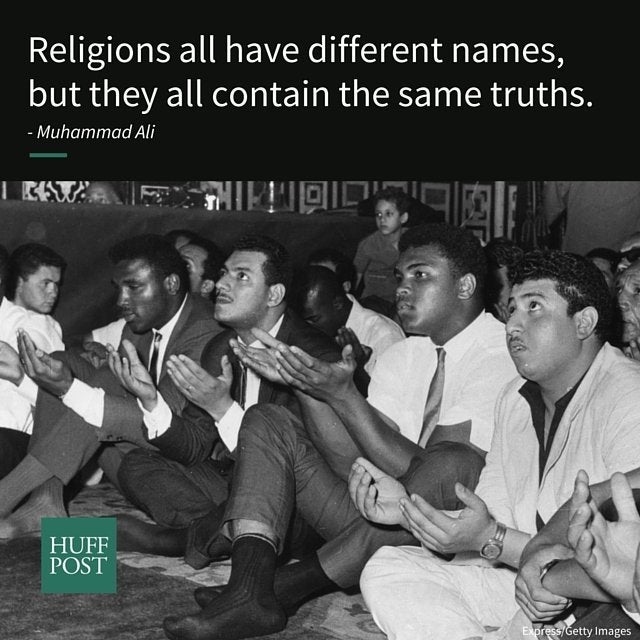 Muhammad Ali's Quotes On Spirituality
Popular in the Community