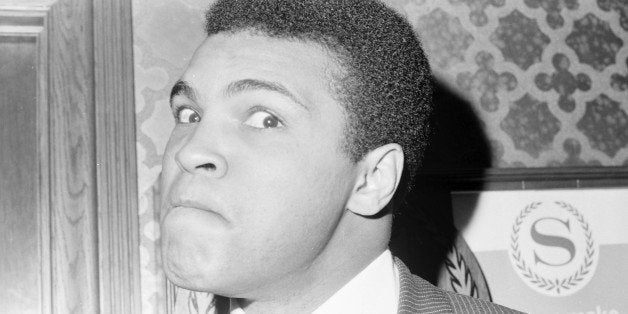 Muhammad Ali suffered from Parkinson's disease for 30 years. It's a progressive neurological condition that I've watched my own father suffer from for 20 years, more than two thirds of my life. It started with slurred speech and stammering and moved on to stepping back from our swimming and bike rides, the only things my ER doc of a dad did with us for fun due to his crazy work schedule in the inner city of Flint, Mich. Soon we couldn't even be in his beloved garden anymore, the work being too strenuous for him. He stopped pointing out cars and trees on our rides around town quizzing our knowledge of their names and makes.
I know what it's like for a child to see her father disappear before her eyes. I know the confusion and pain it causes. I know what it's like to slowly lose the one you love, though his body sits there in front of you, medicated and seemingly okay. I know what it is for personality and mind to fade away. My heart is with the Ali family, who has been slowly and steadily losing this great man for three decades.
Muhammad Ali was a man of principle. He converted to Islam in the early 1960s and refused to serve in the Vietnam War. He faced off against the establishment, even when they stripped him of his title and threw him in jail for his beliefs. He stood up for what he knew was right and transcended the staunch, sticky, layered and heavy handed nuance of religion and race.
Those fights in the rings were just the outward manifestations of all he was fighting against and for in the race, class and spiritual realms.
"My conscience won't let me go shoot my brother, or some darker people, some poor, hungry people in the mud, for big powerful America, and shoot them for what?"
What he did was magic. He stood up for what he believed in, even if it was going to make people hate him, despite his love of attention and glory. He loved God and the glory of God more. This type of conviction made him an alchemist. He spiritualized the reality of his so- called "draft avoidance" into critical thinking which manifested as revolution. What else but magic and alchemy could explain how a man who refused to go to war for his country could have his boxing gloves hanging in a study in the White House where the president of the United States of America can now look to them for inspiration whenever he is in need of the voice of truth, reason and love?
In a world of "yes men," Ali was a truth man. When you have everyone from Hillary and Bernie to Trump and David Cameron coming out with loving remarks about someone, you've got to stop and look at what that life comprised. Who was this man whose life transcended political aisles, generations and continents?
It probably stands true that his legacy is beyond being simply of this world, this special man who was given the sacred names of Muhammad and Ali: two of the most popular names on the planet, belonging to one man. Humans are weeping today but the universe rejoices as Ali is laid to rest in mother Earth, returning to the One, rejoining the collective choir of cosmic truth. He let his life be a lesson, reminding us, "The Service you do for others is the rent you pay for your room here on Earth."
Much has been written about the tragedy of Ali losing his ability to speak clearly long before his passing; Ali, who was famous for his wit, verbosity and mesmerizing oration. When we're attached to personality and that outer manifestation leaves a person, what is left? What's left are the lessons they taught, the truth they spoke and their actions in the world. Muhammad Ali said, "He who is not courageous enough to take risks will accomplish nothing in life."
When I go home these days, my dad doesn't recognize me. He can't bike, play frisbee or go for a swim. We don't go to the library together. We hardly talk at all. But I still remember what he taught me about trees, about the garden, about the tiny creatures in the soil helping our vegetables grow. His love for our crab apple tree was vast even though they were ugly and knotted. Like Ali, what lives on is in what he taught.
Ali life teaches us to be upright and defend truth, no matter the consequences. That isn't about wit, rhyme, personality, good looks or even being the greatest of all time. It's about something more ineffable, more dignified -- something that doesn't fade when the outer markers of our form give way and our formless selves make room for the reconnection to the grandness of the All.
If we can loosen and free ourselves from attachments to the personalities we love, and instead focus on the love itself, we can carry on living and honoring all the things that made us love them so. Personality is fleeting, but love, love is eternal.
In truth we come from the same source, and in truth is our continual return to source. My heart aches knowing that we've lost another seeker and speaker of Truth. And knowing what my father goes through, I know that Muhammad Ali's anguish and suffering is over. For his return to the Beloved, I rejoice.
Calling all HuffPost superfans!
Sign up for membership to become a founding member and help shape HuffPost's next chapter