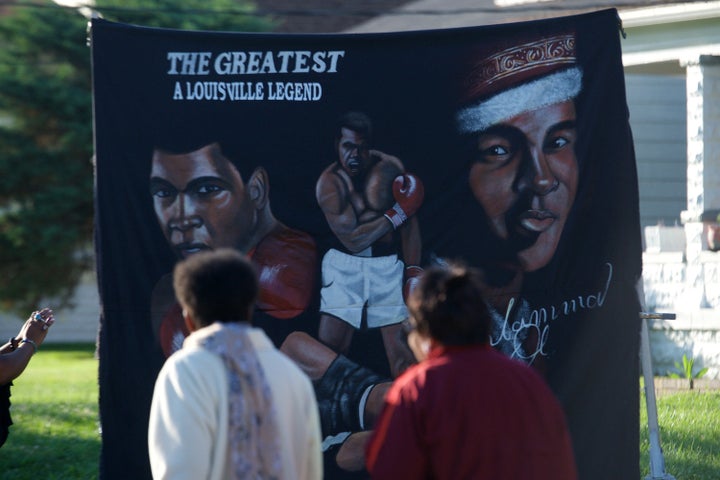 The world said its final farewell to boxing legend Muhammad Ali on Friday during an incredible interfaith funeral service held in his hometown of Louisville, Kentucky. 
Cheering crowds lined the streets of Louisville before the burial service began to chant Ali's name during an open and inclusive memorial service Ali designed himself.
"When he was younger, he said 'I used to dream that I was running down Broadway in downtown Louisville, Kentucky and all of the people were gathered in the street waving at me and clapping and cheering my name," his daughter Hana Ali wrote on Twitter Friday. "'I waved back, then all of a sudden I just took off flying. I dreamed that dream all the time.'"
Children and families cheered for the boxing and civil rights champion as the funeral procession made its way through the city, passing by Ali's childhood home. HuffPost reporter Travis Waldron captured the events on Twitter.  
On Friday, former President Bill Clinton, who presented Ali with the Presidential Citizens Medal in 2001, as well as, comedian Billy Crystal and news anchor Bryant Gumbel were among those who presented stirring eulogies.
"We all have an Ali story," Clinton said, as he reflected on memories of Ali and the lessons he taught the world. "We should honor him by letting our gifts go among the world like he did."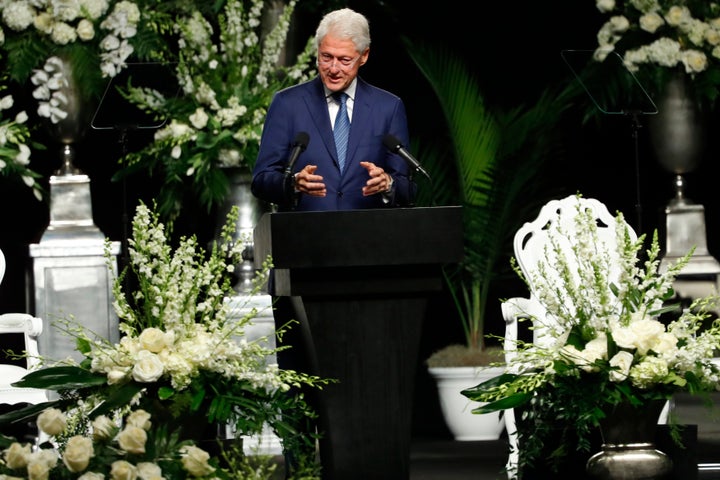 Other distinguished speakers included his daughters Maryum Ali and Rasheda Ali-Walsh as well as President Barack Obama's Senior Advisor Valerie Jarrett. Jarrett read a statement on behalf of Obama and the first lady where Ali was described as, "a loud and proud and unabashedly black voice in a Jim Crow world."
Attallah Shabazz, the daughter of famed activist Malcolm X, fought back tears as she delivered a searing speech on the relationship he had with her father and the influence Ali had on her, too. 
"My dad would often state when concluding or parting from another, 'May we meet again in the light of understanding,' and I say to you, in the light of that compass, by any means necessary," Shabazz said.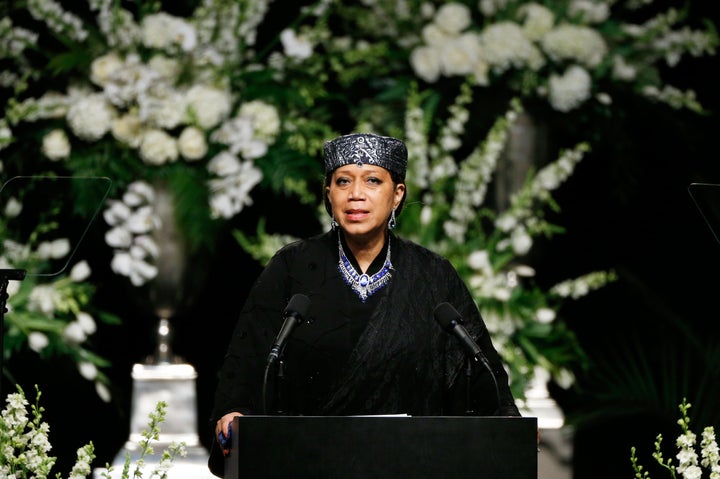 Lonnie Ali, Muhammad's wife of almost 30 years, highlighted how he persevered during a time when the "men he admired were gunned down, and Nelson Mandela imprisoned, for what they believed in." She also reminded the world of Ali's amazing accomplishments.
"For his part, Muhammad faced federal prosecution," Lonnie said. "He would not be intimated so as to abandon his principles and his values." 
She added, "If Muhammad didn't like the rules, he re-wrote them."  
The memorial service showed beautiful diversity both in the crowd and on stage. It began with a recitation of the Quran by Imam Hamzah Abdul Malik. It was followed by powerful speeches from Rabbi Michael Lerner, indigenous rights activist Oren R. Yons and Christian pastor Rev. Kevin W. Cosby, who each spoke of their admiration for Ali and collectively highlighted the importance of interfaith. 
"Before James Brown said, 'I'm black and I'm proud,' Muhammad Ali said, 'I'm black and I'm pretty,'" Cosby told the crowd as he spoke about the significance of Ali's love for black people and his own blackness. Cosby then went on to discuss how Ali relentlessly amplified the issue of racism in America and highlighted what the legend meant to black people everywhere.  
"[Ali] dared to affirm the beauty of blackness," he added. "He dared to affirm the power and capacity of African-Americans. He dared to love America's most unloved race." 
May Ali rest in eternal peace. 
REAL LIFE. REAL NEWS. REAL VOICES.
Help us tell more of the stories that matter from voices that too often remain unheard.
BEFORE YOU GO
PHOTO GALLERY
The Best Muhammad Ali Funeral Photos