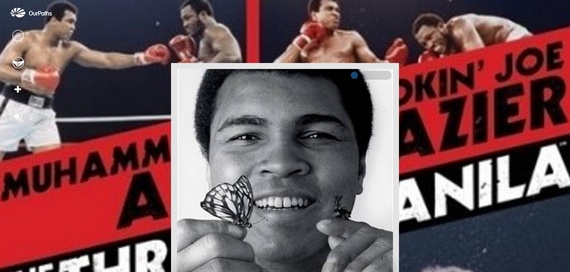 Create a tribute of your own, or see the comple tribute to Ali at OurPaths.com

By CLAY HASWELL
In the spring of 1975, when the snow in the frozen north began to melt and turn the streets of Anchorage to slush, I found myself thinking of warmer places and scheming to get myself to one of them as soon as possible.
I was working as a sports reporter at a hopeless (and now defunct) Anchorage newspaper at the time and it occurred to me that, if nothing else, this bizarre employment, which focused mainly on covering dog sled races and Eskimo games, might indeed provide a way out of the cold and into the sunlight.
The so-called "Thrilla in Manila" heavyweight fight between Muhammad Ali and Joe Frazier had been announced, and there was a possibility, albeit a slim one, that I could leverage my lofty post at the Anchorage Times to obtain a press pass to cover the fight in the Philippines.
And while this is not a memorial to the life of Ali, it is certainly a remembrance of youth, when all things were possible, all past was promise, and the Greatest of All Time was at his greatest.
I was a greenhorn reporter writing for a newspaper no one had ever heard of nor probably ever will. Other reporters would read the name of my employer, the Anchorage Times, on my press credential and would look, I may as well admit, askance.
Another caveat: this isn't a memoir of what has been called the greatest fight of all time. I think Ali and Toni Morrison, the Nobel Prize-winning author, and many sportswriters over the past 40 years have pretty much put that to bed.
But that said, I still remember almost every moment of my several days standing on the periphery of greatness.
I remember one of Ali's press conferences because of a chance encounter with Ali's legendary trainer, Angelo Dundee. It was a blistering hot day and I was at the back of the room dripping with sweat, struggling to hear Ali taking questions from the mob of scribblers when a stomach growled like a lion on a mission beside me.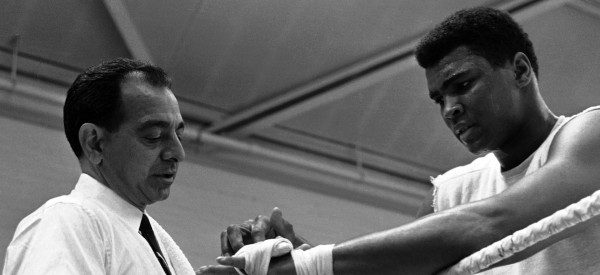 Angelo Dundee and Muhammad Ali

"Sorry," said Dundee. "Been like this for three days."
I reached into my shirt pocket for a vial of pills I kept at the ready. "Try these," I said, and shook out a pair of Lomotil tablets into his hand. "Works like a cork." Dundee, who passed in in 2012, and I will forever share that bond.
The contrast between fighters could not have been more prominent. Frazier was serious and determined. Ali was in a world of his own creation, basking in the joy of being Muhammad Ali. Nothing could illustrate this more clearly than a reception held at Malacanang Palace by President Ferdinand Marcos and his wife Imelda, she of the many mukluks.
Several hundred reporters were taking full advantage of the free booze and canapes when the President, wife at his side, along with their children Imee, Aimee, Irene and Bongbong, took to the stage to mark the entrance of the combatants. Joe Frazier entered the room first.
Marcos asked for quiet. Frazier, the former heavyweight champion of the world, made his way to the stage amid a somewhat tepid reception. Marcos welcomed the champ to the Philippines, praised his accomplishments and wished him well.
And then came Ali. He wore an expression of feigned urgency and a traditional Philippine barong shirt, sheer linen over rippling muscles.
The ballroom fell silent. The man could suck the air out of an airplane hangar.
President Marcos then launched into an emotional and heartfelt paean to Ali which, as I recall, included phrases like "the greatest who ever lived" and "brings great honor to our country" and so forth as Ali waited silently.
When Marcos wrapped up his florid introduction, Ali looked over at his wife, Imelda. The audience waited. Ali looked Imelda up and down, and then spoke to Marcos:
"You ain't such a chump yourself."
I filed daily stories from Manila and sent them by Telex to Anchorage, where they were received by an editor named Mike Granberry, now an arts writer at the Dallas Morning News. Granberry distinguished himself in many ways at the Anchorage Times but never more eloquently than when he arrived one morning in his pajamas so as not to miss a deadline.
I never reported on Lomotil or any of the myriad bizarre occurrences. But I did, with Granberry's encouragement, report on the atmosphere at the fight itself as it appeared from the second row ringside, in a corner where Ali went into a rope-a-dope tactic that, in close proximity, was terrifying.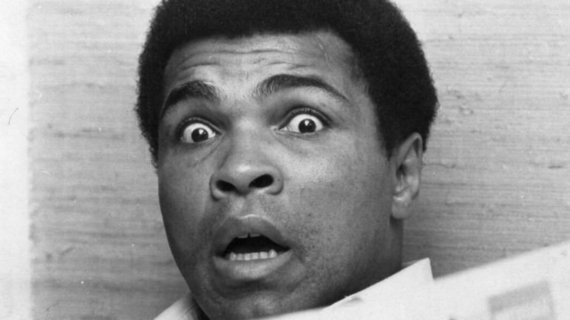 He allowed Smokin' Joe Frazier to pound him over and over as he leaned into the ropes in front of us, absorbing punches so powerful that a blow to the chest would cause his totally relaxed muscles to ripple all the way down his legs. At one point a blow to the head sent a spray of perspiration in our direction.
I was seated next to the reporter from Andy Warhol's Interview magazine. He was 18 and another novice at covering heavyweight fights. Two years earlier, I knew from news reports, my fellow reporter had been the victim of a highly publicized kidnapping, and at one point his assailants chopped off one of his ears and sent it to his father in order to get his father's attention.
His name was John Paul Getty III, son of the oil tycoon widely considered one of the richest men in the world at the time.
Getty, referred to by some at the time as the Earless Heir, passed in 2011, no doubt an Ali partisan to the end. Joe Frazier, who became close to Ali late in life, died the same year. The stage seems a bit bare at this point. Toni Morrison is still alive, as is Imelda Marcos and her son Bongbong. Granberry is still slinging stories about Jackson Browne and Jimmy LaFave and the Texas music scene.
But now that Ali is gone, along with most of the entourage that converged on Manila, the world seems somehow different. Youth seems even more distant.
I wanted to write a story to remember how it felt to report on the Thrilla before the memory fades, not just about the big things but the little things too; I wanted to be 26 and writing about what soon became history. I wanted to dedicate it to Ali and to things past and gone forever. Sometimes writing is just blowing on the ashes in a fireplace, trying to stoke a flame, keeping memories alive with words.
OurPaths.com is a place to remember people and things we never want to forget.
PHOTO GALLERY
10 Inspirational Athletes Over 50
REAL LIFE. REAL NEWS. REAL VOICES.
Help us tell more of the stories that matter from voices that too often remain unheard.