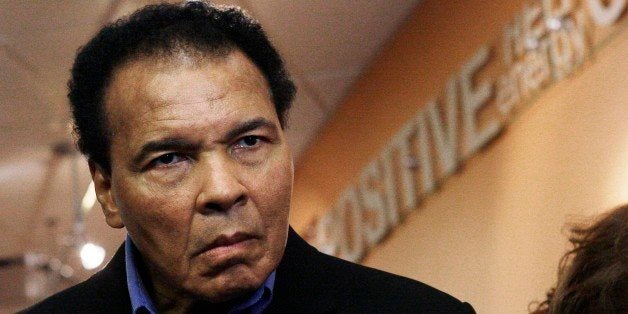 Boxing legend Muhammad Ali is lending his voice to call for the release of Jason Rezaian, a Washington Post reporter who has been detained in Iran since July 2014 for unclear reasons.
In a statement issued Thursday by the National Press Club, Ali called Rezaian "a man of peace and great faith, a man whose dedication and respect for the Iranian people is evident in his work."
Rezaian holds dual U.S.-Iranian citizenship and had been working in Iran as a journalist since 2008, before becoming the Post's Tehran correspondent in 2012. Rezaian and his wife, Yeganeh Salehi, were arrested on July 22. Salehi, also a Tehran-based journalist, was released on bail in October.
Ali said it is his "great hope" that Iran will end Rezaian's "prolonged detention" and "provide him with access to all his legal options."
The NPC said no other Western journalist has been held for as long a time as Rezaian and that until recently he had been denied medical care and a lawyer. It added that charged against Rezaian have never been disclosed or made public.
Read Ali's full statement:
With the Name of Allah, The Beneficent, The Merciful

"I am sorry that I cannot be physically present to lend my support in person but I pray my words will provide relief to the efforts to secure the release of Jason Rezaian.

Insha'Allah. It is my great hope that the government and judiciary of Iran will end the prolonged detention of journalist Jason Rezaian and provide him with access to all his legal options. During his time as the Washington Post bureau chief in Tehran, Jason used his gift of writing and intimate knowledge of the country to share the stories of the people and culture of Iran to the world.

To my knowledge Jason is a man of peace and great faith, a man whose dedication and respect for the Iranian people is evident in his work.

I support his family, friends and colleagues in their efforts to obtain his release"

Muhammad Ali

Popular in the Community