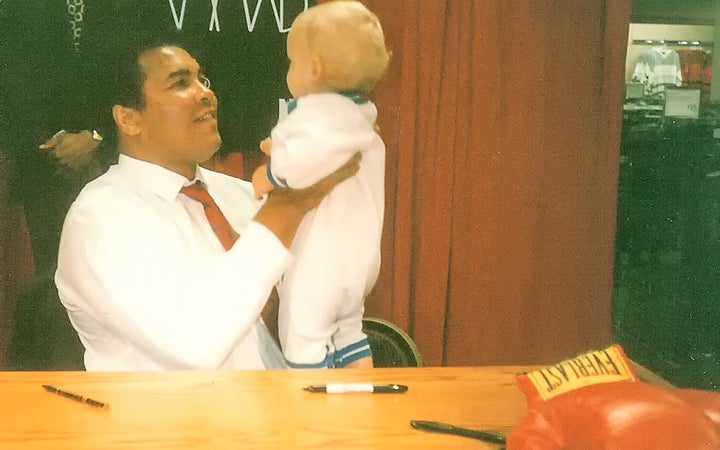 What I know of boxing, you can put in a box. A teeny tiny box. But I knew enough as a young mother that when Muhammad Ali came to town, it was time to grab the baby and go meet the greatest boxer of all time.
It was November 21, 1989. My son Riles was 10-months-old, two months shy of his first birthday on January 17, the same date Ali was born on in 1942. That coincidence did not secure my spot in line at the department store in Dallas, Texas, but purchasing a bottle of the newly released Muhammad Ali Cologne did.
Ali was on a promotional tour, and as reported by the Times News Wire Services back then, he had high expectations that his product would do well. "I predict I'll sell more cologne than anyone else in the world," he said in the Dallas appearance. "Women love it. Makes 'em chase men they don't even know."
I don't think his prediction came true, but I do know he was right about the second part, after all, there I was, chasing down a man I didn't truly know for an autograph.
As we wound our way through the men's clothing and fragrance sections, my towheaded son sat tall in his stroller, his hazel eyes wide open, mesmerized by the people around us and their chatter. When we got closer to the table where Ali was signing boxing gloves, books and photos being handed to him, Riles began squirming and crying, so I decided to carry him.
"You know Muhammad Ali loves babies," a woman behind me said, grinning at my son who had calmed down.
"Yes," I responded even though I really didn't. It hadn't mattered to know that before. My baby had no idea what was happening. I was here for the autograph and maybe, hopefully, a photo with my Instamatic camera. The cologne might make a nice Christmas gift, except for the box it came in. I planned to keep that because that is what I planned to have Ali sign for me.
"Ma'am, it's your turn," a kind voice interrupted my planning. I stepped toward greatness; Riles waved his arms excitedly. Muhammad Ali smiled and stretched his arms toward my son. The staff who directed us to the table asked if I would like Ali to hold him. "He loves babies," he whispered.
I put my firstborn into the hands of this gentle-as-a-butterfly man. He lifted Riles up, looking into his eyes, and smiled. He may have said something, but I was too focused on capturing the moment in my camera to hear anything, until someone nearby asked if I would like to be in the photo too. I nodded and turned to hand off my camera, but the staff member showed me his Polaroid which he said would instantly produce a photo that Ali could sign.
I stepped around the table and leaned in while resting my arm on Ali's shoulders. In a flash the moment was over and we were headed home with our memorabilia. I put the autographed photo in a frame and then in a safe place. I am sure someday I'll find it. We've moved a lot since then, though somehow I've managed to keep hold of the other photos taken that day.
My son has copies of them too, which are his only memories of being held by greatness, well, those and my constant reminders to him whenever Ali appeared in the news. "He held you once," I say, to which Riles replies, "Yeah, Mom, he did."
I said it again this weekend in a text to Riles, this time with tears in my eyes. Saturday's headlines told of Ali's death Friday night.
"Yeah, it's sad," he texted back with a digital copy of one of our Ali photos in the message. He said it reminds him that he's destined for greatness. That's a gift you can't put in a box and lose.
Though honestly I think Riles may have a few other things on his mind right now because his own son was born early Sunday morning.
And he, too, loves babies.
Support HuffPost
The Stakes Have Never Been Higher
Related
Popular in the Community