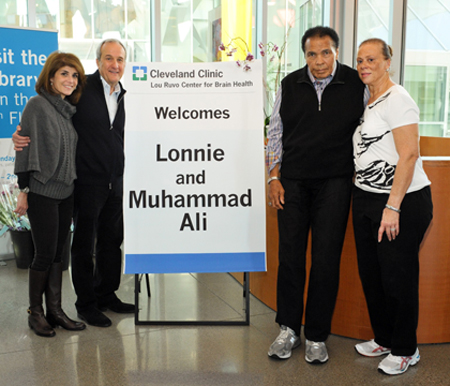 It got attention in worldwide media when a throng of celebrities came to Las Vegas a few weeks ago to join in a celebration of Muhammad Ali's 70th birthday.
The celebrities included notables from film and TV (Sir Anthony Hopkins, Chazz Palminteri, Samuel L. Jackson, event emcee Larry King, Robert Davi, Ken Jeong, Terrence Howard, Brad Garrett and James Gandolfini, among them), music (Lenny Kravitz, Quincy Jones, Kris Kristofferson, LL Cool J, Chris Isaak, John Legend, Sean Combs, Sammy Hagar, Kelly Rowland, Ne Yo, Slash, Joe Perry and others) and, of course, from the world of sports.
The latter group boasted a host of famous athletes, including David Beckham, Andre Agassi, Jim Brown and fighters including Franco Harris, Ken Norton, Leon Spinks, Evander Holyfield, Sugar Ray Leonard (Holyfield, on the left) and Leonard flank Kris Kristofferson in a photo below.) Even President Obama sent a video message, saying, "Happy birthday, champ. As a fighter, you were something spectacular. You shocked the world, and you inspired it, too. And, even after all the titles and legendary bouts, you're still doing it."
An auction offered the attendees such items as a stay on a private island, the first 2013 Mercedes Benz and, even, autographed gloves from the 1965 Ali-Floyd Patterson match that took place in the Las Vegas Convention Center. The high bidder paid $1.1 million.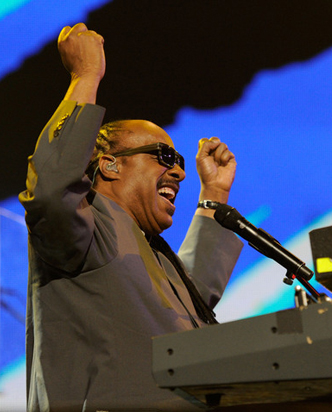 In all, it was a very big deal with the combination of Ali and all those celebrities -- including Stevie Wonder, who closed the evening with special music for The Champ (photo right) and whose appearance, according to Ali's daughter, Rasheda, was a surprise to Ali.)
It was an evening filled with heavyweights in their fields to raise money that, hopefully, will go a long way toward striking a knockout punch at diseases of the brain.
For beyond the reports of the glitter and of big names lies a bigger story. The organization honoring Ali that evening was the Keep Memory Alive Foundation. It was the 16th Annual Power of Love Gala benefiting the Cleveland Clinic Lou Ruvo Center for Brain Health in Las Vegas and Louisville's Muhammad Ali Center.
The Lou Ruvo Center for Brain Health is the result of the love of a son for his father and the frustration one may naturally feel watching a parent deteriorate when medicine seems unable to help.
Luigi (Lou) Ruvo came to Las Vegas with his family in 1955 and opened the Venetian Pizzaria. The business did very well and Lou Ruvo became a popular figure in the city.
His son Larry recalled in an earlier interview, "When my father became ill, local doctors diagnosed a host of illnesses, but no one diagnosed Alzheimer's. I took him to San Diego to see Dr. Leon Thal, who was chair of the Neurosciences Department at the University of California, there and a leading Alzheimer's researcher. Leon took care of my father until he passed away."
"Because of the kind of person my father was, friends wanted to give a dinner and 'going away' party for him. The dinner, hosted by Wolfgang Puck, was in the Bellagio. A friend from California happened to be in the hotel and heard we were there. He joined us and donated $5,000 at that dinner. By the time it was over we had $40,000 and the Lou Ruvo Foundation was born."
Now, affiliated with the Cleveland Clinic and housed in a Frank Gehry-designed building, the Cleveland Clinic Lou Ruvo Center for Brain Health has become a world leader in treatment and research into diseases of the brain. It treats Alzheimer's disease, and the neurological impact of multiple sclerosis, Parkinson's disease, frontotemporal dementia (FTD) and movement disorders.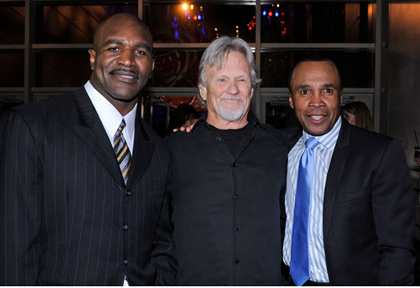 "Today," Larry Ruvo points out, "we have the largest Alzheimer's clinical trial in the world. With the aging baby boomers, Alzheimer's is the coming tsunami. As we did with SARS and AIDS, we have to focus. French President Sarkozy is all about brain health and gave the keynote at the Alzheimer's Association International Conference. The stress and financial burden in families where someone has Alzheimer's is so great."
"I'm convinced more than ever from talking to the doctors," he adds," that a cure will be found. I don't know if it will be found at the Lou Ruvo Center, but it will be found because of the Lou Ruvo Center."
He is hoping, too, that the same can be said of other brain-related illnesses and, recently Larry and Camille Ruvo had the opportunity to show Muhammad Ali and his wife Loni (photo above left) the Center.
Research funding comes from a variety of sources, Eleven million dollars was raised at the Ali event. In part, the money went to fund a research project the Cleveland Clinic is doing at the Lou Ruvo Center that was particularly applicable to some people who were there that evening.
What used to be called "punch drunk," the confused, seemingly dazed, behavior of someone -- usually a boxer -- who had sustained repeated blows to the head, is now, less colorfully but more scientifically, called Chronic traumatic encephalopathy (CTE), a progressive degenerative disease. One of its variants is called dementia pugilistica (DP), the condition found in fighters, but American football and ice hockey players are also affected by CTE.
At the Ruvo Center the Cleveland Clinic is doing the first-ever study investigating the changes in brain health that occur in many boxers and MMA fighters as a result of repeated blows to the head that occur in fighting correlate with impaired thought and function.
With the goal of enrolling 600 fighters in the study, researchers will utilize MRI technology:
•to detect the earliest and most subtle changes in brain structure and function that result from head trauma
• to determine which of these changes may predict future development of chronic brain disorders such as Alzheimer's
• to identify potential protective therapies.
The study participants will be monitored over time, repeating the study once each year for four years.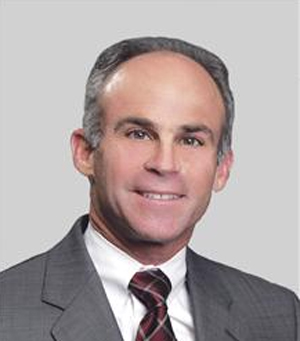 Charles Bernick, MD (right), a neurologist and Associate Medical Director, Lou Ruvo Center for Brain Health, is the principal investigator for the study. He says, "The beginning of the research probably dates back to five years ago when there was increasing attention beginning to be paid to repeated blows to the head and CTE."
"It was an area that nobody knew anything about. And Las Vegas is a place where we can make a study happen because there are a lot of fighters here, a lot of people we know will get head trauma.
"This is what gave us the idea to do the study and what made it happen was the fact that the Cleveland Clinic, with its resources, came into Las Vegas with the Ruvo Center."
Asked about a possible link between CTE and the Parkinson's disease with which Ali is afflicted, Bernick replied, "This is an area we don't know for sure. CTE can manifest in a lot of ways -- memory impairment, slurred speech, mood changes and depression. Symptoms can mimic what looks like Parkinson's disease."
The study researchers are working with the Nevada Athletic Commission. "On a monthly basis the Athletic Commission has to make decisions on whether or not an older fighter should be licensed. But there are no objective criteria," Bernick says. "So we're working with them."
Keith Kizer, the Commission's executive director, says, "The study is valuable for fighters of all ages, for other contact sport athletes and, ultimately, for anyone who sustains a head injury. Before getting a license to fight in Nevada, every fighter who boxes or fights in MMA matches is required to have an MRI and an MRA, Magnetic Resonance Angiography that measures blood flow to the brain. If they go to the Ruvo Center and they participate in the study, they can do so at no cost. With the MRI and the MRA we always have a baseline against which we can compare any subsequent injury."
In the first 11 months of the study, 153 fighters have been enrolled. "What we've been so pleased about is that, from the start, we've had the backing of everyone in the sport who's heard about it... groups that regulate fights; the Athletic Commission, trainers, fighters. No one's tried to paint this project as being bad for the sport. We're just interested in how to make things safer for all athletes who may be affected by CTE."
He notes, "We do know that amateur boxers do not seem to show these long-term effects but that may be because they don't fight for as long and their rounds are shorter. We don't know if the head gear they're required to wear protects them."
Along with the main research, there is a concurrent sub-study, Bernick says, "There's an iPad product that can look at performance -- balance and cognitive processing speed -- before and after a fight. And a mouth guard being developed by the Cleveland Clinic that will measure force."
"And," he adds, "one very important thing the research has shown us is how much we still have to learn."
Here is a video explaining the study:
Gala photos: Ethan Miller/Getty Images
Dr. Bernick photo: Ruvo Center
All photos used with permission.
Popular in the Community