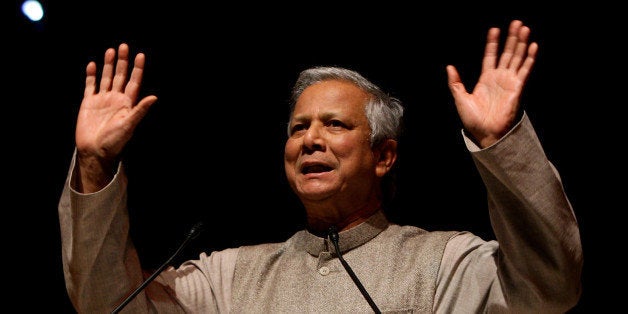 Bangladesh Islamic groups called Monday for a nationwide protest against Muhammad Yunus over comments in 2012 supporting gay rights, in the latest attack against the Nobel laureate and micro-loan pioneer.
The country's main mosque and an Islamic group with links to the government have launched a campaign against Yunus, whom they say should be prosecuted for supporting homosexuals in this deeply conservative Muslim country.
Hundreds of imams, many of whom are on the government's payroll, are expected to take part in the peaceful street protests on Tuesday, according to organisers, who claim rallies will be held in 600 towns across the country.
"Yunus must apologise for supporting homosexuality or he must be prosecuted for standing against the Koran and Islam," an organiser, Maolana Moniruzzaman Rabbani, told AFP on Monday.
Rabbani, secretary of a committee that helps run the national mosque in Dhaka, said organisers would distribute 600,000 leaflets outlining Yunus's statement against violence and opposing discrimination against gay people.
The 73-year-old economist made the statement along with three other Nobel laureates in April 2012 following prosecutions of gay people in Uganda.
"We'll hold a massive rally against Yunus in the capital on October 31," said Rabbani, who is also secretary general of the Islamic Oikyajote political party, which claims to be allied with the government.
"We have asked all Muslims to be united against Yunus's move to destroy our family and society," he said. Homosexuality is outlawed in Bangladesh.
A spokesperson for Yunus declined to comment because of the sensitivity of the issue. He is currently not in Bangladesh.
The campaign is the latest aimed at discrediting and attacking Yunus in Bangladesh. He was sacked in 2011 from Grameen Bank, the micro-credit pioneer he founded, after he angered the current Prime Minister Sheikh Hasina by joining politics briefly.
In September the government launched tax probes against the anti-poverty campaigner and his seven social business firms, accusing them of evading millions of dollars in taxes.
Rabbani said the protests were being organised "solely in an effort to protect Islam and family". But an official said the government's Islamic Foundation, which is responsible for religious affairs, was behind the campaign.
The official, who did not want to be named because he works for the Islamic Foundation, said it has ordered imams who are on government payrolls to join the protests.
"Its press has published the booklets and leaflets against Yunus," he told AFP.
Shamim Afzal, head of the foundation, has denied that his department was behind the campaign or that it supported it.
Yunus set up Grameen Bank in 1983 and made it a global success story in tackling poverty. His efforts to make collateral-free micro loans easily available for Bangladesh's rural poor made him a national hero.
But he appeared to anger Hasina after he called for elections under a caretaker government -- a key demand of the opposition.
Copyright (2013) AFP. All rights reserved.
Before You Go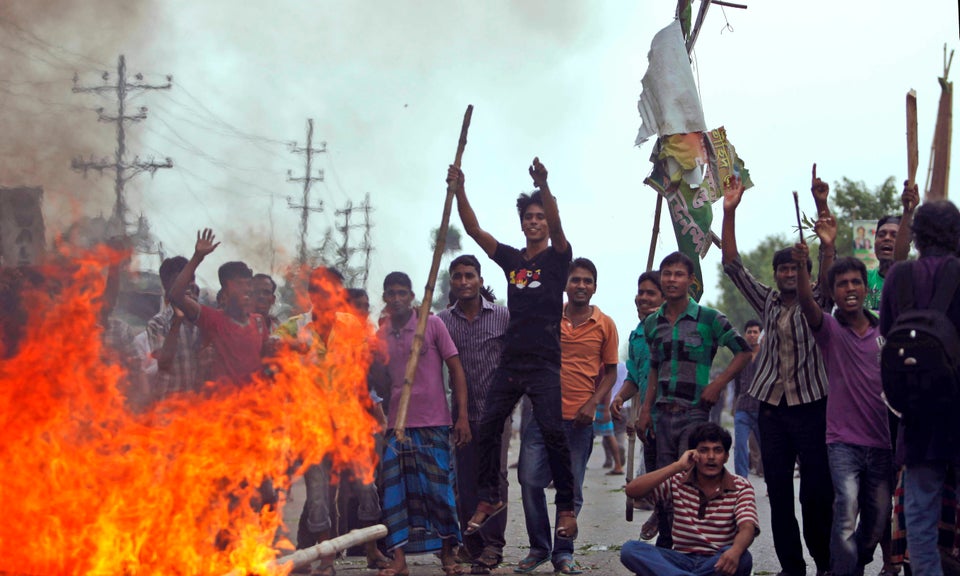 Bangladesh Factory Collapse (UPDATED)
Popular in the Community