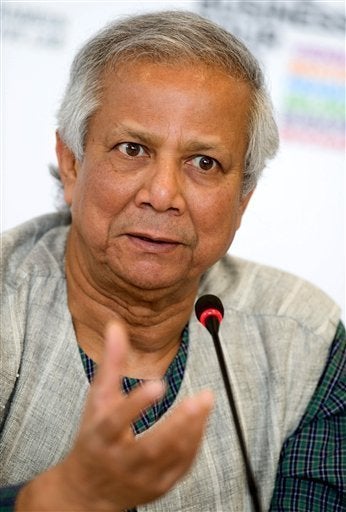 WASHINGTON -- The Nobel Peace Prize winner who invented microcredit presented his latest idea for combating poverty, "social business," to the State Department on Thursday.
Muhammad Yunus, the Bangladeshi economist who has championed microfinance as a way to alleviate poverty in the developing world through entrepreneurship, told The Huffington Post that he would encourage U.S. policymakers to change the way they administer foreign aid. Instead of giving handouts of food and other aid, Yunus argues that donor nations like the United States should help fund groups based on a model of social business.
Not quite a for-profit company nor a nonprofit philanthropy institution, a social business is a hybrid in which owners recoup their investment but take no more in dividends. The goal is not to get rich but to provide health care, housing, clean water, nutrition for malnourished children, renewable energy and other goods "in a business way." Yunus said the business model is aimed at "creating a new space without closing down the other sides."
While in Washington to speak to a gathering of international development and aid organizations, Yunus met privately with Secretary of State Hillary Clinton. She has been a long-time champion of his microcredit work and Grameen Bank, which he started in 1983 to make tiny loans to the poor, 97 percent of them women.
While Yunus was recently forced by the Bangladeshi government to resign from Grameen in what is widely viewed as a politically motivated move, he said he hoped Clinton would step up her support of social business to help empower the powerless.
He suggested Haiti, whose economy remains shattered from the January 2010 earthquake, as the logical place to start.
"People are getting everything free because so much donations have come in" from the international community, he explained. "Free food, housing in the camps. So when the bulk of the things are free, you are not building the economy ... Life cannot go on in a charity mode all the time. We have to shift from the charity mode to the business mode."
Yunus cites collaborations with companies like technology giant Intel and Dannon yogurt parent company Danone as examples of social businesses that can replace welfare to maximize good and not just profit.
Yunus' work has not been without controversy. Microfinance banks in India and Mexico ostensibly modeled on Grameen have turned into what Yunus calls "loan sharking" operations that charge high interest rates in pursuit of big profits.
Earlier this year, he wrote about "mission drift" as microfinance has become more commercialized. "Poverty should be eradicated, not seen as a money-making opportunity," he argued.
Yunus said predatory micro-lenders have given his movement a bad name. "Yes, this is a problem," he told HuffPost. He calls for more regulation as well as drawing a line between for-profit and not-for-profit operations. "Today there [are] no distinguishing marks so everything is called microcredit, and then blame comes to the microcredit part which is dedicated to serving the poor -- which is unfair."
So, too, say Yunus supporters -- a group that includes Clinton and other U.S. diplomats -- is the recent action by the Bangladeshi government to force him out of Grameen Bank. It began a review after a Danish documentary broadcast in Norway accused Grameen subsidiaries of gouging poor borrowers with high interest rates. Yunus was later cleared of wrongdoing but informed by a 77-year-old finance minister that, at 70, he was too old to stay at the bank's helm.
Without a bank to run, Yunus has turned to selling his vision for the social business model. But not everyone is convinced the idea could be a panacea for poverty.
"I don't share his fascination with that," said Daniel Roodman, a microfinance expert at the Center for Global Development. "What has reduced poverty is not social business but traditional businesses creating jobs. ... Social businesses are not what made America rich."
Yunus thinks social business has tremendous promise, but must develop with deeper roots. He believes if societies change their mindset to teach students that the goal of education is not to get rich but to enrich one's life by helping others, the business model could drastically reduce poverty in this century. And then, as he said when accepting the Nobel Prize, "the only place you would be able to see poverty is in the poverty museums."
Related
Popular in the Community