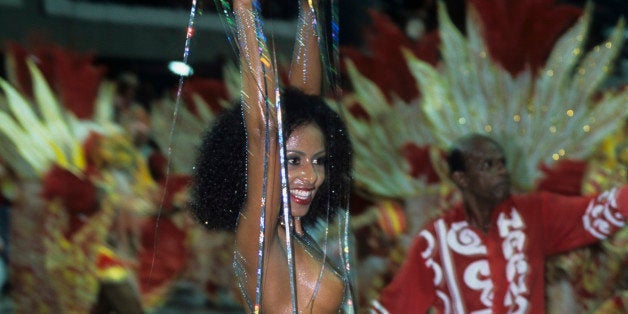 "Don't let them make you believe that our role is to attract foreign tourists to the country by playing the role of the mulatto woman."
--Yzalú, Brazilian musician
Promotional ads hyper-sexualizing the bodies of black women have just started airing, ahead of Rio de Janeiro's Carnival, which will kick off on February 5.
This is the moment I ask myself if we will ever be able to bring up something other than the "Mulata Globeleza" when we address media depiction of black women.
That is the reference we've been using since 1993, when the Globo TV network created this character to promote its Carnival transmission.
It doesn't take much to realize that this character's image contributes significantly to the hypersexualization of black women's body, and bolsters stereotypes.

I would really like to believe that we are living a new reality where black women are empowered.

Anyone capable of the most basic critical thinking should know that by now.
This wiggling, samba dancing mulatto woman became a hit, stirring the imagination of millions of Brazilians. She was created by Hans Donner, a German designer who, coincidentally, is married to Valéria Valenssa, the first "Globeleza." Valenssa played the role for over a decade.
She continued to play the role even when she became pregnant, but in 2005, she was replaced by Giane Carvalho.
From then on, three other actresses played the role: Aline Prado, Nayara Justino and Erika Moura.
I would really like to believe that we are living a new reality where black women are empowered, and where there is resistance to stereotypes in mainstream culture.
The year 2015 was very special for black women, thanks to the first edition of the Black Women's March, representing the daily struggle against racism, sexism and eurocentrism, as well as demonstrating the strong presence of black women in the country.
Sadly, however, the Brazilian media still surprises us by showing the same old images of black women playing the same old roles. And Carnival remains the pinnacle of this phenomenon.
Amidst all the beauty and sophistication of Carnival, "Globeleza" insists on representing black women as mere sex objects.
And when we consider the reality of the Brazilian population, we realize how perverse this is.
And what does the Globo TV network and its "Mulata Globeleza" character insist on showing us?
That "Globeleza" is nothing but a collection of stereotypes.
"Globeleza" is a naked black woman, dancing provocatively, silently, connecting with the viewer only through the image of her body. It is impossible to watch one of her vignettes without realizing that it is not about the woman Valéria Valenssa. Instead, it is only about her body, her sensuality and her sexuality. "Globeleza" is just a body that dances the samba sexually, nothing else.
That it is OK to be called "Mulata Globeleza."
The term "mulata" (mulatto woman) is extremely violent. It came from the word Mula (Mule), which refers to the cross between a donkey and a mare; a cross-bred and barren animal. During slavery, around the 16th century, the word was used to refer to children born to Portuguese white men and black slaves. Although many people today don't feel uncomfortable with the use of this term, I believe that, considering the condition of the black Brazilian population, especially black women, such derogatory terms worsen the living conditions of such people.
That "Globeleza" is not a popular icon, but a product created by Globo TV network.
Brazilian pop culture is extremely rich. There are several popular icons that bear cultural significance and that could easily be part of Carnival imagery. The "Mulata Globeleza," however, doesn't come from pop culture. It is the creation of the German-born Brazilian designer Hans Donner. And yet, it is clearly the image many foreigners have of Brazil. The problem is the fact that we passively accept that image.
That the naked body of black women is always available to men's pleasure.
A naked black woman with only a few colored paint strokes to cover her sexual organs, always smiling and dancing. This image is closer to the sexual desire of European white men than to the sincere expression of happiness during Carnival. The image created by Hans Donner is firmly rooted in the history of colonial Brazil. Think about it: in colonial Brazil, black women were separated from their families and forced to work in the farmhouses of their owners, and forced to have sexual intercourse with their masters. "Globeleza" is a symbol of the injustice that took place in Brazilian history, and that still takes place today.
That the beauty of black women is only recognized during Carnival.
It is a fact... During Carnival, everyone wants to be like her, to dance like her and to have the attitude of a real samba dancer. In February, the black woman is considered a role model. During the rest of the year, though, the situation changes. They often play secondary roles in soap-operas, never the main characters. They have no place in Brazilian movies or TV shows. When they appear in comedy shows, such as
, they are ridiculed. According to the logic of Brazilian TV channels, black women are only beautiful during Carnival; the rest of the year, as if by magic, they are no longer beautiful.
That the "Mulata Globeleza" sets the standard for black women.
Thin, tall, slender, big breasts, big butt, curly hair with a few blonde locks, and lighter skin. That is the acceptable standard for a black woman (even if only as a sex object). But most black women don't fit that standard. Fat black women with darker skin, thicker lips, stronger features, who cannot dance the samba or are not willing to be regarded merely as sex objects, have no place in the media.
That the "Mulata Globeleza" can cause depression.
This point is connected to the previous one. In 2014, the actress Nayara Justino was elected "Globeleza" by popular vote. But the general public didn't receive her very well, mainly due to the fact that her skin was darker than that of previous actresses. When the news came out that Globo network would replace her, several Internet users posted racist comments about her skin color. Consequently, she was overcome with depression. This disease also befell Valeria Valenssa when she knew she would be replaced in 2005. After her pregnancy, her body changed significantly, and she believed that was the reason she had been replaced.
This post was originally published on HuffPost Brazil. It has been translated into English and edited for clarity.
Calling all HuffPost superfans!
Sign up for membership to become a founding member and help shape HuffPost's next chapter