Morocco is famous in tourist circles -- primarily for Marrakech, and rightly so. With bustling souks, boutique riads around every corner and a medina full of storytellers and snake charmers, Marrakech is a true East-meets-West city. It has a buzzing sense of otherworldliness and style that is hard not to like. Yet having landed in the impressive new Marrakech Airport, we ignored the call of the shopping in the souks (which, trust me is no hardship...) and headed straight for the High Atlas Mountains and Toubkal National Park, just an hour or two South of the City and home to North Africa's second highest Mountain.
Just a short drive past several curiously out-of-place golf courses (golf courses in deserts, why?), we were unceremoniously dumped with our backpacks at the side of the road leading up the Imlil Valley. Waiting for us was our guide, cook and mule (that being three separate entities not one multi-functional donkey/horse hybrid). Mules are used frequently in these parts to transport trekkers gear and food supplies and served to fully demoralise us throughout our trek by capably lugging 100kg of gear on tortuous paths that left us wheezing for breath.
The High Atlas Mountains are home to the Berber people who have successfully resisted invading forces and cultures for thousands of years. Berber villages, consisting of a mishmash of simple square earth buildings set picturesquely amongst the valleys of the Atlas range, offer a fascinating insight into a more traditional way of life in Morocco. Whilst electricity, mobile coverage and sky dishes are slowly penetrating, the values and way of life still offer a welcome contrast to the cosmopolitan city life of Marrakech. Villagers collect their water from the central well, keep livestock in their yards and hang rugs to dry from their homes. We slept in Gites, very simple guesthouses with long-rooms ringed with cushions which serve as a multi-functional dining room, sitting room and bedroom. It would be hard to describe the accommodation as anything approaching comfortable, but there was a simplicity to it that was entirely in keeping with the mountain setting, and without exception all had incredible views.
Like most trekking destinations, the majority head straight to climb the big peak (Toubkal) leaving the remainder of the vast range free to those of us who prefer our paths a little quieter. Why do people always head for the big name walks? One of the delights of trekking for me has always been the solitude, so the concept of trekking in a procession with countless others is frankly bizarre! In three days of trekking in the Atlas Mountains we came across just three other couples. Our trek started in Imlil Valley at a modest altitude of around 2,000m. The terrain at this altitude has a Mediterranean feel with dusty red earth thick with gnarled juniper bushes and wild mint and thyme. The neighboring Azzaden Valley, however, was a photographer's dream with lush autumnal walnut trees densely crowding mountain streams on the valley floor and perfectly offsetting the rocky, dusty monochrome valley flanks.
Over two days trekking we ascended close to 2,000m in altitude to the head of the valley and another photogenic view over the rows of snow-capped peaks, and of course Toubkal.
Four days of trekking at altitude with not a drop of alcohol, healthy food and early nights (there isn't much to do in the mountains after dark) left me fully refreshed and sickeningly cynical of Marrakech's more esoteric delights of shopping and people watching. Still the hot shower in the luxurious city center, Riad, was far from unwelcome!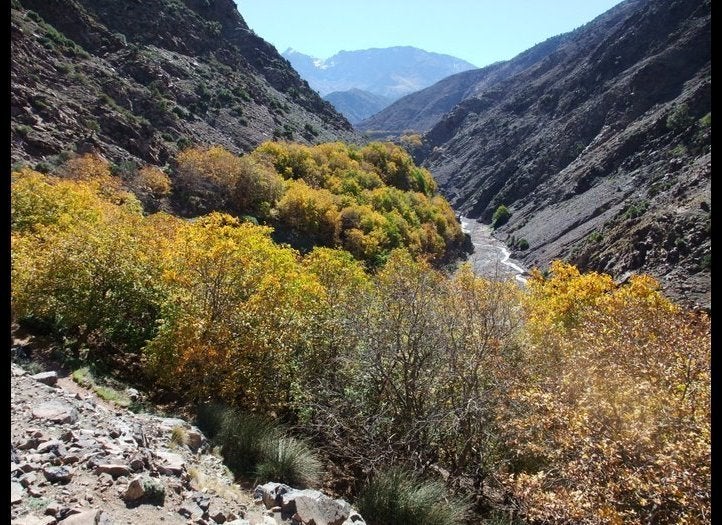 The Atlas Mountains in Morocco