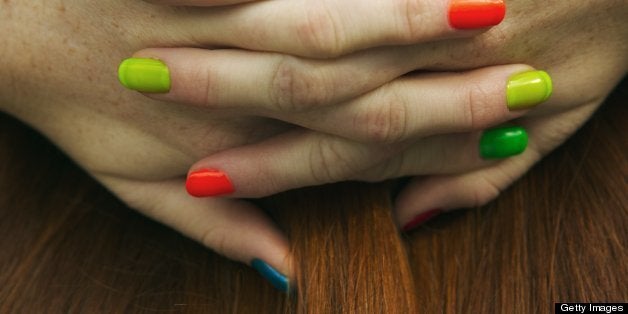 From foot binding to Stilettos, corsets to Spanx, many fashions do not prioritize comfort, ease or savings. But occasionally a fashion trend comes along that saves time and money.
A manicure traditionally means the same color on each nail and often the same color on the hands and toes. Even French manicures still used the same design on each finger.
But more and more, a different color ring finger fashion emerged and spread to a multi-colored nail trend. Sometimes the colors are from the same family, sometimes completely different. Different colors, sometimes even one on each nail, have been seen across media and on superstars Rihanna and Beyonce.
In my efforts to avoid looking like a three-year old messing around with Play-doh, I rarely do my own nails. I'm a working woman who embraces manicures and bright colors but my nails chip easily, so multi-colored nails seem like a trend to embrace wholeheartedly. Chips could be easily remedied with any color available nearby. At the salon I have all the colors in the world to choose, so rarely pick colors I own. The downside of the adventurous color choices is that I can't touch up my nails in between visits. Every time they chip, I need a new manicure.
Two weeks ago I was in Los Angeles on a business trip and got a Colgate mint toothpaste color shellac manicure that was promised to last two weeks. Shellac doesn't crack like ordinary nail polish, but a day before my big Awards show work event the color on two nails started riding up and perched itself like mini-berets atop my nails. Eight nails were still perfect, I only had 15 minutes to spare and I only needed to make it through one more day before my event so I asked the manicurist to fix just two nails between my meetings in New York City. They didn't have the Colgate mint toothpaste color, but had what J Crew would call Key Lime Green. The manicurist fixed my two nails and I ran back to my meetings. The colors looked similar yet different.
The next day as I sat at a Blow Dry Only salon getting my tresses blown out for the event, two more Colgate mint toothpaste nails started peeling up into berets. The salon had nail polish testers. I "tested" a Smurf color on my two peeled off nails. I now had three different colors distributed on my ten fingers. It was an easy fix of a multi-hue mini-rainbow of blue and green.
At the Awards show that night I got lots of compliments on my multi-color nails. I was perfectly on trend. But I didn't like them any more than skinny jeans on wide-hipped people. Had the ancient belief of suffering for fashion affected my taste? Or did I just want the calming simplicity of ten similar nails? I'll return to the expected yet inconvenient, expensive and impractical norm of monochromatic nails and start calling the nail salon my second home.