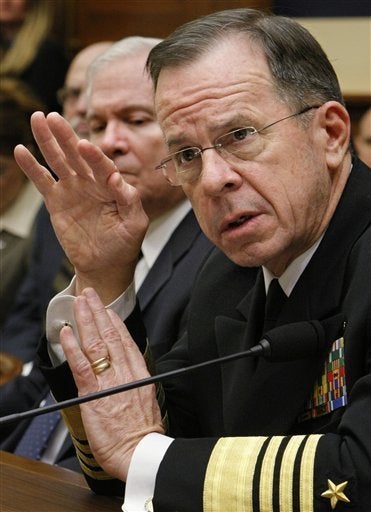 The decade-long campaign to repeal Don't Ask Don't Tell gained both real momentum and cultural symbolism last February when Joint Chiefs Chairman Adm. Mike Mullen announced that he favored ending the military's policy banning openly gay service.
One of the most revered military officials in the country, Mullen's position was supposed to quiet the critics who insisted that the top generals were not in favor of revising the 17-year policy. But political progress, as is often the case, comes in spurts and setbacks. And while the House of Representatives moved relatively quickly to pass a repeal of DADT, the measure languished and then faltered in the Senate.
This past week, the upper chamber declined to pass a defense authorization bill that included DADT's repeal. And at a breakfast sponsored by the Christian Science Monitor on Wednesday, Mullen registered disappointment, stressing again that he believes the policy needs to end.
"I am very clear where I was on February 2 and where I am today," he said. "This is my personal view. I struggled greatly with the fact that we asked people in an institution that values integrity, which is who we are, that we would ask individuals to show up everyday and basically lie. So my position on that hasn't changed at all."
The Joint Chiefs chairman acknowledged that both he and his staff are subject to the whims of the congressional process. But he did offer a preference for legislative action that will likely be cheered by those seeking to slow down DADT repeal. The military brass, Mullen said, would prefer to get the results of a yearlong survey of service members and their families (set to be done on December 1) before revising its policies towards gay members.
"We were hoping the law doesn't change before we have that," said Mullen. "If I could pick, and I can't, the way this would happen, I would like to finish the review and have the review then inform the legislative process. I'm not in charge of the legislative process. It has, and I have said this many times, it is very difficult to predict that and it is really up to Congress to move that through. I certainly, from a perspective of some time ago, I expected there to be ups and downs and I think there will continue to be. But in terms of what I said before, what happened last week had no impact on me."
Whether the Pentagon review should be completed before Congress acts or vice versa is a slightly moot debate. At the White House's urging, lawmakers wrote repeal language that would effectively overturn DADT only after the review was completed and certified by the president. If, for some reason, it is determined that lifting the ban would have a damaging effect on troop morale, the Pentagon would have a 60-day period to request or make revisions.
Calling all HuffPost superfans!
Sign up for membership to become a founding member and help shape HuffPost's next chapter