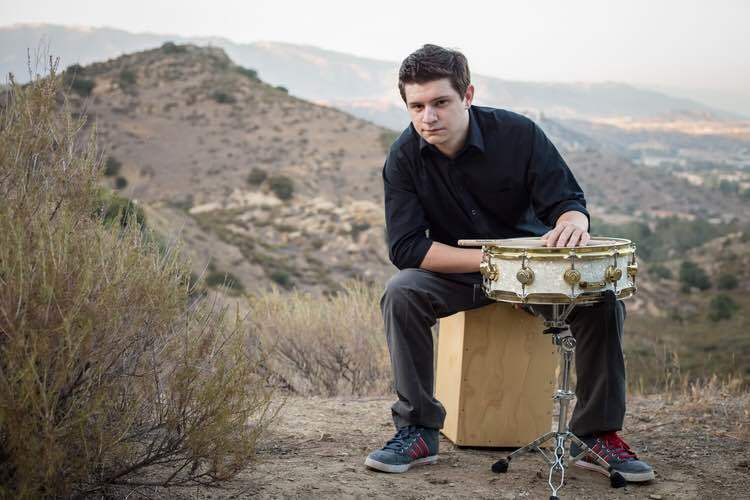 I recently sat down with Hal Rosenfeld in his eastside studio to talk about his history with music and working in the Los Angeles music scene. Not only is Hal an accomplished drummer, percussionist, and orchestrator, following in the footsteps of his mentors: legends such as Bernie Dresel and Ladd McIntosh, but he is also a skilled composer and arranger. This year, his work can be heard on a wide variety of projects: from Dirty Grandpa, to iOS10, Netflix's The Siege of Jadotville, and most recently ABC's Quantico. It was great to talk to Hal about how he's gotten to where he is, and his philosophy behind pursuing multiple music areas at a high level.
Tell me about your history with music. What's your story and how did you get to where you are today?
I grew up in South Florida, the city of Boca Raton. I started very young with music at around three or four - performing, not necessarily with drums, but with singing. I'd always wanted to play drums, but my parents never let me - I had a cousin who played and my Dad's older brother played, as well. When I was approaching fifth grade my parents wanted me to go to this magnet middle school called Bak Middle School of the Arts - they have different majors there like dance, theatre, music,etc. After long hours of begging, my mom finally let me take a drum lesson! I was always tapping things as a kid and creating rhythms, so maybe it was meant to be. My drum teacher, Chad, taught me rock drum set, jazz drum set, and orchestral percussion at the same time. I got into the school and it was all orchestral and chamber percussion there. I wasn't in the jazz band, but was well-aware of jazz and began exploring it on my own and in summer jazz programs. When I got to West Boca High School, I got into the whole marching band thing and started playing in jazz band, in addition to orchestral and percussion ensembles; the Vanguard band program is well-respected in the state. Around my senior year of high school, my uncle passed away of this rare cancerous disease called GIST (Gastrointestinal Stromal Tumor). There was a scholarship coming up called the Pathfinder Awards: where the local newspaper honored various students who over-achieved, like rescuing homeless children in Uganda. I'd never saved anyone's life nor had I ever left the country, but I decided to tap into my emotions and write a piece for this - it was the first piece I had ever really written, outside of arranging I had done with my active jazz/rock trio (vibraphone, electric bass, and drums) project The White Rose Jazz Club. It was called "lost." and it was a dedication to my uncle Steven Goydel who had passed away. I got some friends involved - leaving voicemails with personal anecdotes of death, which I incorporated into the composition - it had a storytelling aspect to it, as well. I played it live and I won the award! I couldn't believe it. That was my first real experience with composing - it was through mallet percussion, specifically marimba, that I got there. I always knew I wanted to go into movies and music, but never listened to much film music.
The summer before my senior year of high school, my mom signed me up for a summer music course at the one college I really didn't have any interest in, but after several weeks of me being incredibly stubborn and unwilling to hear any information on this particular course, it turned out that my musical idols, Gordon Goodwin's Big Phat Band, were coming in from LA to this school! I went to that weeklong program and met Bernie Dresel from the band who is now one of my closest friends and drum/percussion mentors. We clicked immediately and that seminar really began my journey. So, yeah, I guess you could say that if I hadn't listened to my mom, I wouldn't be where I am today [laughs]. After a year of college at Florida State University, I moved out to LA for the summer and started a bunch of internships. One of them was working for Gordon. I also started drum-teching for Bernie, which means I'd show up for every live gig he had and set-up/tear-down his drums. That led to me eventually subbing for him, which are incredibly big shoes to fill! I was also interning at a copyist shop. Those different worlds all blossomed out: I started to do some work for orchestrators, started playing around town a lot, as well as some score-prep work of my own. Eventually after a few months of being in LA, there was no way I was going back to Florida! That summer, years ago, still hasn't quite ended.
What projects are you working on now?
I do a lot of different things! I'm a drummer, percussionist, orchestrator, composer, arranger, and copyist. So far this year, I've had a hand in the music aspect of 17 movies and TV shows, as well a few short films, a virtual reality video game, countless live gigs, and records. As far as upcoming and new-release things, I orchestrated two of the songs in the Photos App of the new Apple iOS 10 update. If you go into the "Memories" feature, you can pick a song to go with your auto-created slideshow. There are two new movies that have just been released on Netflix. One is called The Siege of Jadotville, where I worked with Joseph Trapanese, playing percussion and arranging some cues on that score. It's an Irish-African movie, so I played some Irish bodhrán and a bunch of other cool instruments. The second is Rebirth: I played drums with three other drummers and orchestrated a score by Jonathan Snipes from the rap group called Clipping (with Daveed Diggs from Hamilton). Earlier this year, I conducted Genevieve Vincent's score for an important documentary Mixed Match, about mixed ethnicity bone marrow donors, which is making the festival rounds. Currently, I'm arranging Joseph Trapanese's music for a TV show called Quantico on ABC, fresh off of the train from his previous show Dead of Summer, where I also did the same. I did some additional score preparation for Danny Jacob on a Disney TV show from the creators of Phineas and Ferb called Milo Murphy's Law. I've designed some cool sounds for a composer named Carly Paradis on two British shows: Tennison and Sick Note, featuring Rupert Grint from Harry Potter. I'm also playing a lot! I'm heading to Dubai and Suriname in a few weeks to play with an Indian pop-star of YouTube fame named Vidya. I'm doing some stuff with Joseph Gordon-Levitt's HitRecord here and there, as well. I also recently finished scoring two very beautiful short films, both by budding directors: Ashleigh Coffelt's, Call It What You Want and Joshua Jacobs' Capriole. As you can see, I'm very busy! My goal is to be able to wake up every morning and work on something different.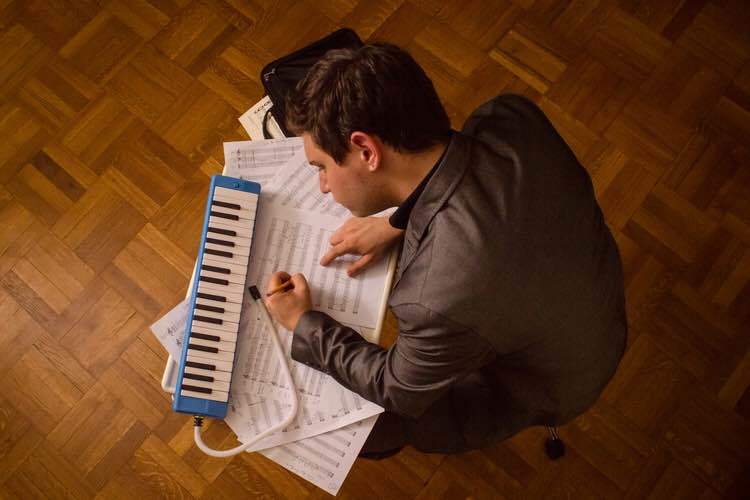 Ultimately, what do you want to be doing? I hate to phrase it this way - but where do you see yourself in five years?
Obviously I don't see myself being the top orchestrator, the top composer, and the top drummer. There's just no way. Right now, I'm able to maintain a somewhat-healthy lifestyle doing all of these different things. My main focuses are playing, composing, and orchestrating; moving forward, I want to keep doing these things at a high level. Right now I'm only working on things that I believe in and want to do. I'm really lucky I get to work on projects that I'm emotionally invested in. I see myself continuing on the same path and working on things that I want to work on! I'm also very spontaneous, so we'll see what happens.
What's the most interesting instrument or sound that you've played or used in a score?
You'd be amazed at the kind of sounds you can get from slowing down bodily functions 1,000% [laughs]! As far as instruments go, on the movie The Siege of Jadotville we used an Irish bodhrán and played it with broomsticks, it created a very unique sound and timbre that is a defining sonic characteristic of the score. On Sick Note, I created some unusual grooves and sounds from audio of composer Carly Paradis slapping a metal filing cabinet. I've played everything from buckets, to trashcans, rubber gloves, cacti, broken cymbals, you name it. That's the great thing about percussion - you can make a groove out of any sound.
What's something you've learned about the music industry that you wish you knew when you started?
I learned very early on from one of my mentors that not only is it a very small world, but it's really important to know your place and be mindful of other people in the industry with you. I think the worst thing you can do, as both an artist and professional, is to "step on other people's toes". I get that it's really hard to acquire work - it's such an oversaturated industry with the amount of people increasing and the jobs decreasing, but it's really important to be courteous to other people and just be a good person. Friends hire friends. Be someone who others want to be around. There are always a thousand other people that can probably do the job as good as and probably better than you. I think there's room for everyone here, various niches and scenes - toe-stepping doesn't need to happen. Once you implement that in how you approach getting work, I think things come along quite naturally.
What would be a dream project for you?
Because I listen to so many different styles of music, I don't have a solid answer. Off the top of my head, people that are still living that would be absolute dream come true to collaborate with would be Jon Brion, Sia, Randy Newman, to name a few - this is a very small list of people have helped shaped me as a musician. That aside, the people who I work with on a daily basis are people that inspire me. I'm constantly really humbled with my collaborators; I've had the chance to work with artists who I've looked up to since I was a child. I'm not necessarily waiting for a dream collaboration, I've gotten to have several!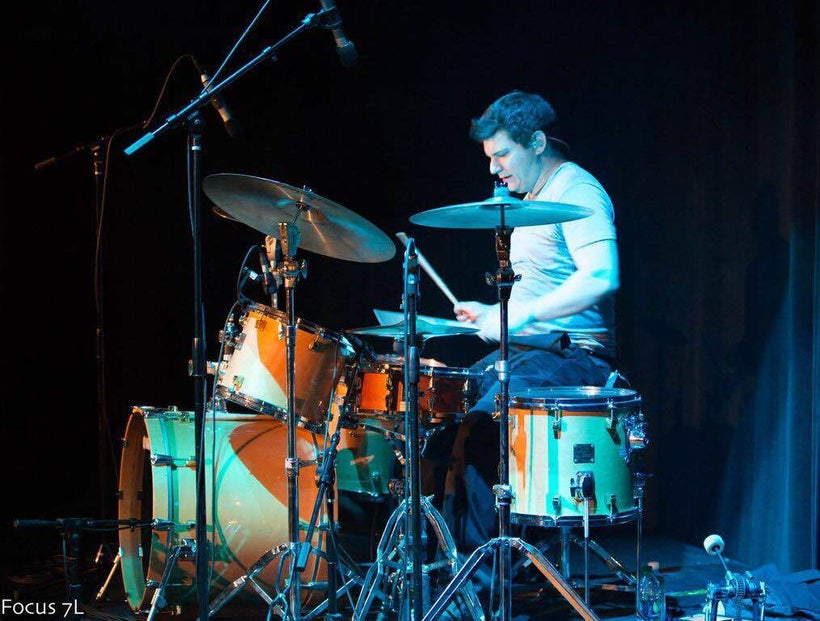 What are some of your biggest influences? What have you been listening to lately?
I have such a wide spectrum of music that I listen to and have never been one to pick favorites, but here's a very minuscule glimpse into my listening: Billy Joel, Elton John, Jim Croce, Randy Newman, Citizen Cope, Foals, Local Natives, The Killers, Claus Ogerman (who recently passed away, unfortunately), Kevin Puts, Stravinsky, Tchaikovsky, Richard Strauss, Michael Nyman, The Bad Plus, Count Basie, Stan Kenton, Johnny Richards, Pat Metheny, Laura Mvula, Andy Shauf, SOHN, Sia... There are so many that I'm missing!
How have you been able to make a career working in so many different fields?
This is the hardest part of the whole thing. In LA, when people see you do one thing, you are that guy. If you compose something for someone, then in their mind, you are a composer. The hardest hurdle to jump can be getting someone to see that I do so many different things at a high level. I meet some people as a player, some people as a composer, etc. There's not an easy way to tell people everything you do, or at least a graceful way to do it! Being involved with people who perform at high levels in their respective scenes is what inspires me to sustain a career doing all of the above. If I would offer to advice for people who want to pursue a career as a composer and performer, or different positions within music, I'd say to find somebody who is doing what you want to do, whether it's in one area or multiple areas, and simply learn from them. Having a role model or mentor is really important. For me, it's been Gordon Goodwin, Bernie Dresel, Ladd McIntosh, and Joe Trapanese. For that, I am forever grateful.
Calling all HuffPost superfans!
Sign up for membership to become a founding member and help shape HuffPost's next chapter
This post was published on the now-closed HuffPost Contributor platform. Contributors control their own work and posted freely to our site. If you need to flag this entry as abusive,
send us an email
.