"Resilience is woven deeply into the fabric of Oklahoma. Throw us an obstacle, and we grow stronger." -- Brad Henry, former Governor of Oklahoma
If you threw a dart at the exact center of our country and missed just a bit low, you'd land on Hinton, Oklahoma, a good town whose good people live modestly on the red country, going about their lives as neighbors do, each a friend to the other, there when needed but never beyond one's rightful place. Hinton is what the rest of America would be if we all listened more closely to what is best in us.
With a population of just over 3,000, Hinton is slightly less than half the size of nearby Anadarko, an unassuming burg some 50 miles southwest of Oklahoma City. Anadarko is the seat of Caddo County, which includes another half-dozen towns, none of them even as large as Hinton. Altogether, barely 30,000 hearty Oklahomans occupy Caddo County's 1,300 square-miles. It's a place so big you can watch your dog run away for three days and what trouble comes to Caddo County's people meets a determined force bigger than all outside.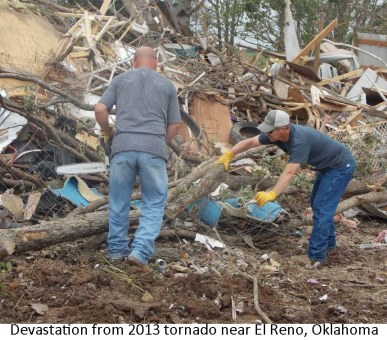 Hinton sits on the edge of what was, in the 1930s, America's Dust Bowl. Following that epoch of hardship Oklahoma's favorite son, Will Rogers, quipped, "When the Okies left and moved to California, they raised the average intelligence of both states." Today virtually all of Oklahoma finds itself in the grip of a persistent drought that awakens fading memories of that bygone time and today's residents in towns like Hinton are indeed as long on wisdom as they are short on citified airs.
Larry Wooten is no exception.
Wooten is the founder and executive director of Multi-County Fire Corps, an organization that provides canteen, rehabilitation, chaplaincy, and administration services to emergency responders and communities affected by disaster. As its name implies, the organization serves 10 counties in Central and Western Oklahoma. Multi-County is an all-volunteer organization and as a stand-alone nonprofit, not an auxiliary of any public agency, it is truly unique among American charities.
Multi-County responds along with emergency crews wherever there is need, whether from tornado, or fire, or flood or other natural disaster. Multi-County's trained volunteer staff provides the critical supports that sustain emergency workers during disaster and continue after the crisis has passed by supporting fire, rescue, medical and other emergency personnel and their families throughout the year. The organization's service area includes nearly 100 volunteer fire departments and dozens of other public agencies responding to emergencies throughout a territory that spans several thousand square miles.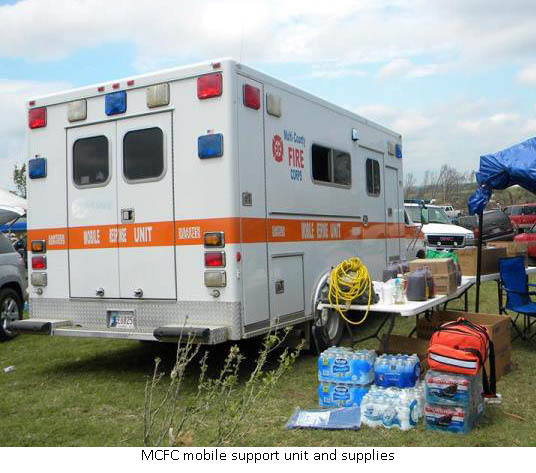 Wooten founded Multi-County more than five years ago to address a glaring need. The rural areas served throughout his 10-county territory are not served by local Red Cross chapters or other major nationwide relief organizations. In the middle of Tornado Alley, a land beset seasonally by withering heat and deadly ice, a land where bullet wind comes with prairie fire in a hell-bent advance, a land where people rely more on their own hard work and preparation than on distant, largely unseen public resources, Multi-County Fire Corps is the only source of reliable support for men and women who risk their lives to assist their neighbors.
The organization has never been awash in revenue. Indeed it is truly a labor of love for Wooten and his wife, Norma, both of whom work full-time jobs in the community and attend to the organization after hours, taking no salary from Multi-County. Says Wooten, "Well somebody's got to do it."
Over the past few years, Multi-County received modest block-grant funding through an intermediary charity that acted as the organization's fiscal agent. That relationship is no more. Gone is the parent organization and with it the limited funding that sustained the bare essentials that keep Multi-County up and running.
So for now, Multi-County Fire Corps is, in Wooten's words, "flat broke." As wildfire season approached the parched territory of Central Oklahoma, to be followed rapidly by tornado season, the Wootens' organization moves ahead with funds from their own pockets and the assistance of committed volunteers. The Wootens have no intention of slowing down, even with no idea where long-term funding might come from.
The organization owns vehicles and equipment, all requiring fuel, regular maintenance, insurance and other costly overhead. The disaster division includes a mobile medical facility. There is canteen equipment, emergency relief supplies, food stuffs, protective gear and many other resources that Multi-County deploys through its many programs. Those programs include chaplaincy, search and rescue, in-school public awareness and education projects, and the organization's newest program, the Community Action Response Team (CART). CART enlists trained community assistance workers to respond in the aftermath of disaster to serve displaced families and individuals. CART team members advocate on behalf of affected households, secure temporary housing, provide clothing, first aid supplies, counseling and additional support.
All these services and more proceed on pace with no committed source of funding.
Asked what one thing he would most like people to know about Multi-County Fire Corps, Wooten answered, "I just want people to know we exist," a typically humble request from a humble man. He might have mentioned money. He might have mentioned staff, or vehicles, or supplies, or equipment. He did not, perhaps because to Wooten, the merits of Multi-County speak for themselves. If you knew of them, you'd help without being asked.
I have been too long a denizen of a world busy with trifles and vanities that still elude Hinton, Oklahoma. I no longer believe that just knowing about a thing will move people to act. I wish I believed that, but I don't. And so I'll do what Wooten won't - I'll ask you to give what you can to support Multi-County Fire Corps. Every single dollar counts and will make a real difference for men and women charged by their own conscience to serve those who serve others. There's nothing more worth doing than something from which you expect nothing in return. The men, women and youth of Multi-County Fire Corps haven't forgotten that. They deserve our help.
To find out how you can get involved, visit Multi-County Fire Corps at www.okfirecorps.com. To contact Larry Wooten directly, write to executive.director@okfirecorps.com. Multi-County Fire Corps is a 501(c)3 nonprofit corporation.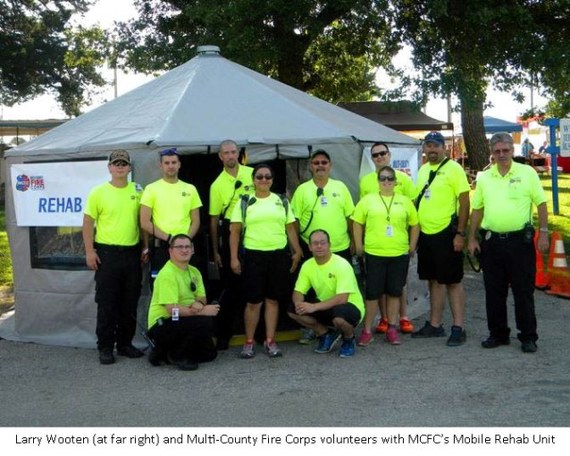 Photos courtesy of Larry and Norma Wooten
Calling all HuffPost superfans!
Sign up for membership to become a founding member and help shape HuffPost's next chapter