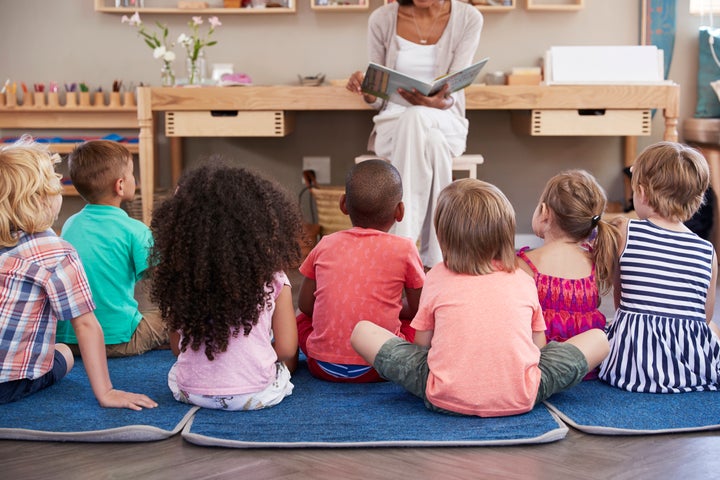 A few years ago, Krista Aronson shared a picture book with a group of children and watched as a girl wearing a hijab pointed out a character that looked liked her.
"She just stood up and pointed to the little girl in the book depicted as a Somali girl wearing a hijab," Aronson, an associate professor of psychology at Bates College, told HuffPost. "She said, 'That's like me.' The kind of wonder and excitement in seeing herself in print, it was a very meaningful moment for her."
Aronson and Anne Sibley O'Brien, a children's book author and illustrator, teamed up about nine years ago for a research project in which they wrote picture books depicting friendships between Somali and non-Somali people. They wanted to learn how such books could influence kids' views of different cultures.
Aronson and O'Brien used their research to help launch the Diverse BookFinder ― a database of books about different cultures and ethnicities, as well as topics like the environment and adoption ― in September.
Diverse BookFinder is one of several groups working hard to ensure that all kids can see themselves in children's books. Check them out below.
1. Diverse BookFinder
This database is filled with roughly 1,300 books that parents can search by ethnicity, culture, setting and gender.
The site is meant to be a resource people can explore, not something that's "prescriptive," Aronson told HuffPost.
"We're not trying to tell people what to do," she said. "We're sharing our data to provide a moment for reflection. That's one of the ways that we hope the site can be used."
2. We Need Diverse Books
We Need Diverse Books recognizes books for kids that highlight people of color, people in the LGBTQ community, people with disabilities and religious minorities, all with the goal of creating a "world in which all children can see themselves in the pages of a book."
"Even at a young age, children do categorize themselves into groups," the organization says on its website. "Children's books can be used as a resource to help with tough topics."
The group uses the hashtag #WeNeedDiverseBooks to share book recommendations and encourage supporters to do the same.
"Representing the melting pot of our society should be a requirement, not a random box checked off by publishers."
3. The Brown Bookshelf
The Brown Bookshelf, which is led by writers and illustrators, features books that uplift African-American voices. Its most popular project, "28 Days Later," takes place every February and highlights picture books, books for kids in middle school and young adult novels that are written and illustrated by African-Americans.
Paula Chase, author of the young adult "Del Rio Bay" series, explained why having such characters is crucial for young readers.
"The lack of diversity in books is fiction itself. The world is not only white, or only male, or only able-bodied, heterosexual individuals," she told HuffPost. "Representing the melting pot of our society should be a requirement, not a random box checked off by publishers."
4. Multicultural Children's Book Day
The nonprofit organization Multicultural Children's Book Day defines a multicultural book as a work that includes characters of color and characters that represent a minority point of view, as well as books that share information about different cultures, races and religions.
"When we can see through the eyes of another, when we can share a loved book with a friend regardless of religion, culture, race ... we create a sense of belonging not only in our classrooms and homes but more importantly in our communities," organization co-founder Valarie Budayr told HuffPost. "The world outside our window becomes ours to shape and create."
The official Multicultural Children's Book Day is Jan. 27, but parents, teachers and librarians can always find "diversity book lists" and other resources on the organization's site. The nonprofit also just released an "empathy kit," which includes books highlighting immigration and refugees, an activity guide and posters.
5. First Nations Development Institute
In November 2016, First Nations President Michael Roberts explained the story behind the recommended reading.
"We feel it is important to provide an opportunity for people to learn more about Native experiences from a culturally and historically accurate perspective," he said. "We have a responsibility to educate others by sharing authentic resources about Native histories, cultures and peoples."
6. Lee and Low Books
Lee and Low Books is a multicultural children's book publisher that suggests books for kids in pre-K through high school. People looking for diverse books can view recommendations from the publisher based on topics like STEM and social and emotional learning. Lee and Low also offers various books for bilingual readers and books for "reluctant" readers, and has resources and lesson plans for teachers and parents.
7. RainbowMe
RainbowMe offers information on culturally diverse entertainment for kids, which includes books as well as videos, toys, apps and clothing.
The platform offers some information and entertainment at no cost. Users can have unlimited access to RainbowMe Premium through a short free trial or by paying a monthly fee of $3.99.
8. Society of Children's Book Writers and Illustrators
The Society of Children's Book Writers and Illustrators offers resources on its site, including lists of authors, illustrators and publishers creating diverse books, and other organizations combating the lack of diversity in the industry. The society also offers information on grants for creators looking to introduce work about underrepresented characters and diverse voices into the world.