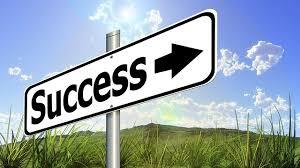 What does it mean to be successful today? Is it about having a nice job, ability to afford to buy many things and travel a lot? With a high rate of competitiveness - how can you find a job that would satisfy the needs of doing something that you love, and, at the same, time, receive a substantial monetary award for that?
It seems like it's not enough these days just to have a diploma from a good university. While surfing the job board and reading job requirements, one could see that a successful candidate should possess quite a number of skills, which, of course, put a lot of pressure on all of us. Nowadays it's preferable to speak at least two foreign languages, to have basic skills of working with main design programs like Photoshop, InDesign, After Effects; to have a solid knowledge of Microsoft Word, Excel, and so on. Sometimes it's a good thing as such requirements push us to constantly study something new and develop professionally. Besides, learning a foreign language or some new program will make your brain constantly work, which is also of great benefit for your health and general wellbeing.
But at times, the pressure is too high, especially when it's too difficult to be good at different things. Not every person likes software development or can learn technical stuff; some people are more on a creative side, and some find writing a new computer code very exciting. I remember how one of my friends was once encouraging me to study software development, and when I said that I was better at doing something creative, he replied that writing a code was the same as painting a picture, - he was right, in a way, but for me those were still two different things. After that conversation, I realized that the most important thing is not to force yourself to do something you have no interest in, and to get involved only in the activities that you love, as only then you'll succeed.
Being overwhelmed too much with different things will hardly bring any positive results, because, as an old proverb says "Jack of all trades, master of none". It's important to consider this while looking for a particular job or starting your own business. Of course, before you make a decision to start a new business, you should learn quite a lot of things, but you could lessen the pressure by concentrating on the most relevant stuff and let other professionals help with the rest. In my view, the most important thing while starting something new is great product (or service) development. Of course, marketing would be a big part of it too, as people should be informed about your product or service. And it's much more convenient nowadays to find a high quality marketing agency like, for example, Smart Street Media that can provide free SEO (Search Engine Optimization) analysis of your company, so that you could see and review the statistical data of how many people do a search on your specific keyword, research keywords that are relevant to your website, etc. While having a complete analysis you can see what needs to be improved and let highly professional specialists do it for you. By choosing the full-service marketing agency, you don't even have to know much about SEO, lead generation, PPC management, etc., as it will be their job to optimize your website, find new potential clients, increase your visibility on social media channels, create high-quality content, while you might concentrate on more significant things.
No doubt that constant learning can be quite beneficial and will make you an interesting and versatile person. But while there is a great demand for having multiple skills nowadays, it's important not to get lost and choose the main points of your career/business concentration, and do only the things that you truly love without being afraid of asking others for professional help.
REAL LIFE. REAL NEWS. REAL VOICES.
Help us tell more of the stories that matter from voices that too often remain unheard.