Multilateral development bank leaders are meeting in Washington DC, as the world celebrates the International Day of the Girl Child. While every bank website commemorates the event, their celebration rings hollow for one simple reason: not a single multilateral bank has a woman leader.
We would like to ask Jim Kim: Will the World Bank and accept a woman leader? What is he doing to ensure this will happen in the future?
We pose the same question to the presidents of the Asian Development Bank, the African Development Bank, the Inter-American Development Bank and the European Bank of Reconstruction and Development?
We pose the same question to specialized sectoral and/or religious multilateral finance institutions like the International Fund for Agricultural Development (IFAD) or the Islamic Development Bank- what are you doing to provide access to women in leadership positions?
More importantly, the shareholders of these banks are half women, since its citizens of the various countries represented in the Boards of these banks that ask the same question to their Treasury officials and Finance Ministers.
Every woman Finance Minister needs to give voice to this issue and ensure that her male counterparts can truly celebrate the International Day of the Girl Child by ensuring that girls have an opportunity to access this exclusive male club in the future—hopefully, the very near future.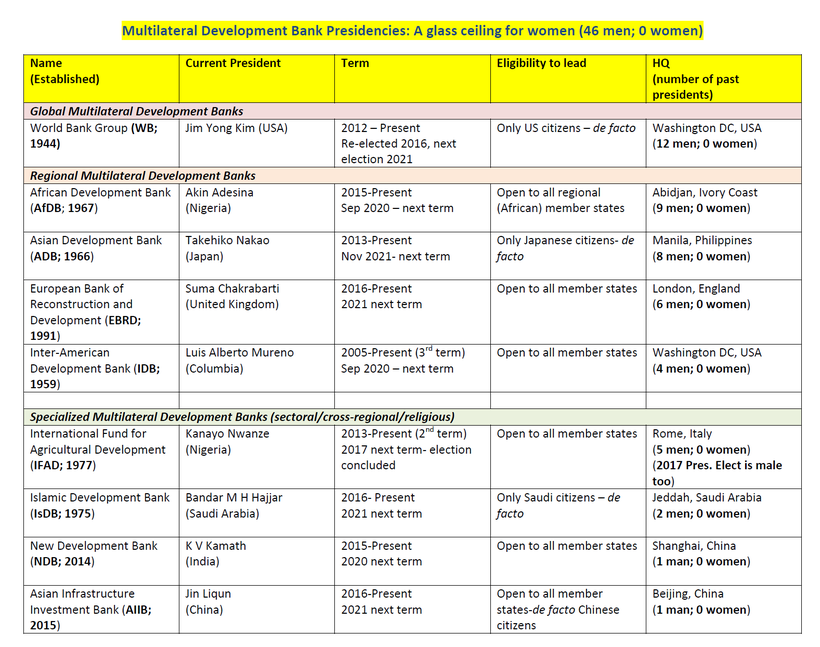 Calling all HuffPost superfans!
Sign up for membership to become a founding member and help shape HuffPost's next chapter
This post was published on the now-closed HuffPost Contributor platform. Contributors control their own work and posted freely to our site. If you need to flag this entry as abusive,
send us an email
.