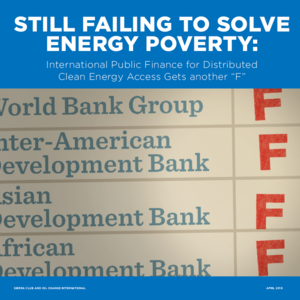 As the World Bank and International Monetary Fund meet in Washington, DC this week, members of civil society are asking: why are multilateral development banks continuing to fail to solve energy poverty?
That is a question posed by a report released today by Oil Change International and the Sierra Club, which is an update to a 2014 report using the same methodology. The report analyzes energy access spending by four major multilateral banks, including the World Bank Group, and concludes that all of the banks are failing to address energy access in a meaningful way.
Worldwide, 1.1 billion people lack access to modern energy, which is a problem that severely limits social and economic development opportunities for these people. Failure to address the problem of energy poverty has huge consequences for people's lives. While multilateral development banks are certainly not the only institutions needed in efforts to address energy poverty, they have an important role to play.
The report from Oil Change International and the Sierra Club shows that all four banks failed again, as was the case in 2014. In fact, of the four banks analyzed, three banks received a worse relative score in 2016 than in 2014. The exception was the African Development Bank which received a slightly higher, though still failing, score, for its announcement of a new program dedicated (in part) to distributed renewables.
The new report shows that what is needed is for multilateral development banks to spend at least half of their energy portfolios on access, but that all institutions fell significantly short of this. With approximately one-quarter of their energy portfolios dedicated to access, the Asian Development Bank and African Development Bank fared best on this criteria, though they still failed to meet the recommended 50 percent by a wide margin.
In its 2011 World Energy Outlook, the International Energy Agency points out that the current approach to addressing energy poverty would still leave 1 billion people in the dark by 2030. In their Energy for All case, in which universal energy access to modern energy is achieved by 2030, additional investment in energy access is more balanced among grid extension, off-grid, and mini-grid energy solutions. In total 64 percent of additional investment goes toward off-grid and mini-grid energy solutions in the Energy for All case.
As such, the new report from Oil Change International and the Sierra Club recommends that 64 percent of access spending from multilateral development banks be dedicated to off-grid and mini-grid. The report shows that the World Bank Group, Inter-American Development Bank, Asian Development Bank, and African Development Bank respectively spent an average of 19.9 percent, 25 percent, 7.5 percent, and 0.2 percent of their access dollars on off-grid and mini-grid clean energy solutions. When off-grid and mini-grid spending is taken as a percentage of the overall energy portfolio, this only amounts to 2 percent, 1.4 percent, 2 percent and 0.5 percent of the energy portfolios of the World Bank Group, Inter-American Development Bank, Asian Development Bank, and African Development Bank, respectively.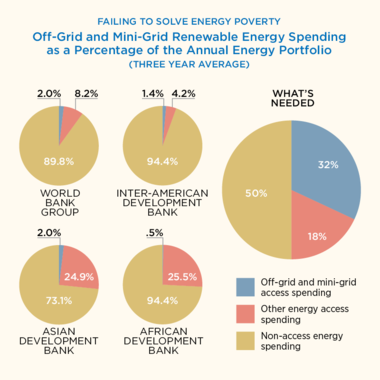 It is disappointing that all four banks failed on the basis of the report's criteria, but it is even worse that most scored worse than the previous version of the report in spite of considerable attention to these issues through the United Nations Sustainable Development for All initiative (SE4All) and stated goals from most of the multilateral development banks to specifically address energy poverty, as well as poverty more generally.
To learn more about the report's findings, check out it out here and attend the panel at the World Bank Civil Society Organization forum (advanced registration required) in Washington, D.C. on Friday, April 15 at 9:00 AM, featuring remarks from:
Alex Doukas (Senior Campaigner, Oil Change International),
Isabella Lovin (Minister for International Development Cooperation, Sweden),
Malcolm Cosgrove-Davies (Manager for Energy, Sustainable Development Department, Latin America and the Caribbean Region, World Bank),
Andrew Herscowitz (Coordinator, Power Africa, United States Agency for International Development)
Moderated by Sasanka Thilakasiri (Senior Policy Advisor, Climate Change and Energy, Oxfam America)
Calling all HuffPost superfans!
Sign up for membership to become a founding member and help shape HuffPost's next chapter