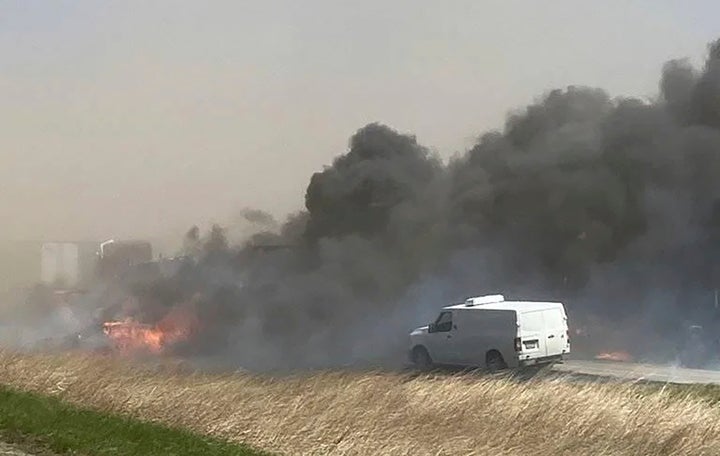 DIVERNON, Ill. (AP) — A windstorm in south-central Illinois kicked up dangerous clouds of dust off farm fields Monday, blinding drivers and causing numerous crashes and "multiple fatalities" on Interstate 55, police said.
The late morning crashes involved 40 to 60 cars and multiple tractor-trailers, two of which caught fire, Illinois State Police Maj. Ryan Starrick said. The highway was shut down in both directions in Montgomery County, 75 miles (120 kilometers) north of St. Louis.
"The cause of the crashes is due to excessive winds blowing dirt from farm fields across the highway, leading to zero visibility," Starrick said at a news conference.
He reported that there were "multiple fatalities" but did not give an exact number, saying that would be released later in the day.
Winds at the time were gusting between 35 mph (56 kph) and 45 mph (74 kph), the National Weather Service said.
"It's very flat, very few trees," meteorologist Chuck Schaffer said. "It's been very dry across this area really for the last three weeks. The farmers are out there tilling their fields and planting. The top layer of soil is quite loose."
Starrick said more than 30 people were transported to hospitals with injuries following the crashes, which occurred in both the southbound and northbound lanes.
He said I-55 would be closed until late morning or early afternoon Tuesday.
The Auburn Travel Center in Divernon was established as a reunification spot for travelers.
Associated Press reporters Rick Callahan in Indianapolis and Ed White in Detroit contributed to this report.
Popular in the Community