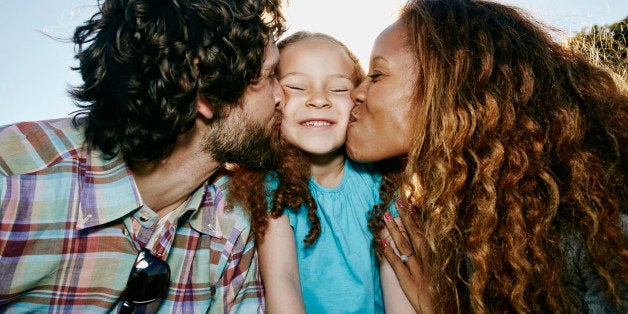 When people ask you where you're from, how do you answer? I hear this question all the time but my reply isn't very straightforward. My mother is from Belgium and my father is from Japan. I was born in Washington, DC.

Aside from my sister, I never met another Belgian/Japanese-American until I was 30 years old. When we met, it was emotional. I confessed that I had given up on ever meeting another one, except my sister. She said the same thing, even about having a sister. We joked, even though we were slightly serious, that we could never get on the same plane because if it goes down there would be none of us left.

Growing up in a city with many multiracial couples and families, I never felt completely isolated. However, I didn't fully grasp how the rest of the world perceived interracial relationships or how they had been viewed historically. It wasn't until my mid-twenties, when I was Googling another topic, that I stumbled upon the Loving v. Virginia decision. This Supreme Court case, based on the tireless efforts of an interracial couple named Richard and Mildred Loving, declared all laws against interracial marriage to be unconstitutional. That discovery changed the rest of my life.


"I see Richard and Mildred Loving as strong yet soft-spoken heroes for me, my family, and generations to come."

I didn't stop thinking about the case that day. The more I read, the more I started to realize the significance of my family dynamics. It was so much bigger than two people from different backgrounds coming together. I was shocked to discover that interracial marriage was illegal in the U.S. until 1967. That means my parents could have been jailed or fined for their marriage. I could have easily never existed. And the same is true for President Barack Obama, whose parents got married when it was still illegal in 22 states.

I was really bothered that the Loving decision wasn't more well-known, especially considering how far we have to go with both racial prejudice and marriage equality. I channeled that feeling into my graduate thesis at Parsons School of Design in New York City. I launched Loving Day when I graduated in 2004. I hoped others would celebrate Loving Day with festivities to commemorate the June 12th Supreme Court decision. I am happy to say that 12 years later, this civil rights milestone, and subject of my thesis, has grown into the world's largest network of multicultural celebrations.

At this moment, there is a White House petition to officially recognize Loving Day. That recognition would be deeply meaningful to tens of millions of multiracial Americans and families. It would be a historic celebration of an underrepresented community. And it would give young people a sense of pride and connection to their diverse cultural heritage. I hope you'll sign it as a celebration of Loving Day.
I see Richard and Mildred Loving as strong yet soft-spoken heroes for me, my family, and generations to come. They simply loved each other and wanted equality for all. This basic notion of celebrating love continues to be just as important today. I strongly encourage everyone to learn more about them and the gift they left us. Through knowledge, shared stories, and support, we can build a community that believes love is love. Tens of thousands of people will be celebrating Loving Day on Sunday, June 12th.
Happy Loving Day! How will you celebrate? #ThisIsLoving
Jeff Nichols' LOVING, starring Joel Edgerton and Ruth Negga as Richard and Mildred Loving, opens November 4th from Focus Features
Calling all HuffPost superfans!
Sign up for membership to become a founding member and help shape HuffPost's next chapter