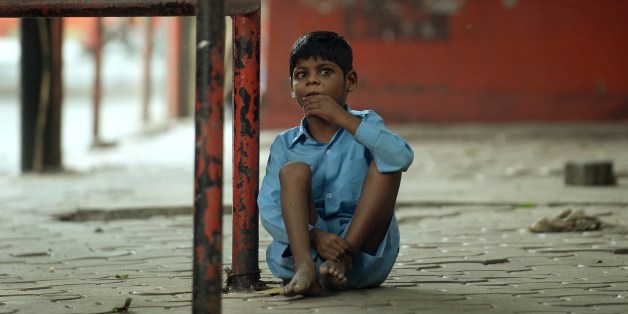 An Indian boy with severe disabilities who spent years living on the street is getting a chance at a new life.
Lahkan Kale, 9, was regularly tethered to a bus stop pole in his village in Mumbai while his grandmother Sakhubai Kale, 66, went to work selling small goods on a nearby beach, CNN reports. Sakhubai feared if Lahkan, who is blind and deaf, was left untied, he would wander into traffic.
"He is deaf so he would not be able to hear traffic coming. If he ran onto the road, he'd get killed," Sakhubai told CNN in June.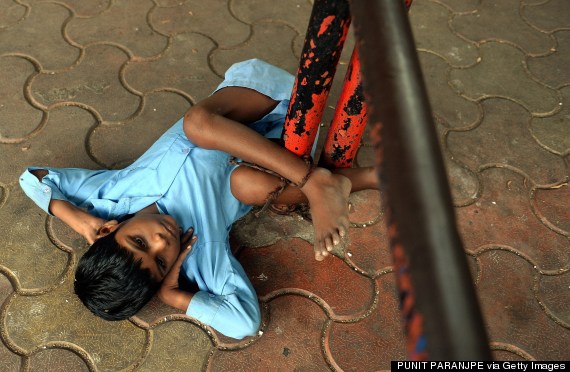 Lakhan Kale spent his days tied to a bus stop pole in Mumbai.

Images of a tethered Lahkan first appeared in The Indian Express in May, prompting authorities to step in and bring the boy to social workers who then placed him in a juvenile shelter until they could find him a better home.
"I am a single old woman. Nobody paid attention to me until the newspaper report," Sakhubai told the Agence France-Presse.
According to Times of India, Lahkan, who also has cerebral palsy and a seizure disorder, was placed in The Children's Aid Society, a shelter for destitute and orphaned children.
Sakhubai, who has looked after Lahkan since his father died in 2010 and his mother ran away two months after, was worried she might not see her grandson again when social workers took him away.
"Will they let me meet him every once in a while?" Sakhubai was quoted saying to police officers in May by The Indian Express. "What do I do, I have brought him up."
Thanks to the efforts of a dedicated social worker, however, Lahkan and his grandmother are now living together again -- this time with a roof over their heads in the Samata Shikshan Prasarak Mandal, a hostel for the blind and deaf, CNN reports.
"His father died, his mother and sister abandoned him. He's left alone. What happens after his grandmother?" Alok Polke, who runs Samata Shikshan Prasarak Mandal and took in Lahkan and his grandmother, told the news outlet.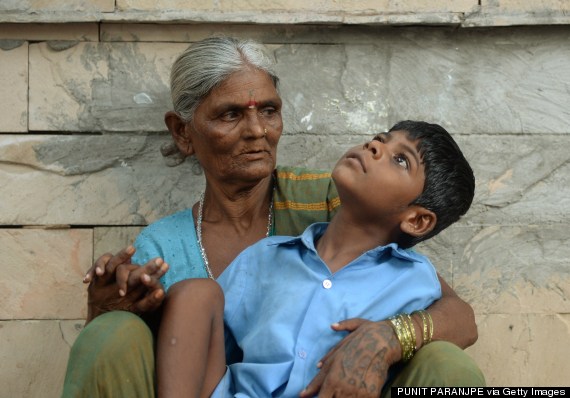 Lakhan Kale sits with his grandmother on the pavement in Mumbai.
Calling all HuffPost superfans!
Sign up for membership to become a founding member and help shape HuffPost's next chapter