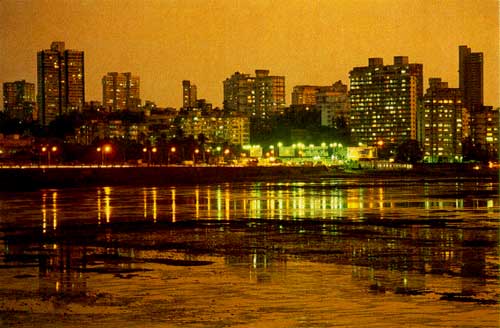 In Mumbai, a grid of honking taxis, rickshas and bikes clogs the streets. It's the most crowded city in India, swollen with bustling masses of people gyrating to the metropolitan rhythm of the city. In 1975, Mumbai's population was 7 million. Now in 2011, the city thrives at more than 20 million. And people are running out of space to live.
Because Mumbai rests on a peninsula surrounded by the Arabian Sea, land is a limited luxury. This makes India's core west coast city a real estate free-for-all. Real estate giants, like Indiabulls Real Estate, and private investors are in the midst of online bidding wars and buying frenzies to lay claim on the limited land for three main purposes -- the development of commercial, retail and residential space. Currently, residential space in downtown Mumbai is neither affordable nor available. But demand is high and with commercial land up for auction, the market could turn around. Maybe.
But, Anuj Puri, chairman and country head of Jones Lang LaSalle, a firm specializing in real estate services and investment management, remains optimistic. He reminded Mumbai residents that the Indian real estate sector is a mainstay of the country's economy, and offered housing market solutions in a January 29 blog post urging people to give real estate the break it deserves.
From a western perspective, the Mumbai real estate market appears caught in desperate mess. Earlier this month, Mumbai's police caught 32-year-old Sanjay Pande who posed as a private bank employee and cheated people out of thousands of dollars by promising apartments at lower rates. And Pande is just one of millions swept up in Mumbai's seeming real estate chaos, hoping to catch a break. And soon. But chaos or no, the big question to the West remains: how should we understand what's really going on with Mumbai's land?

Buying Land: Mumbai's Hot Commodity
Mumbai's land location and development potential gives the land its value. Banks make buying land affordable, at least for large corporations with disposable millions. Banks leverage 60% of all land transactions, backing developers, according to Puri. With banks behind them, developers can afford to bid more aggressively, driving market prices up.
South Mumbai -- the land furthest downtown on the peninsula -- is the city's most valuable area. Two neighboring plots of land, Bharat Textile Mills and Podar Mills account for 8.37 and 2.39 acres respectively. They're the only land parcels that large, and that close in proximity, available in downtown Mumbai. "This is contiguous, freehold property with a clear title in an absolutely ideal location," says Puri. "Such a combination of factors spells gold in Mumbai real estate terms."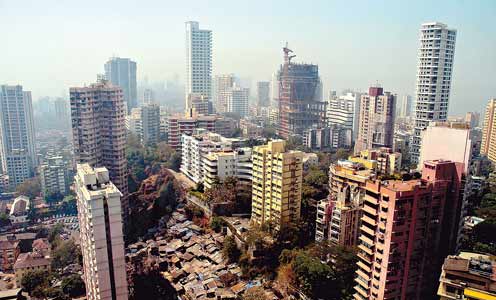 To own prime property, companies pay a colossal price tag. In August 2010, Indiabulls won its second consecutive online land auction by doubling the hefty price tag of $162 million on the Bharat Textile Mills property. The government-run National Textile Corporation (NTC) put the property up for sale. In total, Indiabulls paid $326 million for the land, thanks to a leveraged transaction. Indiabulls counts banks like HSBC and Fidelity among its investors. The NTC is auctioning mill land across Mumbai and other major cities like Indore and Bangalor to downsize on unviable mills. This opens up plots of land for re-development.

Building and Buying Difficulties: Floor Space Index and Loading
Not only is Mumbai land limited geographically, but a strict floor space index (FSI), limits developers with construction restrictions. FSI indicates how much developers can construct on one plot, and it's imposed by municipal authorities. The FSI is the ratio between the plot area and constructed area - for example, a developer can't simply buy an acre of land a build a 80-story skyscraper. For downtown Mumbai, the FSI is 1.33, compared to the typical 5.0-10.0 that applies to other cities in India. A higher FSI allows fore more construction, meaning more living or workspace, but a low FSI (like Mumbai's) drastically undercuts building opportunities.
But even with a higher FSI, construction costs on price-inflated land still seem unfeasible, even with the help of big banks and millions. "One begins to wonder how the developer is going to accommodate the costs of construction, marketing, interest," says Pranay Vakil, chairman of Knight Frank, an international residential and commercial property firm. "Yet we see developers making huge amount of money on every project in Mumbai. So, why does a developer pay this extra premium? How does he compute his profit? The name of the game is loading."
Loading happens when developers finagle final ticket prices by charging investors and apartment-hunters for the saleable area versus carpet area. Saleable area is the total built-up area of a property, including staircases, elevators, playgrounds, parking lots, sidewalks. Carpet area is simply the actual area of a house or building. By loading prices, developers make back more than the inordinate initial costs of construction and land. Because the saleable area is much greater than the carpet area, developers "load" the prices, "The loading on carpet area which is traditionally 25 - 30 percent, is now as much as 50 - 55 percent," says Vakil. "If you are buying an apartment and paying for it with regard to saleable area, the chances are that you will get as carpet area only 60-65 percent of the saleable area." Simply put, developers sell seemingly larger spaces for lots of money, and in reality, the space isn't as big, so people are ripped off. The developers make their money back.
Residential Apartments: Investment and Affordability
Investment in the residential sector of Mumbai's real estate market is low risk and requires minimum financial input from developers. This is true especially because demand for residential developments is seven times that of demand for office space, says Vakil. India is growing in population. The stock market is doing better, and therefore income levels are increasing which "for an Indian, buying an apartment is an emotional priority and the first thing he wants to do is to commit to buying a house when he sees his own future better and brighter," says Vakil. Some residential areas in Mumbai are among the most expensive in the world. Altamount Road jockeys for the world's tenth most expensive street to live on. According to Brannigan Relocations Cost of Living Guide, a month's rent for a two-bedroom apartment on Altamount Road can be as high as $6,400. A four-bedroom apartment can rent as high as $19,150 per month.
Positively, there is an increase of housing supply from the NTC sale of the mills, but the affordable variety is not happening where it is needed the most -- the center of Mumbai, where properties are extremely overpriced now. The residential market is expanding to the suburbs, so far-flung or not, there are affordable options, "however, a lot of buyers themselves are now back in wait-and-watch mode as they wait for corrections that may or may not happen in the locations of their preference," says Puri.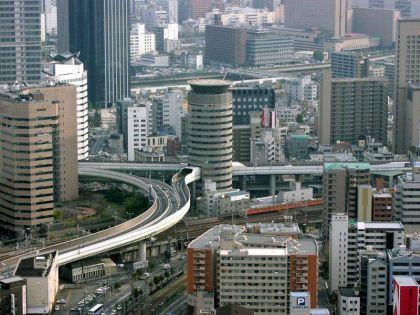 Companies like Indiabulls and DB Realty will build residential apartments. The trick is making them affordable. "All of these are high value apartments where a functional two bedroom apartment would cost approximately $1 million," says Vakil. New building would add close to 10,000 apartments in Central Mumbai. That's billions of dollars in sales and re-sales.
No doubt the Mumbai real estate market is in transition. With the construction of apartments over the next year, only time will tell if increasing affordability and availability will untangle the chaos. Puri sees the demand as a good thing, and is hopeful about the real estate market's potential to cater to it. "Considering the relentless and ever-increasing demand," he says, "the rapid advancement of transparency and the level of international interest in the Indian real estate market, it would be difficult even for the most hardened pessimist to take a gloomy long-term view of it -- and I'm an optimist."