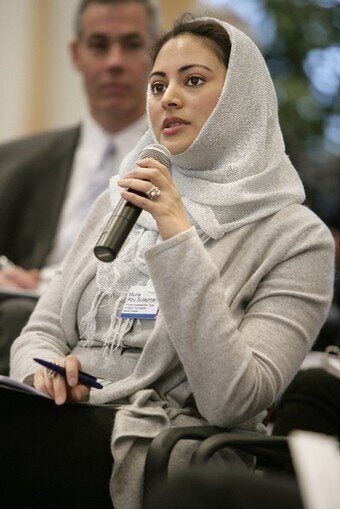 She could be easily dubbed the Saudi Arabian version of 'Oprah', though the TV program she co-hosts, an all-women talk show called 'Kalam Nawa'im' on pan-Arab channel MBC, much more resembles ABC's The View.
However, it is her actions not words that are putting Muna Abu Sulayman under a whole new spotlight these days.
She recently took a break from presenting and obtained a much more 'interactive' role in people's lives... like Oprah, instead of just 'talking' about people's problems, she decided to work on the ground trying to solve them.
Muna's new official job title, Director of The Alwaleed Bin Talal Foundation, is impressive in itself, and is now making headlines. This was also the case when she became one of the first Saudi women to host a show on Arab satellite television, which was until recently considered taboo.
As the name clearly suggests, the foundation is the charity arm of one of the world's wealthiest businessmen, Prince Al Waleed Bin Talal Bin Abdulaziz.
Abu Sulayman, who became Saudi Arabia's first woman to be appointed by the United Nations as a "Goodwill Ambassador" back in 2006, oversees operations and multi-million dollar projects in domains ranging from disaster relief to promoting Islam-West dialogue... again, this is remarkable when you consider that only a few years ago, women were very limited when it came to job choices in Saudi Arabia.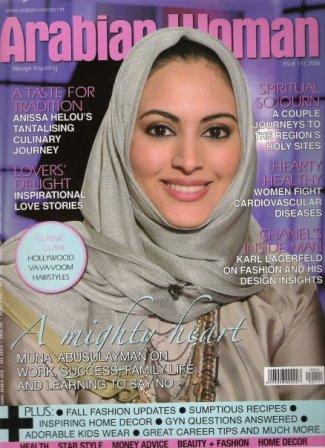 Muna was in London recently to oversee the first ever meeting of the directors of the Alwaleed Bin Talal Center for Dialogue, a program that funds centers in six leading universities around the world (Georgetown, Harvard, Cambridge, Edinburgh, The American University of Beirut and The American University in Cairo).
Throughout the press conference following the directors meeting, which I covered for Asharq Al Awsat, Muna emphasized Alwaleed's aim to "maximize efficiency", "cut waste" and "ensure achievement of the center's goals".
She doesn't deny The 'Alwaleed Effect' and says, smiling, "when I first joined, I asked His Royal Highness to provide me with some executive training as I had no business experience, so I was sent to take a few courses"; she then adds, "but I realized later that working with him was my real executive training".
When I asked her how the financial situation affected her budget or scope of projects, she answered confidently: "Look, it is no secret that the crisis has hit everybody and that the Prince is heavily invested in the US, has a lot of assets around the world and is the largest individual holder in Citibank... so people can tell how much he has lost".
"However, he is still one of the richest people in the world... and because of what is happening (in the markets) people might think he is stopping his philanthropy; on the contrary he is fully committed to his charity goals no matter what happens".
And just how much money is donated to his charities? Muna says that, for example, the amount set aside for the promoting Islamic- Western dialogue project alone is 100 million USD.
My discussion with Muna was interrupted by a fellow American journalist who was covering the press conference.
Muna was asked about something she had mentioned during the conference, regarding new 'dialogue' centers in the coming years in both China and India. The follow up question was 'What about Israel?'
This is when I became 'all ears', as Muna smiled casually and replied: "Well, you know we don't have any ties with Israel... but if you were asking me if we will be interested in Jewish studies, then we absolutely are and we are completely aware of the difference between Jews and Zionists".
As the discussion turned a bit religious, I utilized the opportunity to ask Muna if she takes off her hijab when she is not in the public-eye.
She smiled at me saying "oh, no... I am a real 'Muhajaba'!".
I explained that I only asked because many women of similar social and academic backgrounds are, in reality, unveiled -- except when living inside Saudi Arabia or in 'official' photos.
It is also worth noting that Muna's hijab doesn't prevent her from shaking hands, talking to, or even working with men.
In fact, she looked quite elegant and took the time to wear some light make-up before the interview started.
I was also astonished to find out though that she is a mother of 2; the eldest is a 16 year old.
However, while many might argue against the whole concept of the hijab, Muna says there is no contradiction between being modern and wearing it.
She says that in many occurrences Islam and Muslim icons are "singled out" and "picked-on" in Western societies.
Muna, who has lived and studied in the US, thinks that although America is great place for people from all ethnicities and religious backgrounds, "sometimes [America] just doesn't live up to the hype around it".
Now, this is definitely a point worth debating... Perhaps on the real 'Oprah' show, sometime?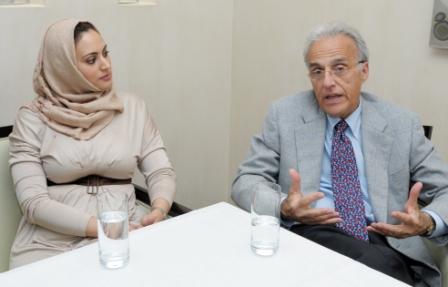 Muna and Professor John Esposito - 'Director of The Prince Alwaleed Bin Talal Center for Muslim - Christian Understanding' at Georgetown University during the conference. (Picture by: Hatim Oweida - Asharq Al Awsat)
Support HuffPost
The Stakes Have Never Been Higher
Related
Popular in the Community