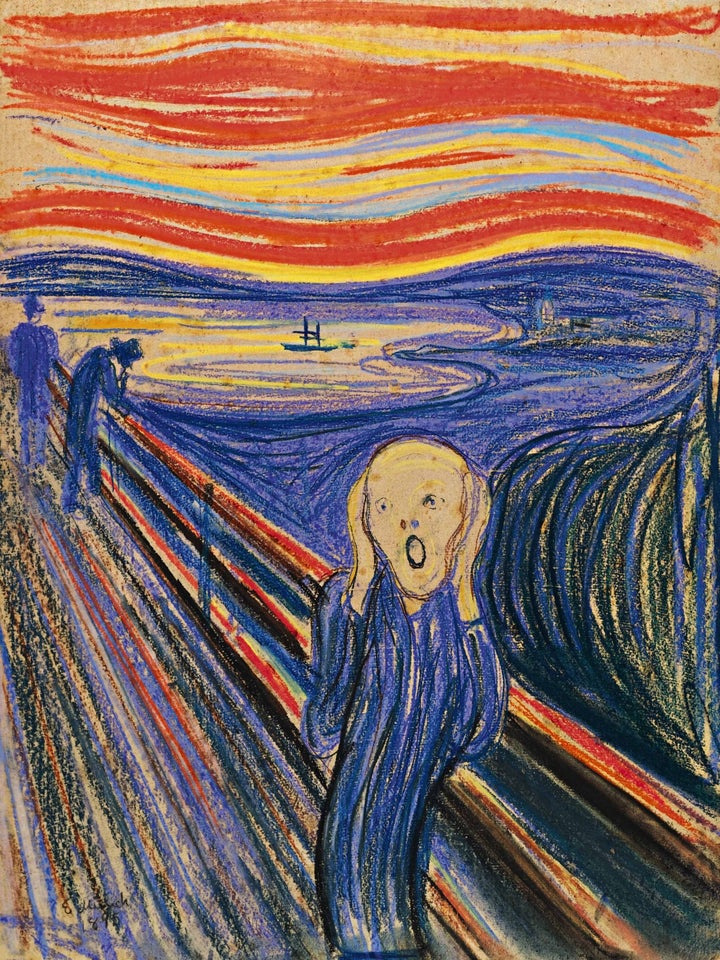 One of four versions of Edvard Munch's iconic "The Scream" is in New York for a brief visit, but only a tiny fraction of the interested public here will get the chance to see it. That's because Sotheby's current presale exhibition of this art-history touchstone and popular-culture legend, to be sold Wednesday evening, is restricted to Sotheby's clients, due to security concerns.
Even the privileged few (also including the press, with whom I saw it on Friday) won't get a good view of it, because of the way in which it's installed. Partly for security reasons and partly to convey the dramatic awe of a "chapel" (as a Sotheby's specialist called it), the small pastel-on-board is confined a dark cave. (You can glimpse it, brightly spotlit, at the back.):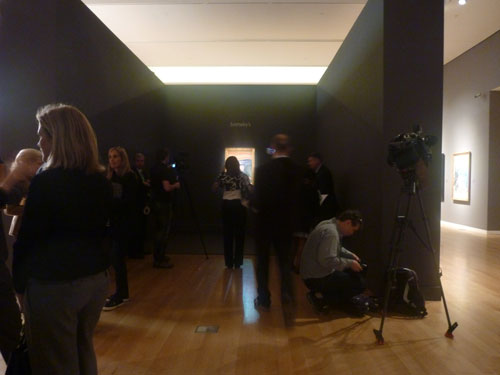 All photos by Lee Rosenbaum
This viewing space may not be as tightly packed for the auction house's clients as it was for those of us in the press scrum...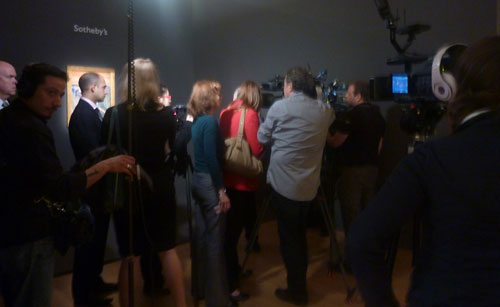 ...but the area will likely be too crowded to allow much face-to-face time with the only one of Munch's four versions (aside from prints) of this archetypal image that is not in a Norwegian museum. Said to be the third in the series, this 1895 picture is also the only one executed in pastel, and (for reasons you will hear near the end of my video, below) Sotheby's experts are tirelessly arguing that this is the best of the four iterations.
Even those who do manage to gain admission to the presale exhibition and squirm their way to the front of the worshippers won't be able to properly savor this icon. That's because it's installed beyond a wire barrier that keeps viewers too far back for optimum appreciation of this relatively small (32 by 23 1/4 inches) gem of expressionistic color and line.
That doesn't matter much, at least from the auctioneer's perspective: The people flocking to Sotheby's for a presale glimpse are not the auction house's target audience for Lot 20. Those fabulously rich prospects (as Ellen Gamerman reported in the Wall Street Journal) have already seen it -- sometimes in the comfortable privacy of their own homes (under the continuous watch of Sotheby's armed security guards).
Who are the heavy-hitters who may have been wooed in this manner? Gamerman cites the usual suspects -- people who have already shelled out record-breaking sums on art, such as Ronald Lauder, Lily Safra, Roman Abramovich, Philip Niarchos and the Qatari royal family.
But that's fighting the last auction battle. The Super Bowl trophy of the artworld, "The Scream" may attract new, unexpected players. Charles Moffett, Sotheby's vice chairman for Impressionist, modern and contemporary art, told me, "We've got 10 [interested bidders] in the running." They include, he said, "four Asians, a couple of Russians and a couple of Americans." I asked what Americans might conceivably be interested in dropping megamillions on a Munch. "Hedge funders," he answered. (Calling Steve Cohen?)
But then Moffett, a former curator at several major museums and former director of the Phillips Collection, Washington, played a wild card: "Any museum that buys it would be known as the museum that bought the Munch."
Museum?!? What museum (except for one planned by the Qatari royal family) could possibly afford this?
"Two or three museums have the power on the board [of trustees] to form a consortium to buy it," Moffett asserted. "They could split it 10 or 20 ways." He mentioned the Museum of Modern Art, Metropolitan Museum, and possibly the Houston Museum of Fine Arts and Art Institute of Chicago as places where this could conceivably be accomplished. He assured me that this was not merely wishful thinking on his part. "I believe that there may be a situation like that. It's not just speculation," he told me.
How many millions will it take? The presale estimate is "in excess of $80 million." But the auction-house experts keep citing as comparables previous record prices that exceeded $100 million, including the $135 million said to have been paid privately by Ronald Lauder for Gustav Klimt's "Adele Bloch-Bauer I." Dealers interviewed by Gamerman suggested that the estimate was too high: Munch, not well known to the general public (except for a couple of iconic images), is not in the same league as Picasso, according to their argument. This presale disparagement could well be self-serving, however: The detractors could be angling to acquire the work for themselves or for clients at a "reasonable" price.
Perhaps a better way to analyze "The Scream's" market potential is through a Klimt-Munch analogy: In cases like this, it's not the renown of artist's name that matters most; it's the iconic quality of the image. For a universally familiar piece like "The Scream," fetching a new world record for any work of art does not seem to be too far-fetched, especially if there's really as much competition for it as Moffett suggests.
On the day of reckoning, several of the unsuccessful bidders, with Munch money to burn, will be able to comfort themselves with a consolation work by the artist: There will be five lesser examples of his oeuvre on the block at Sotheby's, all coming up later in the same sale, with the highest estimate at $7 million -- mere chump change for "Scream" candidates.
But enough of this fevered speculation. Let's get back to my scream-worthy encounter last week with "Scream": The frustrating circumstances at the auction house on Friday morning yielded the photo below, for which I stood as close as anyone can get: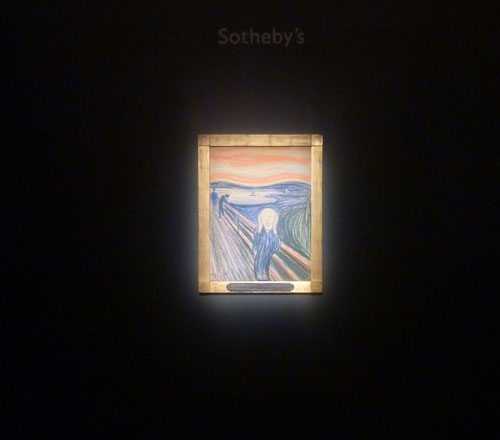 Happily, my camera (but not my eyes) has a zoom lens: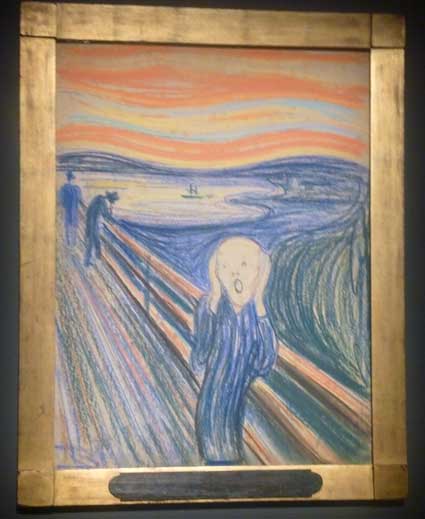 That plaque at the bottom, completely impossible to make out at the press viewing, contains text (written by Munch on this original frame) from the artist's own prose poem, which this image illustrates.
Let's go now to my video of Sotheby's senior vice president Simon Shaw and Impressionist/modern co-chairman David Norman, hyping "The Scream" last week for the scribe tribe. The annoying white light you'll see in the middle of the Munch is the reflection on the protective glass of television camera lights -- not a good thing for an extremely important, light-sensitive pastel that museums would customarily exhibit dimly illuminated (not under a spotlight, as you see here):
Related
Popular in the Community