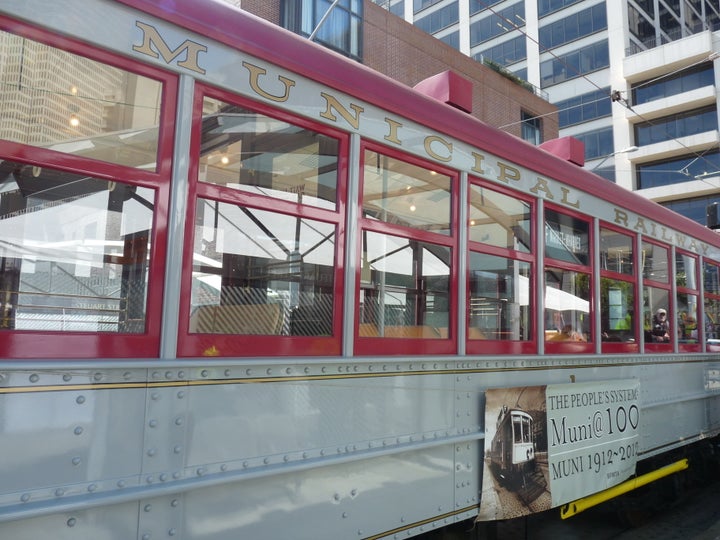 SAN FRANCISCO -- Almost exactly 100 after San Francisco Mayor James Rolph Jr. piloted the first ever Muni streetcar on its inaugural journey down Geary Street (paying his fare with one of the first nickels ever coined at the San Francisco mint), current San Francisco Mayor Ed Lee took that very same, newly refurbished vehicle for a spin up and down Market Street as a part of a celebration of Muni's hundredth anniversary.
Joining Lee at a ceremony unveiling the streetcar were Senator Dianne Feinstein, Former San Francisco Mayor Willie Brown, Board of Supervisors President David Chiu, radio personality Don Bleu, Supervisors David Campos, Carmen Chu, Malia Cohen and John Avalos as well as top SFMTA officials Ed Reiskin and Tom Nolan.
Originally constructed by San Francisco builder W. L. Holman, Municipal Railway No. 1 was the first publicly owned, major city streetcar in the United States. Its $1.8 million refurbishment carries a huge symbolic weight both as a reminder of Muni's century of service to the city and also as a crucial metaphor for the beleaguered agency getting back on track after years of budget deficits and widespread public criticism.
The remodeled car, in fact, will be making a return to daily service -- as soon as Lee and his entourage exited, it began picking up passengers.
"Even one hundred years ago, San Francisco was the 'Innovation Capital of the World,' when the city used mining technology and applied it to transit, a true innovation at the time that resulted in our modern Muni system that we still have today," said Lee during a ceremony immediately prior to taking the streetcar out for a spin. "Just as our San Francisco innovators did a century ago, we are meeting the challenge of providing a world class transportation system for our residents with dedication and innovation."
"This is a trip down memory lane for me," said Feinstein, who spoke after Lee. "I remember riding Muni when I was a little girl in the Marina, so it'll always have a special place in my heart."
As per union rules, Lee had to be granted a temporary driver pass from the Transit Workers Union to be able to legally operate the vehicle. A grinning Lee promised the cadre of Muni operators on hand that he'd try to drive carefully.
Joining the mayor and the other assembled politicians on their voyage were representatives from technology companies that have opened offices along the mid-Market corridor. Lee has made the revitalization of that once-blighted area one of his top priorities.
Municipal Railway No. 1 was in daily service until 1951 and has only been used intermittently in the years since. It was taken out of operation completely nearly a decade ago due to wiring issues.
The restored streetcar is virtually identical to how it looked when it first rolled out 1921, save for one small difference: the removal of a smoking section previously situated near the vehicle's rear.
In the early years of the 20th century, most transit systems in the country were privately owned, including the United Railroads of San Francisco, which later evolved into the Market Street Railway. However, following a bribery scandal that shook public faith in the company, a group of Progressive-era reformers decided to create a government-owned transit system to serve the city.
This decision was a fateful one because government ownership prevented San Francisco's public transportation infrastructure from being purchased and then systematically dismantled by a consortium of auto manufacturers and oil companies as happened in most major American cities west of the Mississippi.
The city's transportation agency made news earlier this week when it approved a two controversial revenue generation measures, increasing the cost of parking tickets and enforcing parking meters on Sundays, that some critics have seen as an attempt to balance the city's public transportation budget on the backs of motorists.
Today, Muni is the seventh-highest trafficked public transportation system in the country, with over 700,000 daily boardings.
Check out this slideshow of photos from the event:
REAL LIFE. REAL NEWS. REAL VOICES.
Help us tell more of the stories that matter from voices that too often remain unheard.
BEFORE YOU GO