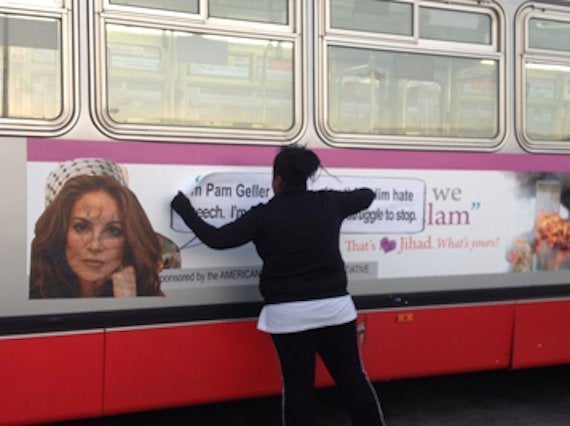 Every time it looks like the saga of the anti-Islamic ads on the sides of San Francisco's public buses seems just about over, one side or the other ups the stakes.
This week, a San Francisco-based group called the Bay Area Art Queers Unleashing Power (BAAQUP) have mounted a guerrilla art campaign against Geller's latest round of ads, which feature inflammatory quotations from prominent Islamic figures like Osama bin Ladin and Turkish Prime Minster Recep Tayyip.
"I'm Pam Geller and I fund anti-Muslim hate speech," reads the BAAQUP's most recent ad modification. "I'm obsessed and must struggle to stop."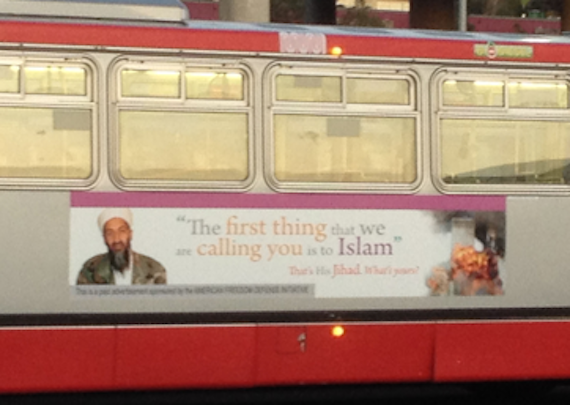 Muni Bus Ad Graffiti
"We believe that all public spaces including public transit and should be welcoming and safe for all members of our community," said the group in a statement. "The hate-filled messages purchased by Pamela Geller's AFDI defame and vilify Muslims and are harmful and offensive to residents and visitors in San Francisco, both Muslim and non-Muslim. Since the city will not take action against these ads on city buses, we have."
The ads in question are designed to mimic the MyJihad campaign, which ran on city buses earlier this year.
San Francisco isn't particularly enthused about running ADFI's ads, and a cadre of city leaders, like Mayor Ed Lee and District Attorney George Gascon, have labeled them "offensive."
However, rejecting the campaign outright would lead to a legal battle that the city's deficit-plagued transit agency would likely lose.
"We understand how many people may find this ad offensive," Muni spokesperson Paul Rose explained to the Huffington Post in an interview last year, "but we're limited in what we can do."
While Muni decided to run the ads, the agency donated all the proceeds from their sale to the city's Human Rights Commission. It also ran its own series, on the other side of the buses, distancing itself from any anti-Islamic sentiment.
Related
Popular in the Community