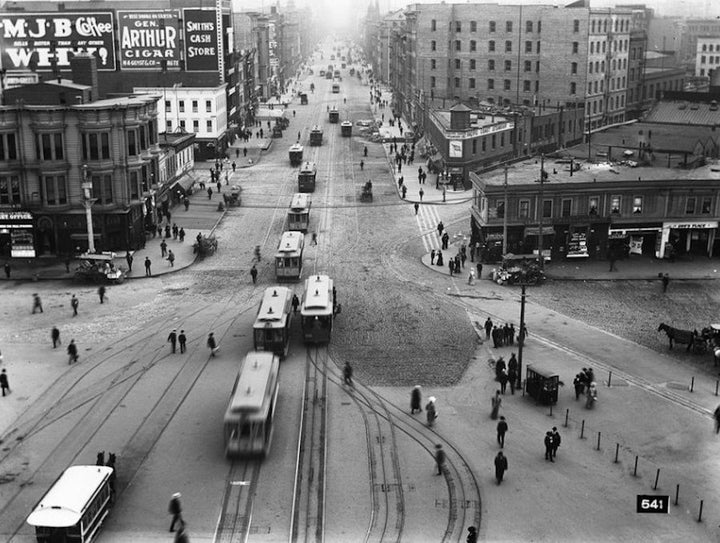 San Francisco's beleaguered transportation agency always seems to be at a bit of crossroads these days--with funding cuts, budget deficits and reduced service on one side and new revenue generation measures (think longer parking meter hours and the end of early-bird discounts at city-owned parking garages) on the other.
While Muni may be fretfully looking to the future, the centennial anniversary of San Francisco's first electric cable car line being installed along Geary Street also has SFMTA in an increasingly nostalgic mood.
The agency has partnered with the Market Street Railway and the location-based historical photo-sharing site Historypin for "Treasures from the Muni Archive," an exhibition of photos covering the past 100 years of Muni.
"Our city has one of the richest transportation histories in America," Market Street Railway President Rick Laubscher said in a statement. "We salute Muni for the work it is doing in preserving its own precious archives and sharing them with San Franciscans and visitors alike through this project. We're proud to help on this and other activities marking Muni's centennial."
Muni spokesperson Paul Rose told The Huffington Post that the photos themselves came from a variety of sources--SFMTA's own archives, the archives of the Market Street Railway and contributions from individual Muni-loving shutterbugs.
Each of the posters on Market Street contains a QR code, which viewers can use to access Historypin's mobile app and view historic photos from their current location or post their own photos taken at that very spot.
"The SFMTA Photographic Archive's innovative displays have turned bus shelters into free history museums," said Historypin CEO Nick Stanhope. "While San Francisco may be the first city doing it, I fully expect this trend to catch on around the world."
Muni's future, on the other hand, seems a little more uncertain.
Even though the agency's cost-cutting efforts of reducing overtime and consolidating management positions combined with an unexpectedly generous donation from the city's general fund have reduced SFMTA's projected budget deficit for next year from $45 million to $33 million, that may not be enough to keep the trains running on time without new revenue generation measures or significant service cut-backs.
Unless new revenue models are approved, such as extending parking meter enforcement to evenings and Sundays or eliminating discounts at downtown garages, the SFMTA will have to look at "right-sizing its service," said director Ed Reiskin at the agency's board of directors meeting on Tuesday.

...

"I do not want to be the new guy to come in here and say we need to reduce service," said Reiskin, who joined the agency last year. "But I do want to bring forward an honest budget. There are very few options for us now."
SFMTA hopes to reduce its projected expenditures by $78 million over the next two fiscal years without having to make any reductions in service, using methods such as a hiring freeze on non-essential staff, halting new contracts and consolidating staff into a smaller number of working spaces.
"No one wants to reduce service in a transit-first city like San Francisco, that's a worst-case scenario," said Rose. "It's the very last option on the table, but it's there if necessary."
The agency is already planning on hiking the price of a monthly Muni pass to $64, a $2 increase from its current rate.
Muni cut service by ten percent in 2010 in an effort to save some $30 million; however, that resulted in the first decrease in on-time percentage after a sustained period of positive growth and sparked outrage among many regular transit riders.
Check out this slideshow of some of the posters from the "Treasures From The Muni Archive" exhibit:
Popular in the Community