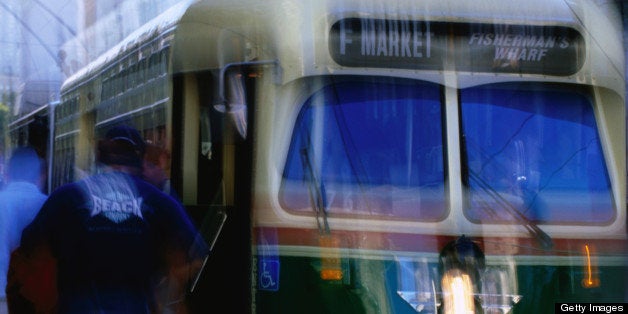 How much money do rush-hour delays on Muni cost the city of San Francisco each year?
According to a report released by the San Francisco Municipal Transportation Agency on Tuesday afternoon, these delays reduce the city's overall economic activity by an estimated $50 million per year and are one of the main reasons why, over the first few months of 2013, Muni's on-time percentage was a paltry 58.7 percent--well below 85 percent on-time rate mandated by San Francisco voters.
"We have not invested in this transportation system over the last generation," said San Francisco Municipal Transportation Chief Ed Reiskin. "We're nowhere close to being able to meet the 85 percent performance goal [imposed by San Francisco voters in 1999's Proposition E] due to this underinvestment."
The report estimated that, just last month alone, Muni delayed its customers by 172,195 total hours.
These figures were released by the agency on Tuesday afternoon during a meeting of the San Francisco Board of Supervisors' Land Use & Economic Development Committee called by Supervisor Scott Wiener to look into some of the problems facing San Francisco's beleaguered transportation system.
"When Muni struggles, our entire city struggles and right now Muni, in many ways, is struggling," said Wiener during the hearing. "When Muni struggles, ridership can suffer--resulting in lower fare collection and more people driving in private automobiles, which brings increased traffic congestion and more pollution."
Wiener has called on the agency to produce detailed quarterly reports on its service as a way to see how the system is performing over time. SFMTA released its first such report during Tuesday's hearing.
SFMTA Director of Transit John Haley explained that 70 percent of all delays on a typical day are the result of maintenance issues. Muni, which is running a $320 million annual structural budget deficit, has long been underfunded, particularly when it comes to the upkeep of its aging fleet of vehicles. The agency currently experiencing an over $2 billion backlog in deferred maintenance.
"This is a system that, while being heavily utilized on a day-to-day basis, continues to have growing pains due to years of underinvestment," said Haley.
However, it isn't just a lack of funds that have contributed to Muni's maintenance issues. A 2012 investigation by SF Weekly argued that the agency has systematically neglected upkeep for years and many of the problems are the result of management failures and inefficient processes.
In April, the agency didn't have enough light rail trains to deliver an adequate level of service for all but two days that month. Last December there wasn't a single day where there were enough light rails vehicle in service.
Haley said the agency hopes to get a number of new light rail vehicles in service over the course of the next year and a half in addition to replacing the city's entire bus fleet within the next five years.
Even as Muni struggles to keep up with the needs of San Francisco's existing population, the city's impending population growth--as evidenced by a recent construction boom for new housing units--means that the squeeze being put on Muni could soon become even greater. Since most public transit routes aren't exactly money-making endeavors, as Muni moves to expand service to accommodate the city's growing population, it's highly likely that the system will end up even further in the hole.
Earlier this month, Wiener suggested imposing a small fee (somewhere in the $1-3 range) on tickets to concerts and sporting events in the city going towards Muni maintenance that could generate up to $22 million annually, an idea that sparked a backlash from some Bay Area sports fans. Wiener has also talked about hiking the city's vehicle license fee and earmarking the additional revenue for transit.
"Its' a national pastime here of being angry at Muni. We all fall into that at times, myself included," admitted Wiener, making a pitch for investing more money into the city's transportation infrastructure. "I hear all the time Muni doesn't need more money, it just needs to run better. Yes, SFMTA management...needs to do more things to move the system in the right direction, but I think it's just not reality to think that we can fix the system by reform alone."
Calling all HuffPost superfans!
Sign up for membership to become a founding member and help shape HuffPost's next chapter
BEFORE YOU GO
PHOTO GALLERY
Top Cities For Transit And Walkability