Fun and festivities can be found at The Munich Airport Center's highly popular winter market. It's in full swing for the holiday season with 50 outdoor market stalls, a large ice skating rink (skates are gratis) and Bavarian curling.
Decorated with more than 400 Christmas trees, the market is located at the heart of the Munich Airport. For travelers arriving, departing or for those of you who have a layover, be sure to allow extra time for browsing the stalls while sipping mulled wine. For locals from the neighboring communities, parking is free for five hours.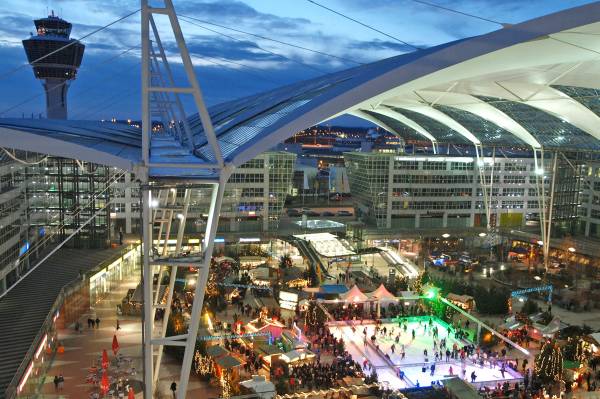 There is live entertainment with a 40 bands and musical acts from the region. Each day, a different stage show appears, featuring rock, pop, blues and jazz genres. As for food, a variety of treats is available ranging from Bavarian to Asian dishes. When sampling the mulled wine, try the Bavarian gluhwein or Swedish glogg.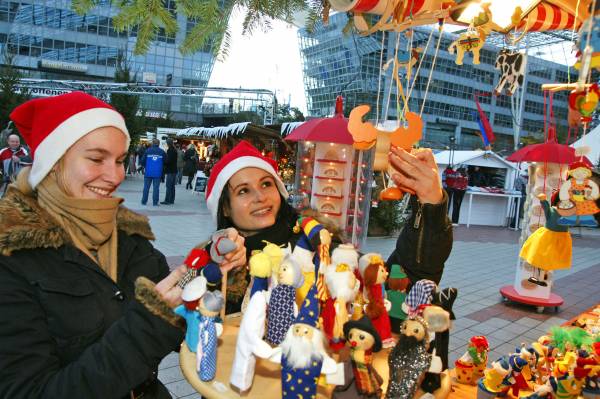 A children's program includes baking, decorating a gingerbread house and creating holiday decorations.
If you would like to have a go at winning 2 round trip tickets to Johannesburg with South African Airways, beginning December 1, 2012, an advent calendar contest is available online at http://www.munich-airport.de/en/consumer/index.jsp
Tickets for flights leaving Munich Airport will be tucked away behind every second door of the advent calendar. Just click on the door, and answer the questions. Hotel, restaurant and shopping vouchers as well as VIP vouchers at Munich Airport are behind doors, too. Players who answer questions correct will be entered in the drawing for the Johannesburg grand prize.
Airport Tours
Don't miss out on the Twilight Tours at Munich Airport taking place between December 22 and January 6, 2013. Three daily Twilight Tours of the airport will depart at 4:30pm, 5:00pm and 5:30pm. On Dec 24 there will be one tour at 1:15pm. Another highlight is the A380 Christkindl Tour tour. Tickets are available at the airport's Visitor's Park and can be reserved by calling 089/975-41333.
Market Hours
The Munich Airport Winter Market is open daily from 11:00 a.m. until 9 p.m. thru December 30. On December 24, it closes at 5:00 p.m.
Parking
For visitors arriving by car, present your parking ticket at any one of the 50 market stalls to obtain a voucher for up to 5 hours of free parking. Parking is available in the P20 car park.
Popular in the Community