In recent times, Jackie and I have had dinner, breakfast or teatime snacks at Mandarin Oriental hotels in London, Paris and New York, but we'd not actually stayed in one since the early 1990s, when we snuggled into the lap of then-unaccustomed luxury at the group's original hotel in Hong Kong. Then, this year, looking at a map of Munich before a February trip focusing on two Bavarian State Opera performances, I saw that the Mandarin Oriental was a short walk from the theater. And that's where we stayed.
We took the S-Bahn train from Munich airport to Marienplatz and, guided by Google Maps, walked five minutes through a gentle snowfall to the hotel, in a 19th-century building originally conceived as an opera house. And suddenly we were in a Chinese fantasyland: the public areas had all been decked out in red hangings and paper lanterns for a Chinese New Year reception that evening (all guests were invited in addition to what appeared to be le tout Munich).
This was not characteristic of the place, however: There are Asian touches throughout the 73-room/suite hotel (including a volume of Buddhist teachings in the bedside table along with the usual Gideon bible), but the general impression is of international luxury in a comfortable space. "Comfortable" is not meant as a euphemism for cramped: The rooms are large indeed, some with particularly high ceilings; the ground floor bar is ample and welcoming, and in the main restaurant (where breakfast is served) tables are large and widely spaced.
For us, however, what stood out was the people, which is where a luxury hotel must shine. Staff members you've never seen somehow know your name; the waiter at breakfast asks you how last night's opera was, even though, surely, you'd never mentioned (to him at least) that you were going. Rooms are cleaned the moment you turn your back. If you leave a book open on your pillow, you'll find it neatly closed with a tasseled bookmark inserted at the appropriate place. If you bump into a housekeeping supervisor in the corridor, she'll ask if there's really, truly nothing you'd like that her team hasn't already provided.
We loved all that, and we loved our room, too: Every time, we looked forward to returning after a full day of museums. Apart from its generous size, it was quiet and designed to be convenient, with blessedly logical lighting controls, bathroom taps and a heating/cooling system that responded quickly to a guest's whimsical decision that he'd like the room one degree warmer. There were plenty of mirrors just where we wanted them and -- something we happen to love -- coat hooks in the entranceway.
The only annoying thing was the lack of free wifi. Suites have this, but not normal rooms. And the charges are high: €8 for an hour and €18 for a day. Web access is complimentary in the business center, but that's not very convenient, is it? On the other hand, soft drinks, mineral water and beer (and unspeakable candy bars) from the mini-bar are gratis, a nice touch that is more typical of the hotel's warmth.
Breakfast is excellent, with a wide range of consistently fine baked goods from croissants to kaiser rolls and pretzels, German cold cuts, smoked and cured fish dishes, fresh and aged cheeses, bratwurst in a chafing dish (yes, some people eat bratwurst at 9 a.m.) and a selection of cereals, muesli and so forth. The whole gamut of cooked breakfast dishes is available as well, as is a hat-tip to Asia in the form of a sort of miso soup bar with a variety of garnishes.
Dinner at the one-Michelin-star restaurant Mark's, installed on a gallery overlooking the lobby, was a relaxing pleasure. Many of the dining room staff knew us from breakfast, so the environment was companionable, and, again, the service was impeccable in every way. Amuse bouche came in two waves: the first was a set of four cold dishes with Asian overtones; with the exception of a crisp cone of very elegant wasabi cream, they lacked grace. These were followed by a little glass of stunningly good, complex, deeply savory soup: quail "essence" topped with madeira foam. I almost wished I'd been unwell so I could have ordered a whole therapeutic bowl of it.
First courses were on the same high level as that soup: a refreshing and elegant jellied oyster with caviar, apple and cucumber -- cleverer and more delicious than it sounds -- and a beautiful, flavorful parsley soup with caviar-topped seared scallops. A middle course of pink-fleshed golden trout with carrot puree and ginger flavors was gentle yet clear-tasting. But, as so often happens, meat courses were on the blunt side, with excellent and perfectly cooked lamb and suckling boar somewhat lost in background noise from their respective garnishes, which lacked punch.
Happily, dessert returned to the high level of the starters: A chocolate cigar served with two-layered mojito granité. It had a good crackling texture and that kind of chocolate flavor that somehow does evoke tobacco. Amusingly, it arrived at the table with a little piece of charred coconut shell emitting visible and aromatic smoke (removed by the waiter before we dug in).
There is a good prix-fixe menu (three courses for €70 or six for €130); a la carte dishes are in the €40 range, though it happens that almost all the dishes that most tempted us were on the prix-fixe list, which speaks well for chef Simon Larese's ability to put together a menu. If we find ourselves in Munich again for some more opera-going we will certainly look forward to another evening in the restaurant.
And indeed, we will look forward to returning to the hotel, with its great comfort, perfect location and service on that famous Asian level.
Mandarin Oriental Munich. Neuturmstrasse 1, 80331 Munich, Germany; +49 89 290980; http://www.mandarinoriental.com/munich/. Double rooms from about €525 a night.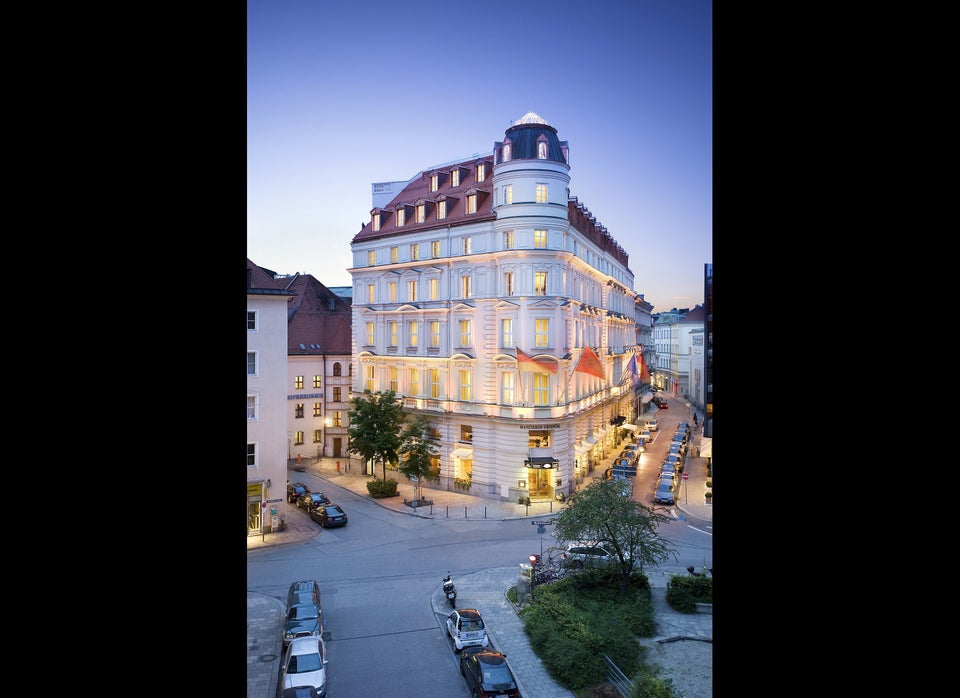 The Mandarin Oriental Hotel Munich