* Scroll down for slideshow, video
An Iraqi journalist, Muntadhar al-Zeidi, who threw his shoes at President Bush and has been hailed as a hero across the Middle East, faces up to 15 years in prison.
Update: 12/17 8 am:
The journalist appeared before a judge on Wednesday, but his brother says the judge visited the shoe-thrower in his jail rather than in court because the journalist had been beaten, the AP reports. Iraqi officials deny this, according to various reports.
BAGHDAD (AP) _ The Iraqi journalist who threw his shoes at President George W. Bush appeared before a judge Wednesday but in his jail cell, his brother said, alleging the reporter must have been too seriously injured to appear in a courtroom.

The family of Muntadhar al-Zeidi went to the Central Criminal Court expecting to attend a hearing, said his brother, Dhargham. He added they were told the investigative judge went to see him in jail and that they should return in eight days.

"That means my brother was severely beaten and they fear that his appearance could trigger anger at the court," he added.

Iraqi officials and another brother have denied that the journalist suffered severe injuries after he was wrestled to the floor after throwing the shoes during a press conference by Bush on Sunday.
The AP also reports that the Iraqi Parliament Speaker has said he will resign over arguments concerning the Iraqi journalist.
Iraq's parliament erupted into chaos on Wednesday as lawmakers argued over whether the journalist should be freed from jail.

An official in the speaker's office says he is unsure about the seriousness of Mahmoud al-Mashhadani's announcement, but says it may have made because he was nervous. The official spoke on condition of anonymity because he was not authorized to talk to the media.
Update: 12/16 5:09 pm:
The International Herald Tribune and Reuters report:
The Iraqi television reporter who threw his shoes at President George W. Bush at a news conference appeared before a judge Tuesday and admitted "aggression against a president," a judicial spokesman said.

"Zaidi was brought today before the investigating judge in the presence of a defense lawyer and a prosecutor," said Abdul Satar Birqadr, a spokesman for Iraq's High Judicial Council. "He admits the action he carried out."

The court decided to keep Zaidi in custody. After the judge has completed his investigation the court may send him for trial under a clause in the Iraqi penal code that makes it an offense to attempt to murder Iraqi or foreign presidents. The sentence for such a crime could be up to 15 years in prison, Birqadr said.
Update: 12/16 12:30 pm:
Protests calling for the release of the journalist, Muntadhar al-Zeidi, continued for a second day across the Arab world, as reported by CNN.
Hundreds of students at Diyala University in Baquba carried banners demanding the release of Muntadhar al-Zaidi -- described by demonstrators as an "honorable Iraqi."

Smaller protests emerged in the Anbar province city of Falluja and in two Baghdad locations -- Baghdad University in the northern part of the city and western Baghdad's Ameriya district. In those events, students also took to the streets.
PHOTO GALLERY
Iraqi Journalist Throws His Shoes At Bush During Press Conference In Baghdad
The AP reports that the Iraqi government will decide if al-Zeidi should be punished for throwing shoes at Bush. It also reports that Bush "harbors no hard feelings about the incident."
WASHINGTON - A White House spokeswoman said Tuesday that Iraqi leaders are the ones to decide whether punishment is appropriate for the Iraqi journalist who stunned observers by hurling two shoes at President George W. Bush from close range.

"The president believes that Iraq is a sovereign country, a democratic country, and they will have a process that they follow on this," White House press secretary Dana Perino told reporters. "The president harbors no hard feelings about the incident."
Update: 12/16 10 am:
The shoe thrower, Muntadhar al-Zeidi, reportedly has multiple injuries, and it is unclear if he sustained the injuries during the clash at the press conference or while in custody.
The Times of India reports that the journalist, Muntadhar al-Zeidi, has a broken arms, ribs and cuts to his face.
His brother, Durgham al-Zaidi, said he was told that Mr al-Zaidi is held by Iraqi forces in the heavily fortified Green Zone compound in central Baghdad, where the US embassy and most government offices are housed.

"He has got a broken arm and ribs, and cuts to his eye and arm," he said. "He is being held by forces under the command of Muwafaq al-Rubaie [Iraq's national security adviser]." Television pictures from the press conference show Mr al-Zaidi being carried away by prime ministerial guards but no sign of excess violence.
The BBC reports that he may have sustained the injuries while in custody.
The brother of the Iraqi journalist who threw his shoes at US President George W Bush has said that the reporter has been beaten in custody.

....

The head of Iraq's journalists' union told the BBC that officials told him Mr Zaidi was being treated well.

The union head, Mouyyad al-Lami, said he hoped to visit his colleague later.
Al Jazeera reports that the Iraqi military has denied that the journalist was beaten while in detention.
Reuters reports that al-Zeidi was injured during clashes with security at the press conference with Bush, and he was hit in the head with a rifle butt. Reuters also reports that al-Zeidi could be sentenced to two to seven years in prison.
The most likely charge against Zaidi would be one that allowed for up to two years in prison for anyone who publicly insults a foreign state, an international organisation or a foreign country's head of state, said leading criminal lawyer Ali Ahmed Mansour.

"Based on my legal knowledge I am sure he will be charged with insulting a president of a foreign state," Mansour said on Tuesday. "He will be jailed for this action."

Zaidi could also conceivably be charged under another clause in the 1969 Iraqi penal code that allows for seven years in prison for anyone who "insults the President or his representative," lawyers said.
Update: 12/16 9 am:
The shoe-throwing journalist has become so popular he has numerous Facebook groups dedicated to him.
He has been added as a Celebrity/ Public Figure under the title, "Muntadar al-Zaidi (The Shoe Thrower)," and already has 432 fans. His 'personal information' reads,"I like shoes, and throwing them. I hate President Bush! I do, however, like throwing shoes at him."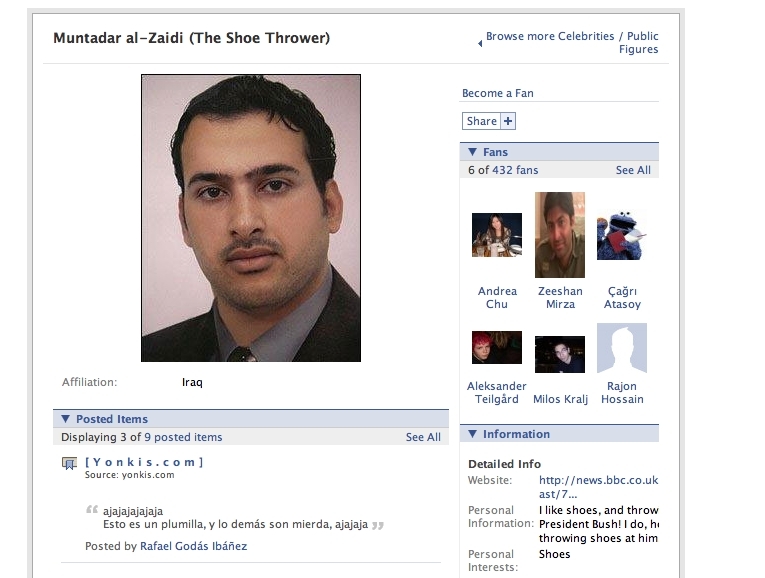 Other Facebook groups are called, "Amnesty for the Shoe Thrower!" and "Let's make the Bush 'Shoe-Thrower' A Hero!!!" The "George Bush Shoe Thrower Muntadar al-Zaidi" group has more than 1,500 members so far.
Despite the pleas of his worldwide fans, the AP reports that the journalist was handed over to the Iraqi judiciary Tuesday.
Al-Zeidi was initially held by the prime minister's guards and later turned over to the Iraqi army's Baghdad command. The command, in turn, handed him over to the judiciary, the official said on condition of anonymity because he wasn't supposed to release the information.

The official would not elaborate, but referring the case to the judiciary usually signals the beginning of a lengthy process that could end in a criminal trial. Cases referred to the judiciary are given to a judge who reviews the evidence and recommends whether to hold a trial or release the defendant.

Another panel then sets a trial date and appoints judges to hear the case. The process can take months.
Update 12/15 7 pm:
The journalist is receiving so much attention Wikipedia already has an entry for him.
Watch this video from Link TV of Iraqis demonstrating in Sadr City in support of the journalist, Muntadhar al-Zeidi. One passerby gives out candy and says: "Here are sweets to celebrate the shoe thrown at Bush."
From earlier on 12/15:
Reuters reports that Muntadhar al-Zeidi will be given an award by a Libyan charity group called Wa Attassimou.
"Waatassimou group has taken the decision to give Muntazer al-Zaidi the courage award ... because what he did represents a victory for human rights across the world," the group, headed by Aicha Gaddafi, said in a statement.

The group said the Iraqi authorities should honour the journalist for his actions.

Zaidi, accused by the Iraqi government of a "barbaric and ignominious act" will be tried on charges of insulting the Iraqi state, said the Iraqi prime minister's media advisor, Yasin Majeed.
The AP reports that thousands took to the streets Monday to demand his release from jail.
Journalist Muntadhar al-Zeidi, who was kidnapped by militants last year, was being held by Iraqi security Monday and interrogated about whether anybody paid him to throw his shoes at Bush during a press conference the previous day in Baghdad, said an Iraqi official.

He was also being tested for alcohol and drugs, and his shoes were being held as evidence, said the official, speaking on condition of anonymity because he was not authorized to talk to the media.

Showing the sole of your shoe to someone in the Arab world is a sign of extreme disrespect, and throwing your shoes is even worse. Iraqis whacked a statue of Saddam with their shoes after U.S. Marines toppled it to the ground following the 2003 invasion.
Al Jazeera reports that the journalist's employer, Al-Baghdadiya television, has demanded his release as well. Zeidi faces a minimum of two years in prison if he is convicted of insulting a visiting head of state, according to the report.
On Monday, al-Baghdadiya suspended its normal programming and played messages of support from across the Arab world.

A presenter read out a statement calling for his release, "in accordance with the democratic era and the freedom of expression that Iraqis were promised by US authorities".

It said that any harsh measures taken against the reporter would be reminders of the "dictatorial era" that Washington said its forces had invaded Iraq to end.
But the New York Times reports that despite the widespread protests in support of al-Zeidi, not all Iraqis view him as a hero.
His action ran counter to deeply held Iraqi traditions of hospitality toward guests, even if they are enemies. Those who have cooperated with or welcomed the American presence in Iraq were more apt to side with the government in their condemnation.

Ahmad Abu Risha, the leader of the Awakening Council in Anbar Province, a group of local tribal leaders that started a wave of popular opposition against Al Qaeda fighters in Iraq, said that he Mr. Zaidi's actions were inappropriate "because the American president is the guest of all Iraqis. The Iraqi government has to choose good journalists to attend such conferences."

"This is unsuitable action by an Iraqi journalist," said Kamal Wahbi, a 49-year-old engineer in the Kurdish city of Sulaimaniya, where pro-American sentiment is strong. "His action served terrorism and radical national extremism. I think he could send the same message by asking Bush embarrassing questions."
Al Jazeera also reports that Saddam Hussein's former lawyer, Khalil al-Dulaimi, is organizing a team to defend Zeidi.
"It was the least thing for an Iraqi to do to Bush, the tyrant criminal who has killed two million people in Iraq and Afghanistan," he said.

"Our defence of Zaidi will be based on the fact that the United States is occupying Iraq, and resistance is legitimate by all means, including shoes."
The AP reports that al-Zeidi's family members expressed bewilderment and pride over their brother's defiance of Bush.
"I swear to Allah, he is a hero," said his sister, who goes by the nickname Umm Firas, as she watched a replay of her brother's attack on an Arabic satellite station. "May Allah protect him."

The family insisted that al-Zeidi's action was spontaneous -- perhaps motivated by the political turmoil that their brother had reported on, plus his personal brushes with violence and the threat of death that millions of Iraqis face daily.
The New York Times Baghdad Bureau Blog quotes al-Zeidi's brother as saying that he hated the American occupation of Iraq so much he was willing to cancel his wedding over it.
Maythem al-Zaidi said his brother had not planned to throw his shoes prior to Sunday. "He was provoked when Mr. Bush said [during the news conference] this is his farewell gift to the Iraqi people," he said. A colleague of Muntader al-Zaidi's at al-Baghdadiya satellite channel, however, said the correspondent had been "planning for this from a long time. He told me that his dream is to hit Bush with shoes," said the man, who would not give his name.

Muntader al-Zaidi appears to have a long-standing dislike of the United States presence in Iraq. He used to finish his reports by saying he was in "the occupied Baghdad." His brother said that he hates the occupation so strongly that he canceled his wedding, saying: "I will marry when the occupation is over."
The AP also reports that al-Zeidi was kidnapped by gunmen while on assignment as a journalist in a Sunni district of Baghdad. he was also arrested by American soldiers. Al-Zeidi is a 28-year-old unmarried Shiite.
He was freed unharmed three days later after Iraqi television stations broadcast appeals for his release. At the time, al-Zeidi told reporters he did not know who kidnapped him or why, but his family blamed al-Qaida and said no ransom was paid.

In January he was taken again, this time arrested by American soldiers who searched his apartment building, his brother, Dhirgham, said. He was released the next day with an apology, the brother said.

Those experiences helped mould a deep resentment of both the U.S. military's presence here and Iran's pervasive influence over Iraq's cleric-dominated Shiite community, according to his family.

"He hates the American material occupation as much as he hates the Iranian moral occupation," Dhirgham said. "As for Iran, he considers the regime as the other side of the American coin."
Calling all HuffPost superfans!
Sign up for membership to become a founding member and help shape HuffPost's next chapter