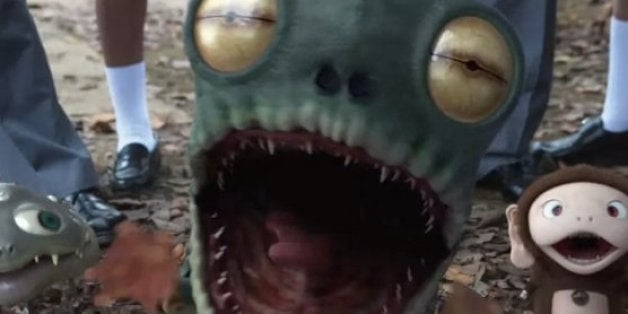 The signature "superflat" characters of visual artist Takashi Murakami are colorful, cute and expressive, much like the manga that inspires them. They're also sinister, precisely because of that constant cheery flatness -- it's just not natural!
No surprise, Murakami's first full-length feature film, "Jellyfish Eyes," manages to toe the line between kid flick and horror show. The 101-minute monster movie is starting a month-long tour of U.S. cities this May, and a trailer was just released for English speakers.
What do we know so far? The action takes place in a fictional Japanese town, in the aftermath of the 2011 Fukushima disaster that resulted in nuclear contaminants flooding the countryside. The protagonist is Masashi, a shy new kid in town who learns of a strange and well-kept secret, of a race of extraterrestrial creatures invisible to adults.
Like the rest of the local kids, Masashi befriends one of these creatures -- known as FRIENDS -- a flying jellyfish he names Karage-bo, or Jellyfish Boy. Here's where things get ominous, according to the film's official site. Turns out the adorable animated "friends" are actually masterminding a "plot that will threaten the entire town."
Moral of the story: never trust a flying jellyfish.
REAL LIFE. REAL NEWS. REAL VOICES.
Help us tell more of the stories that matter from voices that too often remain unheard.