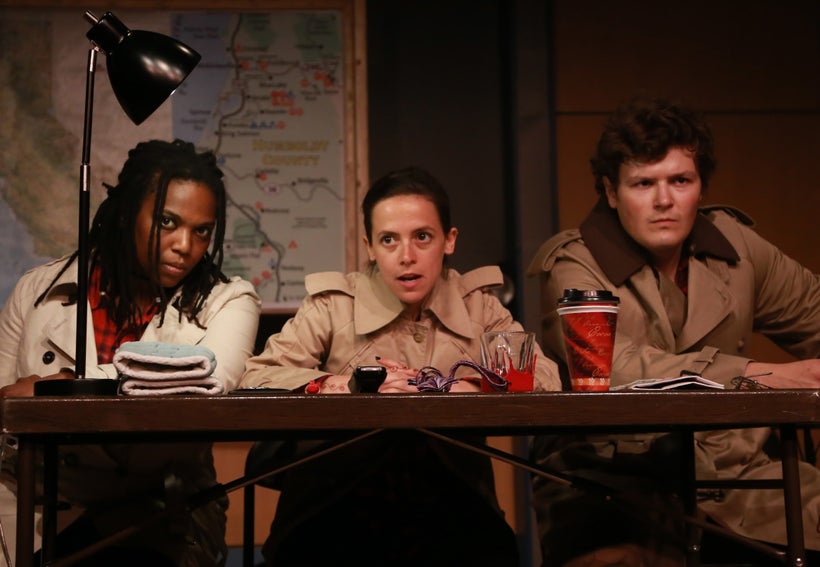 In true Neo-Futurist style, this genre was not chosen for its popularity, but rather because the subject matter of Alex Vlahov's interest was the murder of his high school teacher, Father Eric Freed. (I think it's worth mentioning that this is a story about a priest that does not involve sexual misconduct, assault, or scandal.) A Simple Art is a play about the context surrounding this murder, but it is more of a "whydunnit" than whodunnit. You see, Father Freed's murderer is known, but the exact reasons for the murder are not as clear.
This kind of story is where the Neos' mastery of theatrical experimentation shines. Vlahov, Nessa Norich, and Kyra Sims collaboratively tell the story of Eureka, California, Father Freed, and the aftermath of the crime, easily flowing through various styles, adding additional media, and helping the audience keep track of facts. The Neos are great at montage, and I really appreciate the way that this piece allows itself to take slight detours to follow the associative thoughts of the three performers. The result is a kind of stream-of-consciousness journey that both is, and is not, about this murder. A Simple Art channels and deviates from the genres of film noir, documentary theatre, and even a touch of The Living Newspaper. None of these modes of theatrical storytelling can contain the sprawling points the performers want to explore within this topic.
In addition to the use of different theatrical styles, the performers also use a mix of actual recorded interviews, recorded music, maps, placards, live french-horn playing by Sims, singing, dancing, and live sound effects. The performers often lip-synched to the interviews, which I felt was not necessary, and occasionally distracting, and I far preferred when the real audio would play or the actors would read the words of the interviews. The cast also makes you some toast and coffee, which work together with several other olfactory effects A Simple Art uses to further detail certain scenes.
As in all Neo shows, audience participation is encouraged at moments, and as I munched on a piece of freshly-made toast, the performers made a point of saying that there were about to be grisly details, and that anyone who wished to could leave the theatre at that moment, and someone would come and get them when that section was concluded. This is, after all, a story involving murder. I am not giving you many details here, because the way that A Simple Art allows these details to unfold is an integral part of the show, and one that I do not wish to ruin for potential audience members.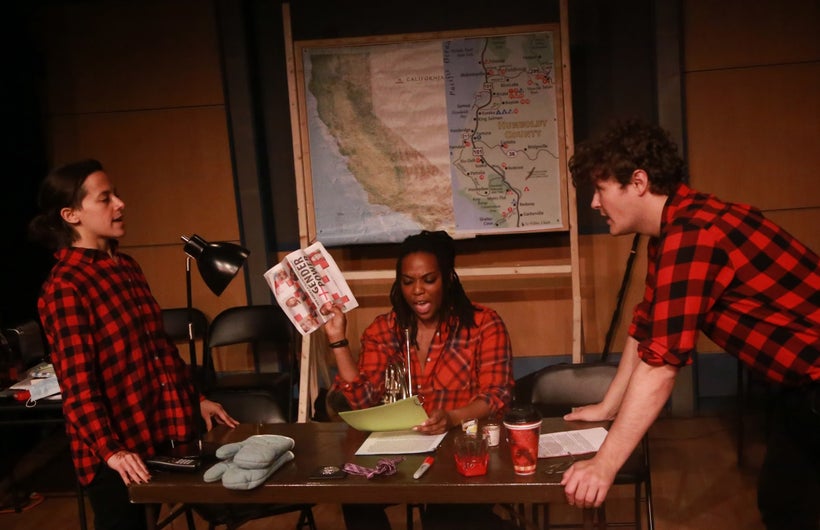 The one thing I found myself wanting more of in this show surprised me. This is Vlahov's story, although it has, quite successfully, become a story of Norich and Sims as well. One of the greatest strengths of the piece is how is manages to incorporate all three performers, and stretch the scope of impact and influence outside of the immediate story. And yet I found myself wanting to know more about Vlahov's experiences with Father Freed. We do hear a story about him as a teacher, but I did wish for something as simple as a statement of why this story was one Vlahov felt himself needing to explore.
All in all, I found A Simple Art to be engaging, creative, and thought-provoking, and I am left feeling like true crime theatre is something I would love to see more often. Although, with the NY Neos behind my first experience, the true crime theatre bar has been set very high, as the subject matter was handled with respect and the theatrical structure of the piece supported the story instead of simply decorating it. In one of my favorite old movies, Abbott and Costello's Who Done It? (1942), the late night radio show that becomes the site of a murder is called "Murder at Midnight." Father Freed was truly murdered around midnight, in a senseless act of violence to which we will never have all of the answers. But, as A Simple Art reminds me, this should not stop us from asking a great many questions. If you like true crime, this show is one not to be missed. Yet, as is always the case with the NY Neos, if you like creative theatrical storytelling, then this one is also for you! A Simple Art is playing at Roy Arias 777 Theatre through Sunday, June 11th. Tickets can be purchased here.
Calling all HuffPost superfans!
Sign up for membership to become a founding member and help shape HuffPost's next chapter
This post was published on the now-closed HuffPost Contributor platform. Contributors control their own work and posted freely to our site. If you need to flag this entry as abusive,
send us an email
.