An Arizona maintenance man was charged Wednesday in the shooting death of his real estate investor boss, whose remains were found over the weekend 19 months after he vanished.
Al Blanco was booked on a charge of first-degree murder in the killing of Sidney Cranston Jr., 40, whose body was found Saturday in a remote area east of Kingman, according to Chief Deputy Rusty Cooper of the Kingman Police Department. The Mohave County Medical Examiner's Office ruled the cause of death homicide, citing a gunshot wound, police said in a statement.
Blanco, who took care of properties Cranston owned and also was his friend, had been staying at a Youngstown rehab facility. Officials there declined to allow calls to his room prior to his arrest. 
Cranston's brother, Chris Cranston, told HuffPost that FBI Special Agent Desirae Tolhurst notified him of the discovery on Tuesday.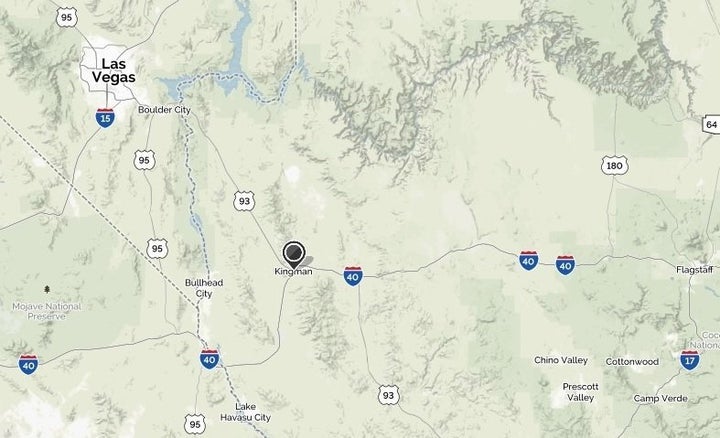 "We've known all along this would most likely be the outcome, but hearing it was very surreal," Chris Cranston said. "Here I was, finally in this place with answers to where my brother's been, and I just felt numb."
Cranston added: "But, as horrible as the news is, it's positive, in that we can now pursue justice."
A source close to the investigation told The Huffington Post the break came after police executed a search warrant on a property where they had previously been blocked. Local authorities wouldn't confirm or deny that information.
The discovery of the remains came nearly 19 months after the search for Cranston began.
An engineer by trade, Cranston owned Done Right Engineering. He'd relocated to northwestern Arizona from New York around 2005 and held the deeds to nearly 50 properties in Arizona. Most were purchased at tax sales. Some were fixer-uppers that he planned to renovate and flip.
Beginning in 2013, Cranston divided his time between Arizona and southern Mexico, where he'd met and fell in love with a psychologist. The two had been planning to marry before he disappeared. 
"He told me he was happier than he had ever been in his entire life," Dawn Brannies, a Kingman real estate agent and friend of Cranston, told HuffPost in November 2015. "He said he was head over heels for her and couldn't wait to bring her to Arizona."
PHOTO GALLERY
Sidney Cranston Missing
On June 16, 2015 — the day he was last seen ― Cranston collected about $2,500 from property rentals. He was scheduled to attend a meeting later that day with Kingman City Council regarding a sewage permit for one of his properties.
Cranston never showed up for the meeting and failed to return to a friend's home that night, prompting a missing person report with police.
The investigation into Cranston's disappearance revealed that his phone had pinged a cellular tower near the Hualapai Mountains on the afternoon of his disappearance. A cellphone belonging to Blanco, who helped manage Cranston's properties, reportedly pinged the same tower that day.
Questioned by police, Blanco said he had lunch with Cranston that day at a property Blanco was working on in the 1700 block of Club Avenue. It's the same property where Cranston's motorcycle was found after his disappearance.
In the days that followed, Cranston's ex-wife, Jody Nelson, received an unexpected visit from police.
"They had two pictures of rings that had been sold at a pawn shop the day after Sid disappeared, and they wanted to know if I could identify them," Nelson told HuffPost. "I was able to identify the one ring as Sid's wedding band. He had changed it over to his right hand after we got divorced, but still wore the ring because he liked it and it was worth money."
Nelson said police told her Blanco was who sold the rings. Investigators haven't publicly confirmed that information.
"Investigators continue to work diligently on the investigation and are committed to bringing to justice those who may be responsible for Cranston's murder," Kingman police said.
In February, Chris Cranston and a crew from Crime Watch Daily confronted Blanco in Kingman. He refused to talk on camera and complained to police that the cameraman and crew assaulted him.
Cranston's brother also spearheaded volunteer search efforts, often traveling from his home in New York. He estimated he made the trip to Arizona more than a dozen times and personally searched several square miles.
That search now appears to be over, and Chris Cranston said he will shift his focus on the next stage of the case.
"I think were headed to a better place," he said. "Right now, it's like a roller coaster of pain and sorrow. It's horrible to be where we are, but good to know we're on a path to justice."
Cranston added, "My brother wasn't murdered at random. He was shot and killed over money, by scum of the scum."
Anyone with information is asked to call the Kingman Police Department at 928-753-1911 or Silent Witness at 928-753-1234.
Calling all HuffPost superfans!
Sign up for membership to become a founding member and help shape HuffPost's next chapter
BEFORE YOU GO