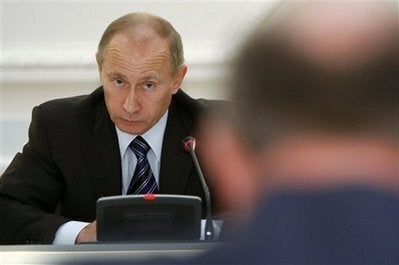 Four men, two of them are officers of Russian special services and two others are Chechens, are being tried in the Moscow District Military Court now. They are accused of organizing the murder of Anna Politkovskaya, one of the most outrageous crimes in Russia's recent history.
Who was Anna Politkovskaya?
Anna Politkovskaya was a prominent Russian journalist who worked for Novaya Gazeta newspaper. Most of her work was dedicated to the Northern Caucasus and in particular to Chechnya, devastated by two wars, poverty, terrorism and unbelievable lawlessness. She went where misery was too great for people to bear. She investigated police and army brutality; she helped Russian prisoners of war; she supported victims of terrorism.
She was respected and trusted by both the Chechen separatists and the victims of Chechen terrorist groups. She was the one who brought drinking water to 800 hostages in the Moscow theatre Nord-Ost in 2002. When terrorists seized a school in Beslan in 2004, she immediately went there to negotiate a peaceful solution of the crisis. However, she didn't make it to Beslan. She was poisoned on the airplane, as her colleagues believe, by Russian secret services who didn't want her to interfere into their own plan. She survived but while she was in the hospital, the Russian army stormed the school. 331 hostages were killed as a result, most of them children.
Anna wrote a highly critical book Putin's Russia in 2004 and participated in a founding conference of the Other Russia opposition coalition in July 2006. Russian authorities as well as the pro-Kremlin Chechen leadership despised Anna for her activities and didn't even try to hide it. When she was killed, then-president Vladimir Putin tried to defend himself against suspicion in a very cynical way by saying that "her death caused more harm than her work".
She was assassinated at the doorstep of her home in Moscow on October 7, 2006, on Putin's birthday. Many people believe that such a bloody gift was given to the Russian president by Chechen leader Ramzan Kadyrov (he was appointed president of Chechnya by Putin a few months later). Russian authorities, on the contrary, declared immediately that it was Boris Berezovsky's provocation against Kremlin. Such claims weren't unexpected as this ex-oligarch serves as a scapegoat for probably every second bad thing happening in Russia. No proofs of that were found afterwards, however. It is still unknown who was the initiator of this crime but, according to the defendant's attorneys, the file has clues that it was "a political figure inside Russia."
The hitman was also not found. Detectives say that the man who shot five bullets at Anna is Chechen Rustam Makhmudov and is now hiding abroad. Two his brothers are under trial for organizing the murder of Politkovskaya. Two others defendants are a former officer of UBOP (police unit responsible for fighting organized crime but also used against political opposition), Sergey Khadzhikurbanov, and acting FSB Lieutenant-Colonel Pavel Ryaguzov. Novaya Gazeta staff organized their own investigation and said that these defendants were most probably involved in the crime but they played more a supportive role.
The very beginning of the trial was marked by a serious scandal that raised new questions. The process was initially open to the public but at the second hearing the judge, Evgeny Zubov, decided that no journalists will be allowed in the court room. The reason was the jury's request to close the process: the jurors were reportedly afraid of the media.
However, the next day juror Evgeny Kolesov gave an interview and claimed that there had been no such request and nobody asked to get journalists out. He said that a court clerk entered the jury's room before the hearings and asked them to sign a written statement that they want the process to be closed. All the jurors refused to sign it. But still, the judge didn't care. Nineteen out of 20 jurors signed a petition to the judge saying that they don't have any objections to the open process. Evgeny Kolesov sent the judge a letter in which he said that he didn't want to participate in an "unfair trial" and refused to stay in the jury.
The judge had to reopen the process after these events. However, it is still unknown what he wanted to hide so badly. Is it some links to the murder that go high into the ruling elite? Or is it related to the FSB's reported surveillance of Politkovskaya? We will hopefully know soon.
Update: Rustam Makmugov, the suspected killer, made a statement that he was ready to surrender himself to the police if fair trial is guaranteed for him. Unfortunately, such a condition is very hard to meet in Russia.
Related
Popular in the Community