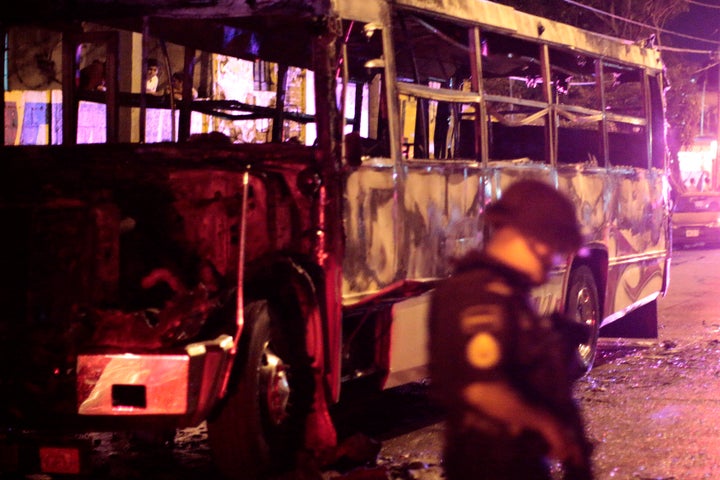 WASHINGTON -- Intentional homicides in Mexico rose nearly 8 percent last year to 18,650, reversing a steady decline in the number of killings that authorities had trumpeted as evidence of improving security.
The data, released Wednesday by Mexico's Secretariat of the Executive, seemed to validate those who have doubted the progress of security under President Enrique Peña Nieto, who this month has been celebrating the recapture of famed drug lord Joaquín "El Chapo" Guzmán Loera.
"2015 was not a good year," former Mexican intelligence official Alejandro Hope said Thursday during a conference at the Woodrow Wilson Center. "At the current rate, there will be more homicides under Peña Nieto than under [previous President Felipe] Calderón."
Killings began rising in the spring of last year, peaking in August at 1,709. Since then, the number of killings registered monthly has slowly dropped, though the figures remain higher than when the year began.
The U.S. State Department reissued a travel warning for Mexico Tuesday, urging Americans to avoid traveling by land in several states, particularly at night. Some 103 U.S. citizens were killed in Mexico last year, according to the State Department -- up slightly from 100 the year before.
Homicides have been just one symptom of the greater breakdown of law and order in Mexico. The government has also registered more than 27,000 unresolved disappearances in recent years, according to El Daily Post. In the first quarter of 2015, the government tallied an average of 11 new disappearances per day. For the year of 2008, that figure was 2.3 cases per day.
Human rights groups say the government has done little to locate the disappeared, and has in fact been responsible for many cases itself.
"In many cases the individuals who are reported missing were last seen being arrested by the police or detained by the military," reads an Amnesty International report on Mexico's disappearances released last week. "Yet, Mexico lacks a detailed register of arrests allowing the authorities to deny responsibility and wash their hands of the commission of enforced disappearances."
Elected in 2012, Peña Nieto emphasized economic reform and sought to play down the country's problems with organized crime that have led to an estimated 100,000 drug war-related deaths over the last decade.
But his efforts to refocus the country's political efforts toward economic reform have flagged. Instead, his administration has faced an ongoing scandal over its mishandling of a federal investigation into the abduction of a group of 43 students -- as well as the embarrassment of Guzmán's escape in July, which took place with the apparent collusion of staffers at his maximum security prison.
Mexican authorities recaptured Guzmán earlier this month.
Related
Popular in the Community