Most people accused of a crime don't want publicity. But murder charges didn't stop one Virginia man from giving an interview to a Buffalo, New York, news station.
Alexander Hill Jr. was arrested last week in Buffalo shortly after appearing on TV, thanks to an anonymous tipster who alerted the U.S. Marshals Service.
On the anniversary of the murders, the U.S. Marshals Service redistributed Hill's photo in an attempt to track him down. An anonymous tip led them to Buffalo, where Hill had been staying under an assumed name at St. Luke's Mission of Mercy, a homeless shelter and soup kitchen.
Watch: Alexander Hill Jr. Captured in Buffalo

"I didn't know anything about him. I'd see him. He'd say hello. You know, he kind of laid low," Amy Betros, one of the mission's founders, told Buffalo news station WGRZ after Hill's arrest.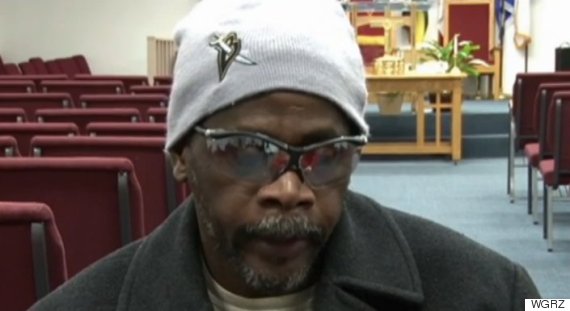 Alexander Hill gave an interview on TV about a month before he was arrested.
In the story, Hill, who appeared in glasses and a hat, said he was Trent Dales, a carpenter who had lost his job and his home.
"The minister has given me an opportunity to do some work, kept me out of the elements. So far, it looks like it's going up," Hill said on camera.
The man calling himself Dales willingly appeared in the story at the pastor's suggestion, WGRZ said. But U.S. Marshals Service spokesman Kevin Connolly confirmed that Dales was in fact Hill, WGRZ reported.
But before he can stand trial, the government has to prove that Alexander Hill is the suspect they're looking for. Hill is scheduled to appear at an "identity hearing" in court Thursday, according to NBC affiliate station WBBT. If his identity is established, Hill will be extradited to Virginia.
Calling all HuffPost superfans!
Sign up for membership to become a founding member and help shape HuffPost's next chapter