A "piece of crap" is how authorities say 27-year-old Kyle Navin referred to his father in a series of text messages with his girlfriend in the months leading up to his parents' disappearance in Easton, Connecticut.
The details are in a newly released 29-page arrest warrant charging Navin's live-in girlfriend, 31-year-old Jennifer Valiante, with conspiracy to commit murder and hindering prosecution.
"We need to figure out what the best way (sic) to take them down, whether it is get some money out of them, somehow f--k him at the business, the house – something," Navin texted Valiante in May, according to the warrant. "We got to figure out. I'm (sic) got to be real smart and do it quick."
Valiante, through her attorney, denied any involvement in the killings during a Monday court appearance.
"She has maintained that she has nothing to do with this," Valiante's lawyer, Elliot Warren, told The Associated Press after the hearing. "She was looking for Kyle's parents as soon as she realized they were missing and trying to help find them. We're sad, we're disappointed at the nature of the charges, but we're looking forward to being in court and establishing her innocence."
Warren told the AP the text messages have been "taken out of context" by police and his client will deny talking with or texting to Navin about killing his parents.
Navin faces two counts of murder and murder with special circumstances in the deaths of his parents. He is expected to be arraigned on Tuesday, according to Connecticut State Police. 
Valiante's arrest on Friday came one day after men moving debris outside an abandoned Weston home found a suspicious foul smelling tarp that had been wrapped with silver duct tape. Upon closer inspection, the men discovered the tarp contained the decomposing remains of Navin's parents, 56-year-old Jeffrey Navin and 55-year-old Jeanette Navin.
The abandoned house is located about 10 miles from where the couple was last seen alive.
Jeanette Navin was an employee of the local school district, and Jeffrey Navin was the president of J&J Refuse, a family-owned Westport sanitation company. Kyle Navin is general manager of the company, police said.
Authorities allege the couple's finances are the motive behind their slaying.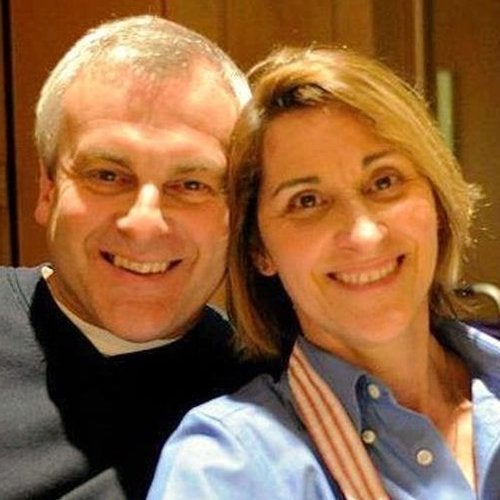 According to the arrest warrant, Easton police interviewed a friend of the Navin family who said Jeanette Navin was upset with her son's alleged drug abuse problem and his failure to pay taxes on the house she and her husband had bought for him. The friend said they were fed up with his behavior and were planning on selling the family business.
"[The witness] stated that Jeanette also told her they were cutting Kyle out of their will and that once the business was sold, Kyle would be on his own without any financial support from his family," according to the warrant.
The arrest warrant alleges Kyle Navin sent a text message to his girlfriend in July, in which he mentioned a plan to "solve every single problem and give us a wealthy amazing life."
In another series of text message exchanges detailed in Valiante's arrest warrant, Kyle Navin allegedly said he wanted to "wipe out the infection" and get money "for life."
"It's perfect plan (sic)," Navin allegedly texted.
"I don't like that they call the shots," Valiante replied, according to the warrant. "When they 'choose' to be friendly it's all good, but when the (sic) 'choose' to start trouble it's war."
Less than three months later, on Aug. 4, Jeffrey and Jeanette Navin mysteriously disappeared. That same day, police say Jeffrey Navin exchanged several text messages with his son, asking him if he had done something to his mother.
"Did you hurt mom?" Jeffrey Navin texted, according to evidence previously disclosed in an affidavit for a search warrant.
"No, absolutely not. Why would you think," Kyle Navin responded.
"I go home and get framed for murder," Jeffrey Navin then texted.
"Oh stop," Kyle Navin texted back.
The court documents claim Kyle Navin told police conflicting versions of his actions on the day his parents disappeared and refused to submit to a polygraph examination. On the day after they vanished, he allegedly bought germicidal bleach, hair and grease drain opener, stain remover and contractor cleanup bags.
Questioned about the suspicious purchases by police, Valiante allegedly said some of the items were used to clean up dog vomit and unclog an upstairs sink.
"Valiante stated that she did not remember using bleach because of 'all the stuff they had going on [Aug. 5],'" the arrest warrant states. "Detectives asked 'What stuff' they had going on … and she told them she did not know why she had just said that, it was a mistake."
In late August, authorities conducted a search of the Bridgeport home Jeffrey and Jeanette Navin had purchased for their son. Police allegedly found two firearms and evidence Kyle Navin was using heroin, oxycodone and other controlled substances, according to court documents.
The following is from an alleged text exchange recovered by Connecticut investigators, reportedly sent from Navin to Valiante: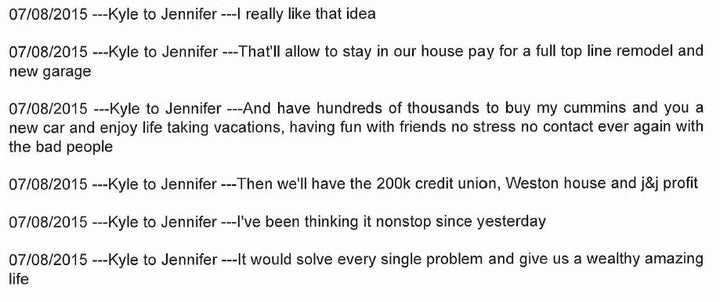 As a result of the search, Kyle Navin was arrested on a federal charge of possession of a firearm by an unlawful user of a controlled substance. He pleaded not guilty and was ordered held without bail.
Navin remained behind bars on Thursday when his parents' remains were found. A medical examiner on Friday used dental records to make a positive identification. Objects consistent with bullets were recovered from the remains, police said.
The arrest warrant affidavit for Valiante details evidence police allegedly found linking Navin to his parents' death. Inside his truck, police say, they found two bullet holes in the front passenger seat that tested positive for his mother's blood. In the basement of his home, police say someone recently removed a large section of wall-to-wall carpeting. Stains found in the basement tested positive for Kyle and Jeffrey Navin's blood, according to the affidavit.
Assistant U.S. Attorney Tracy Dayton told Nbcbayarea.com the evidence "very strongly suggests" Kyle Navin killed his parents.
Questioned by police, Kyle's younger brother, Taylor, who lives in Mississippi, described the relationship between his brother and his parents as "Not good at all," according to Valiante's arrest warrant.
"When I heard my parents were missing, I thought to myself, 'They either went on vacation or my brother did something to them,'" Taylor Navin said.
Valiante is being held on $2 million bail. Kyle Navin, who has pleaded not guilty in the firearms case, has yet to enter a plea on his latest charges. His bail has been set at $2.5 million.
JENNIFER VALIANTE'S ARREST WARRANT:
Calling all HuffPost superfans!
Sign up for membership to become a founding member and help shape HuffPost's next chapter