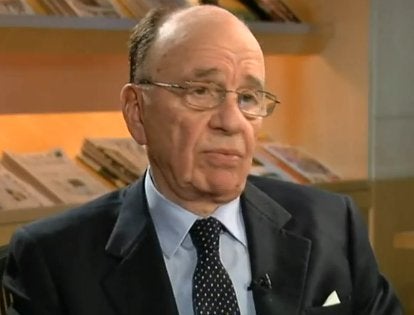 UPDATED WITH NEWS CORP STATEMENT BELOW
"On the racist thing, that caused a [unintelligible]," Murdoch said in an interview with his Sky News Australia over the weekend, referring to Beck's claim which seems to have been prompted by Obama's reaction to the controversial arrest of African-American scholar Henry Louis Gates.
"But [Obama] did make a very racist comment about blacks and whites and so on, which he said in his campaign he would be completely above. And that was something which perhaps shouldn't have been said about the President, but if you actually assess what he was talking about, [Beck] was right."
WATCH (discussion begins near 18:00 mark):
In the same interview, Murdoch told Sky that he may remove News Corp newspaper sites from Google searches entirely.
Monday night on MSNBC's "Countdown," Keith Olbermann named Murdoch "Worst Person in the World" for defending Beck's comment:
The progressive group Media Matters is also hammering Fox News over the comments.
UPDATE: News Corp spokesperson Gary Ginsberg has told Politico that Murdoch does not believe the president is racist.
"He does not at all, for a minute, think the president is a racist," Ginsberg told Politico.
Popular in the Community