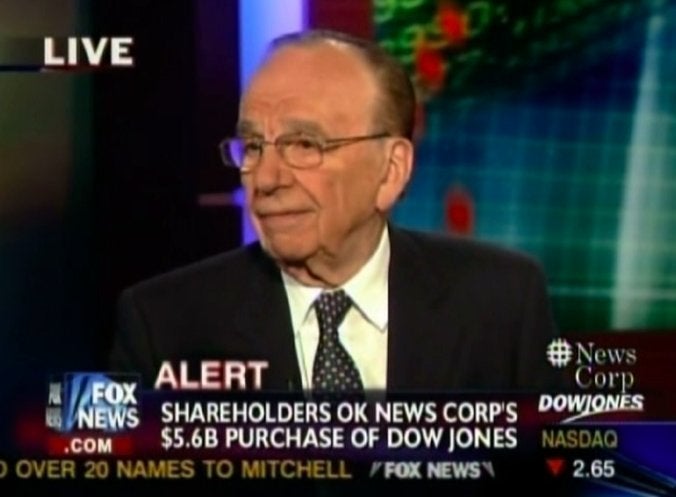 Fresh off the Dow Jones shareholders' approval of his bid to takeover their company, Rupert Murdoch sat down with Neil Cavuto today. What follows are highlights of Murdoch's quotes from their almost 30-minute, commercial-free interview.
On his plans for the Wall Street Journal brand:
We want to make it absolutely the preeminent source of financial news and information and comment in the world. We've gotta globalize, gotta digitize...but the paper itself will be the flagship.
On the Financial Times not running an ad he attempted to place for tomorrow's paper:
I think they're a little oversensitive. If I was them, I would've taken the money.
On the competition the Financial Times poses to the Wall Street Journal:
The real page circulation of the Wall Street Journal is four or five times that of the Financial Times. And it's a very much bigger thing. In this country, its ten times as big. [The WSJ] is much more American-centric at the moment. But as we get around to it, we will develop the international editions and compete with the Financial Times in Europe and in Asia.
On the competition the New York Times poses to the Wall Street Journal:
We're already 50% bigger than the New York Times. Our readers are more influential, wealthier. We're a very much more attractive prospect to advertisers than the New York Times is. ... It has a huge habit buying it around the country on a Sunday. You cant just take it out like that. But it'll be competing with us and we'll be competing with it for sure. But we are a long way in front for now.
On his plans for WSJ expansion:
There's a great deal of news from Washington and around the world in the Journal that is not strictly financial. We'll expand that, but not at the cost of what we're doing with the financial community and the business community in the world.
On reactions to his takeover of Dow Jones (both internally within Dow Jones and externally):
I think at first there was nervousness — there always is with change. There was a little hostility. I think that has died down. Maybe the New York Times, they say, "Oh, Murdoch." They don't like Fox News. The New York Times has a different world view.
On whether he's recruiting big names to the WSJ:
No, big talents. We're quite happy to create new names. We're gonna find 'em. We're looking for them.
On whether he's looking for talent at the New York Times:
There are some very fine journalists there that we'd be happy to have, but equally there are in other newspapers. I don't wanna be too specific. I mean, they've been trying to steal with our talent, some journalists at the New York Post. And the New York Sun is a very obvious place where there's some very fine journalists....but all over the country. we're looking for good writers.
On the economics behind his plan to tear down the WSJ paywall:
At the moment, we sell it to about 1 million people, at a theoretical $50/year. But it costs probably, of that 50 million, 15 [million dollars] is in costs of just getting subscribers, and looking after them. So it's 35 million [dollars]. We think when it goes from 1 million subscribers to 20 million people watching it around the world, there'll be more than enough advertising to make up the difference. It may take a year to get there, but we'll get there.
On how he plans to change the content at the WSJ:
With good editing, you can certainly say things in fewer words than is normal. But you can break stories in parts too. You can have the guts of it and the strength of it on Page 1 and then you refer to other aspects of it inside, in separate stories, and keep the paper busy. We'll be experimenting with this in various ways.
Calling all HuffPost superfans!
Sign up for membership to become a founding member and help shape HuffPost's next chapter