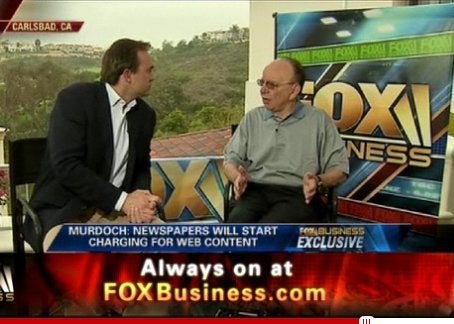 News Corp Chairman Rupert Murdoch made an appearance on his corporation's business station, Fox Business Network, Thursday to speak to Brian Sullivan about the future of newspapers.
Murdoch, a steadfast believer in newspapers, acknowledged that people may consume newspaper products on electronic devices in the future but assured that online content will be paid for eventually.
"Newspapers may look very different. Instead of an analog product printed on paper, you may get it on a panel which will be mobile, which will receive the whole newspaper over the air, and be updated every hour or two. All of these things are possible.
"You're going to have to pay for your favorite newspaper on the Web," he added. Free content online "is going to stop. Newspapers will be selling subscriptions on the Web. The whole thing [premium content] will be there. The Web as it is today will be vastly improved, they'll be much in them and you'll pay for them."

Murdoch added that News Corp would "never take money from the government" because it would represent the end of freedom of the press. "I don't believe even the New York Times would," he said. "I don't think the government would even do it. They'd realize this would be the end of it."
Murdoch closed the interview with a prediction that one of the Chicago newspapers will die.

"One will go away," he said. "It's very hard to see how the Sun-Times can keep going. I thought it was hard when I owned it ten years ago."
Popular in the Community