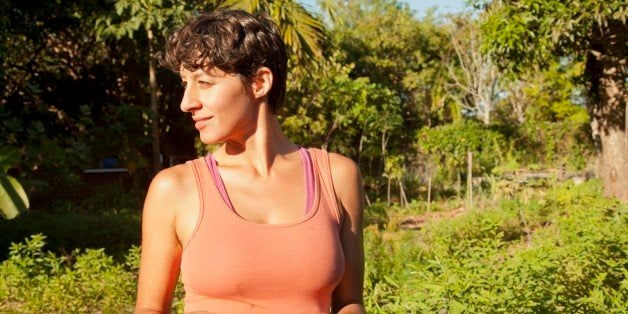 Growing healthy food that's both good for you and the community is a way of life. One locavore has made it her own -- the South Florida way.
Meet Muriel Olivares, an art student-turned-urban farmer helping shape the way Miami thinks about its food with Little River Market Garden, a quarter-acre plot in Little Haiti where she uses only organic and sustainable farming practices.
The Little River CSA -- that's short for "community supported agriculture" -- consists of two small vegetable, cut flower, and herb gardens that feed about 35 families per season. Olivares also grows her own food entirely by hand, without the use of chemical additives and toxins. And while Miami's growing conditions do present challenges, Little River CSA manages to grow a variety of seasonal crops and tropical fruit, from bananas and carrots to Asian eggplant and Dinosaur kale.
For a taste of food nurtured by Olivares, you can shop from her garden's bounty at her weekly farmer's market stands.
Who you are:
Muriel Olivares
Years in Miami:
On and off since 1990.
First memory of Miami?
Camping in Bahia Honda as a kid, before hurricane Andrew when there were still lots of Australian pines.
Current neighborhood:
Little Haiti
Current gig:
Founder, owner, and farmer at Little River Market Garden.
Favorite 'Only in Miami' moment?
Just the other day in my neighborhood I spotted a couple of homeless men picking mangoes from a vacant lot, they had a shopping cart toppling over with fruit -- one guy was teetering at the top with a long stick, knocking down fruit for the other guy to catch.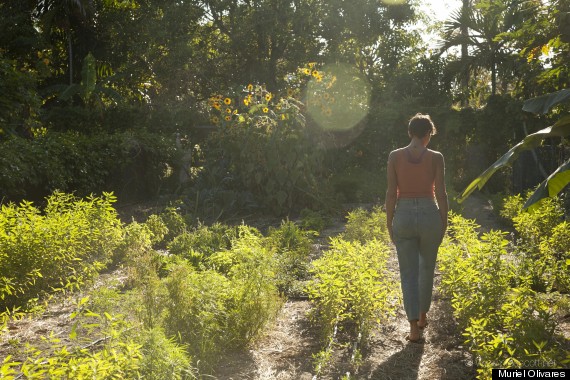 What's your idea of a perfect day in Miami?
It would definitely be in March, my favorite month in Miami. Harvesting vegetables in the morning, lunch and hammock time at noon, and a trip to the beach at Crandon Park in the afternoon. Then dinner with a cold beer at home that night.
Where do you like to take out-of-towners?
The beach and abandoned zoo at Crandon Park in Key Biscayne.
What made you decide to be a farmer?
In my first career as a floral designer I began to develop terrible skin reactions to the pesticides used on commercial cut flowers. In an attempt to education myself about organic alternatives, I did an internship at a local organic farm and almost instantly felt that growing food and sustainable land stewardship was going to make me happy and healthy.
Why farming in Miami?
I have to admit, it's not the most ideal place to farm, but it's home and after traveling and living in other places I've come to treasure the weather, the recreational beaches, and the tropical fruit.
What's your approach to farming at Little River?
Although the gardens are not certified yet, we use only organic and sustainable practices of agriculture. Our number one priority is to grow nutritious and beautiful produce. We believe that the health of our soil is directly related to the quality of our harvest so we take as much care of the soil as we do any of the crops. We focus on composting, cover-cropping and no-till to sustain the micro-organisms and organic matter in our field.
What does the word "organic" mean to you?
Organic should be looked at as a holistic approach to growing food. It's not about taking pesticides out and replacing chemical fertilizers with organic fertilizers. It's about managing the soil, the pests, the water, the whole ecosystem of the farm in a way that nurtures and protects natural resources and all the living organisms within it.
What are you currently growing at the farm this season?
In August I'm growing cover crops in the field to protect the soil, produce organic matter and as a form of pest management. I am also planning my field charts and ordering vegetable seeds for the upcoming growing season, which starts in September or October.
What crops grow best in Miami this time of year?
This time of year is best for planting fruit trees as well as things like bananas, pineapples, and passion fruit. There are a few vegetables that do well in our summer months like hot peppers, eggplant, wild arugula, callaloo, and okra.
What tips do you have for those who want to buy better, healthier produce?
Buy as much produce directly from a farmer or from a farmers market stand you trust. Talk to the vendors, ask questions about the produce, be informed about how the food was grown and when it was harvested.
Upcoming projects you're working on:
I've got my hands full with growing vegetables for our 35 members starting in September, but I'm also focusing more on growing and selling to restaurants this season.
Why do you hate Miami?
Hate is a strong word, I try not to hate anything.
Why do you love Miami?
Miami is a unique place where tropical climate and culture exists within an American context. Living here I have the advantages of modern first world conveniences spiced with the lively and bold Latin and Caribbean cultures.
In a word or two or three, Miami is...
Home.
REAL LIFE. REAL NEWS. REAL VOICES.
Help us tell more of the stories that matter from voices that too often remain unheard.