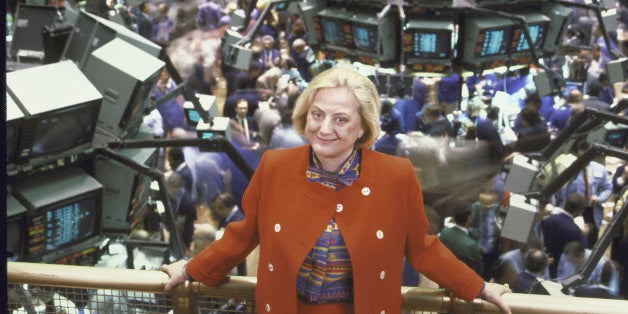 Muriel Siebert certainly made her mark on American history. In 1967, after having her application rejected nine times, she succeeded in becoming the first woman to buy a seat on the New York Stock Exchange.
I was fortunate enough to interview Muriel Siebert in 2011 for MAKERS, and it was like taking a trip back in time, as she regaled me with tales of her incredible journey from very humble beginnings in Cleveland, Ohio, as the daughter of Hungarian immigrants, to becoming, "The First Lady of Wall Street."
As a child, she never thought of having a career, but possessed an early love of math, and told me that she could "look at a page of numbers, and they would light up and tell [her] a story." She was committed to her education, but her time at university was cut short when she made the decision to return home to care for her sick father.
Muriel's big move to Manhattan was precipitated by a trip to visit her sister. She recalled saying, "You know this looks exciting. Maybe if I come to New York I'll get a job on Wall Street." When Muriel stood on the balcony of the NYSE during a tour she took on that visit in 1953, that dream was solidified in her mind. A year later, Muriel made the trek to Manhattan with an old Studebaker that she bought from a girlfriend's mother. She said, "I came with that used car and five hundred dollars. And I drove."
Her seat on the exchange was big news at the time. Muriel said, "There was one headline, 'Now The Girls Want To Play.' And I'll never forget that article." It wasn't until a decade later that another women joined the NYSE, and Muriel mused, "For ten years I could say, thirteen hundred and sixty-five men -- and me." Muriel's groundbreaking career had many "firsts" for women. Two years after buying the seat on the NYSE, she founded Muriel Siebert & Company, becoming the first woman to own and operate a brokerage firm that was a member of the New York Stock Exchange. In 1977, she was the first woman, appointed by Governor Carey, to be the State Superintendent of Banking.
Sitting down with Muriel for the MAKERS interview was a huge honor, as well as a lot of fun. We developed such a fast rapport that Muriel suggested that we get together for dinner sometime. With life moving at warp-speed these days, that dinner never happened, and today I'm feeling sincere regret about a missed opportunity to spend more time with her. But I'm grateful for Muriel's life, and her influence on women's advancement in the financial world.
Muriel fought and won many battles for women throughout her life. She was a feisty and determined "broad," with an incredible work ethic. She never took "no" for an answer, and was not afraid to take risks. As she noted when talking about what it takes to succeed in life, "There are three four letter words that end in k. It's luck, work and risk." Thanks for everything, Muriel. You will be missed.
Nancy Armstrong is a web producer for MAKERS.com. She was fortunate enough to interview Muriel Siebert for her MAKERS profile.
REAL LIFE. REAL NEWS. REAL VOICES.
Help us tell more of the stories that matter from voices that too often remain unheard.