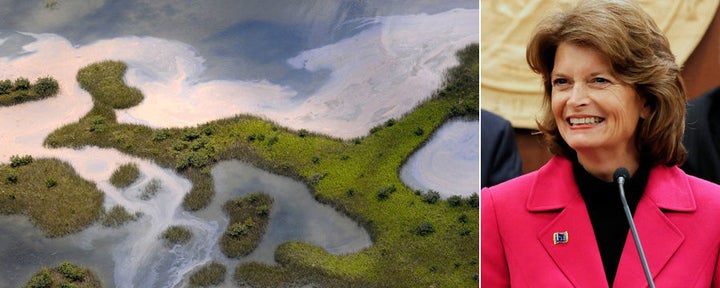 Kentucky Senate candidate Rand Paul stirred up controversy last week when he chastised the Obama White House for being "un-American" in its harsh treatment of BP. Sometimes, "accidents happen," said the Tea Party darling in reference to the massive oil spill in the Gulf.
On Tuesday, one of the Senate's biggest defenders of the oil industry fully disagreed with Paul, saying that if people aren't mad with the BP-caused spill, they don't have a pulse.
Sen. Lisa Murkowski (R-AK.) was not asked about Paul's comments directly. But the question posed to her left little room for interpretation as to its genesis. Was she concerned about the rhetoric coming from the administration, most notably Interior Secretary Ken Salazar's repeated claim that the government is putting its boot on the neck of BP?
"I will tell you," the Alaska Republican replied, "We flew over the spill yesterday. Anybody who flies over that and sees the devastation out there in the Gulf and doesn't get angry at what has happened has no emotion. And I can see where the Secretary is coming from. Those who have polluted will be held responsible and I agree with him. So how we make that all happen, how we see that all play out is going to be important. Now if I felt like BP was back-peddling in terms of its responsibility, you might hear me use a little more harsh rhetoric myself."
Murkowski also insisted that there is no question that BP is liable for the cost of cleanup and economic damages caused by the spill. The debate surrounds whether legislation is needed to ensure the company comes through on its payments. As for Salazar, she expressed no concerns about the job he was doing, noting that Adm. Thad Allen was really the one in charge.
"I have a great deal of confidence [in Allen]," she said. "He is the one who basically pulled New Orleans through Hurricane Katrina and I have got a level of confidence there that when you want to talk about accountability, he is making that happen."
The endorsement of the administration's tone and overall response is undoubtedly news to the president's ears. In recent days the calls for Obama to get more involved (and, perhaps, give Salazar the axe) have begun entering the mainstream political conversation.
For Paul, however, Murkowski did him no favors by contradicting his criticism of the government's treatment of D.C. It is hard to find a bigger booster of oil companies in all of Congress than the Alaska Republican. For her to be less apologetic of BP says something as to the political tone-deafness of Paul's comment.
Elsewhere on Tuesday, the Kentucky Republican made his first public appearance since his post-election gaffes. He did not address the oil spill, however, but rather his skepticism of portions of the Civil Rights Act.
I think they [his critics] have used it as an issue to try to make me into something that I'm not," the Kentucky doctor said. "I was raised in a family that said that you judge people the same way Martin Luther King said, you judge people by their character not by the color of their skin."

REAL LIFE. REAL NEWS. REAL VOICES.
Help us tell more of the stories that matter from voices that too often remain unheard.