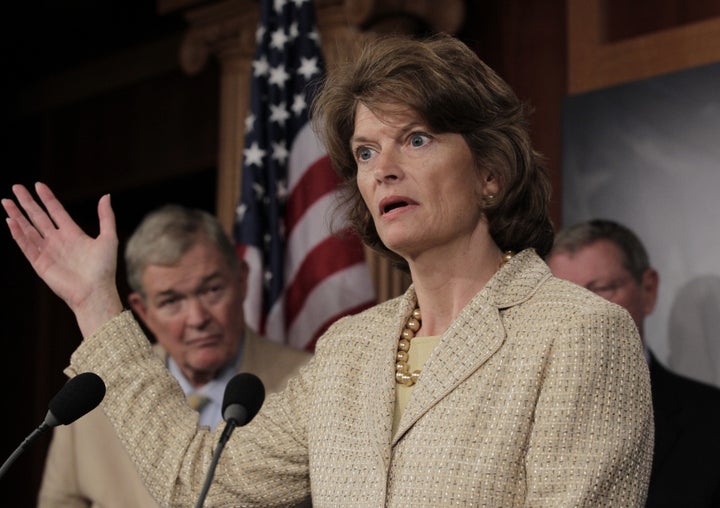 The most consequential polling development over the the weekend involves the announcement by U.S. Senator Lisa Murkowski that she will re-enter Alaska's race as a write-in candidate after losing the Republican primary. At issue is not some new poll, but rather how pollsters will go about measuring support for a write-in candidate.
The short answer is that it will not be easy, especially since successful write-in candidacies are rare and Murkowski's bid has little precedent. Media pollsters, who often feel obliged to report voter preferences as a single set of numbers, may feel especially challenged, but the best measurement of the Alaska Senate race may require asking at least two of the following questions:
A totally open-ended question that offers no candidate names and instead tests the ability of respondents to remember the name of the candidate they're voting for.
A closed-ended question that closely mimics the ballot, asking voters to choose between Republican Joe Miller, Democrat Scott McAdams and "another candidate" (perhaps the choice to "write in another candidate"). Live interviewers could then probe for and record the name of the "other" candidate.
A closed-ended question offering a choice between voting for Republican Miller, Democrat McAdams "or writing in Lisa Murkowski?"
Those who ask two or more of these questions will do so with the understanding no single question will get it exactly right and that Murkowski's true support at any point in time lies between the extremes. Not prompting with Murkowski's name will likely understate her potential support, due to a lack of knowledge of her write-in candidacy or by an implied dismissiveness of it by omission.
Prompting that Murkowksi is running as a write-in risks overstating that support, either because such a mention gives that candidacy special emphasis or because some truly undecided respondents sometimes gravitate toward independent candidates on survey questions. But asking a completely open-ended question will tend to overstate the undecided percentage, because some respondents will have trouble remembering the candidate names and because some will be reluctant to share their decision without more of a push. So again, the truth will fall somewhere in the between.
As many of our readers have speculated in comments, this situation creates special challenges for pollsters that use an automated, recorded voice methodology rather than live interviewers. It may be technically possible to ask an open-ended question, create an audio recording the respondents's answers and subsequently allow live humans to code the answers, but doing so would be a costly departure from the automated pollsters' standard procedures. The purely open-ended question is far better suited to a live interviewer survey.
In other U.S. Senate polling news since our last update:
In Wisconsin, automated pollster Rasmmussen Reports released a new survey showing incumbent Democratic Senator Russ Feingold trailing challenger Ron Johnson by seven percentage points (44% to 51%). Their previous survey in late August had the race closer -- 47% for Johnson and 46% for Feingold.
We generally try to view any new poll in the larger context of other surveys by other pollsters -- since any one survey is subject to random error and pollster "house effects" -- but in this case, Rasmussen has been the only pollster active in Wisconsin since July.
In Ohio, Quinnpiac University released a new survey on Friday showing Republican Rob Portman leading Democrat Lee Fisher by an astounding 20 points (55% to 35%), although polls from three other pollsters conducted over roughly the same time period show Porter leading by closer margins of between 8 and 11 percentage points.
Calling all HuffPost superfans!
Sign up for membership to become a founding member and help shape HuffPost's next chapter